May 20, 2022
Categories:
Featured
Technology Trends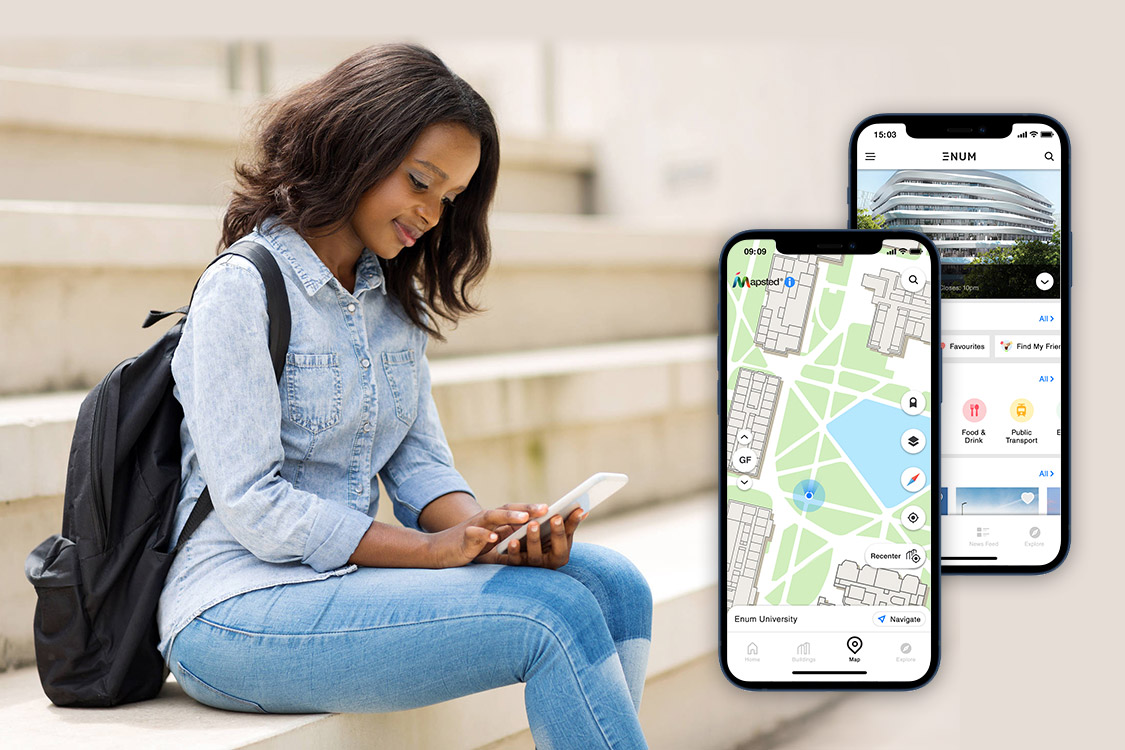 If it's your first day on campus, a maze of corridors will do nothing to calm you down. Feeling lost causes mental stress, whether you're a guest lecturer or a maintenance worker. So the big question is, how can campus users have a good time getting around? The solution is university wayfinding. Campus wayfinding technology is becoming increasingly ubiquitous, whether for navigating facilities, booking spaces, or monitoring occupancy.
Wayfinding signage allows freshmen to quickly integrate into the campus ecosystem. It saves time when orienting yourself with facilities and public spaces. Appointments will be more transparent if a scheduler is integrated with the wayfinding app.
University Wayfinding – A Versatile 'Get-Around' Tool for All
Many indoor navigation apps now retrieve wayfinding data from QR codes. Users only need to locate the codes on-premises and scan them with their phones. If faculty members want to book nearby vacant rooms for collaboration, the university wayfinding app will pinpoint rooms on indoor maps as well as their current occupancy status. This makes pre-booking easier and less stressful.
Facility managers can use the heatmap to allocate renovation funds or maximize space utilization by digital wayfinding for colleges & universities by analyzing usage patterns of campus areas. Decisions do not have to be difficult with enough real-time insights.
Even contract workers visiting for site maintenance will appreciate the university's wayfinding signage. They can reach sections of the map without detours and update work status to notify people who are unable to access the area.
In addition to all of the advantages of university wayfinding, you can gain access to additional services by integrating the app with APIs. There are endless possibilities to consider, ranging from programming notifications to automating errands.
Mapsted Maps & Indoor Navigation
Mapsted's indoor maps provide seamless outdoor-indoor navigation and localization with turn-by-turn blue dot navigation without the use of beacons or other external hardware.
Learn more
What is University Wayfinding?
Upon first glance, the campus feels like uncharted territory for first-time visitors. With university wayfinding signage, the struggle to find their way around the campus is greatly lessened. Wayfinding strategies that incorporate psychology and user-friendly aspects will therefore ease the way people adapt to new environments.
How to Improve Wayfinding on a University Campus?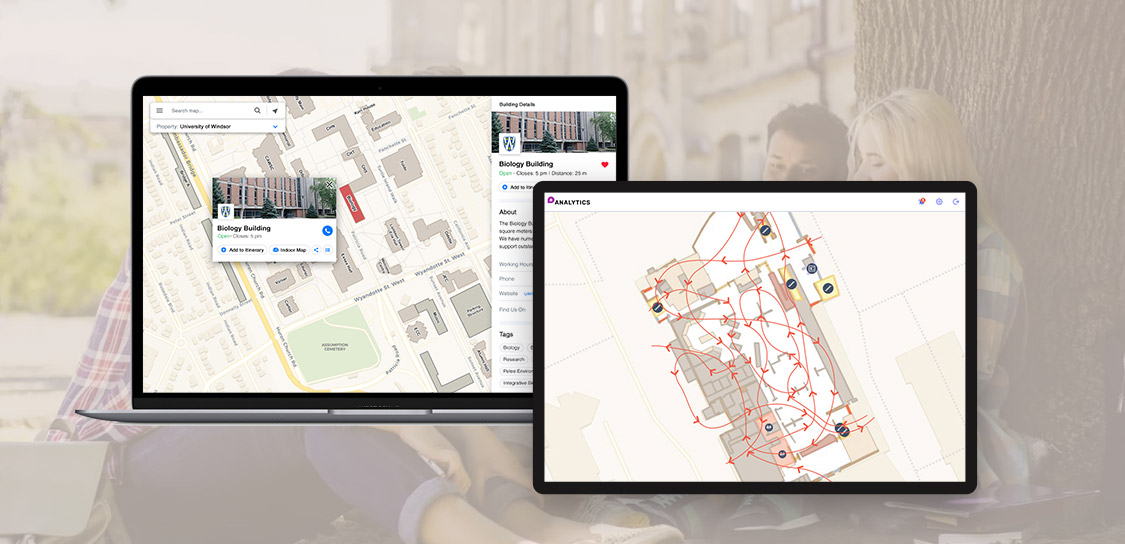 Today, the majority of campuses have university signage wayfinding to guide visitors through complex pathways in unfamiliar terrain. Some use strategically placed digital signage, while others raise the bar by recommending apps that show turn-by-turn instructions.
The goal of any wayfinding strategy is to simply eliminate the crossroads experience. You only need to remember five tips for this:
1. Interview Users to Uncover Pain Points
People on campuses have different priorities, where some intersect while others don't. Focusing on a specific journey alone is insufficient. Begin with interviews to better under indoor wayfinding priorities. It helps you know how people use campus and their woes with existing options. This is the first step in determining where campus signage will be most useful and what budget solutions are best.
2. Be Inclusive While Evaluating Personas
Create multiple personas based on user interviews and visualize wayfinding journeys for each. Users should not be left guessing at decision points. Working with personas sheds light on complex navigational issues that differently-abled, visually impaired, and language-impaired people face.
When wayfinding is implemented, occasional visitors such as maintenance contractors and parents will not feel excluded from regulars who will benefit from it. It is critical to consider the needs of each persona when determining how to improve navigation and positioning experiences for all.
3. Simplify Instructions
The instructions should not be garbled in a flurry of words. To convey directions, always use short phrases and pictograms. People will forget the cue around the next corner if they stop to read the signage.
4. Decide the Placement to Maximize Visibility
Wayfinding signs should be prominently displayed so that people can benefit from them during critical decision-making moments. That way, their navigational experience isn't disrupted or abruptly ended. Erecting pillars and wall signs has always been popular choice, but smartphones and AI technology are taking things up a notch.
5. Dial Wayfinding Experts for Complex Jobs
If you're unsure about your budget or the special needs of those with accessibility issues, it's time to consult with experts like Mapsted. They will bring an inclusive campus wayfinding strategy developed through research, as well as years of professional expertise. That puts you on a vantage point with a bird's eye view of your campus traffic and how to tackle specific issues, thanks to Mapsted's wayfinding solution.
Wayfinding Design for Universities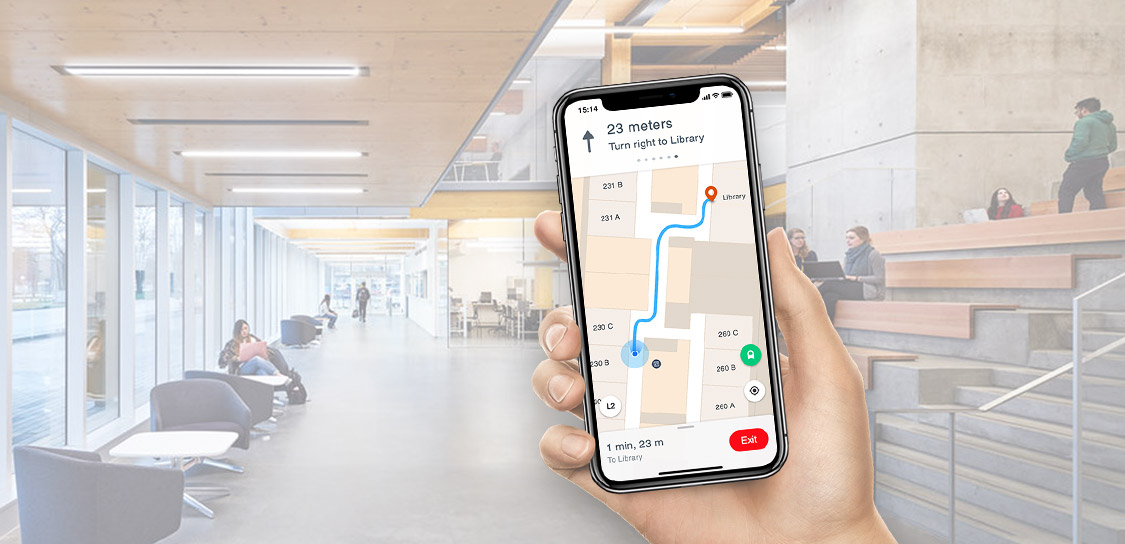 To help people find their way, wayfinding design incorporates symbols, color, and typography. Using wayfinding design in built environments, people can easily navigate to their destinations, providing visual cues to help direct them. It's all in the design when it comes to successful wayfinding.
There are fun ways to excite people through wayfinding designs. We'll go over 3 ways to wow the people across the campus.
1. Stairwraps
If your campus has escalators or stairs, now is the time to use the few minutes people spend using them to learn something new or receive directions to events. Stairways are used every day, and all it takes for users to figure out what they want is to look down.
2. Floor Signage
Nothing beats brightly-themed floor graphics to show off creativity while also leading people from campus entrances to places of appointment and back. These are less expensive than digital wayfinding and make getting lost nearly impossible, especially with large, legible lettering. Bright decals also create a well-marked safety perimeter for users, reducing anxiety in campus open spaces.
3. Map Signs
You've probably seen the loud 'you're here' maps in malls and other public places that show not only where you are but also where points of interest are. Given the complex nature of the London Underground, commuters still quickly adapt to map signs because they declutter information consumption. Using the same design concept on campus, people will know where classrooms and facilities are and how to get there the quickest. Students will never complain about getting lost if landmark pins are clearly marked.
Campus Wayfinding Strategy
The role of any University is to provide consistent and well-organized wayfinding signages so that visitors and regulars can easily orient themselves to the campus architecture. However, before implementing a framework of wayfinding, it is pivotal to first recognize what the wayfinding goals are. A campus wayfinding strategy is a three-stage approach:
Awareness
Existing wayfinding conditions are examined to identify the strengths and weaknesses of campus signage. Then client visioning meetings lead to a design philosophy for typeface, color, and font size. Abstracts for primary signs are evaluated before identifying a uniform style.
Consideration
A family of signs must be developed from the chosen design. Then conduct on-field tests to ensure mockups comply with the client's guidelines. Lastly, the placement criteria, as well as other goals, should be based on guidelines that formalize lexicons and wayfinding frameworks.
Implementation
Conceptual costs and phasing plans should be established to optimize budgets. Comprehensive fabrication specifications should be developed for each sign in the Family of Signs. Create and install signs according to client specifications.
Benefits of Wayfinding for Universities
Campus wayfinding addresses a variety of issues that students, faculty, and other campus guests face during their visits. We'll go over each of the 6 benefits of wayfinding solutions on campus:
1. Traffic regulation
With tighter social distancing norms, it's in everyone's best interest to avoid congested spaces. Campus wayfinding detects bottlenecks expediently and sends real-time updates to users. It also helps in directing people to alternate routes during peak hours.
2. Eases point-to-point navigation
Users don't always know where they are or where they should be going. Wayfinding eliminates nearly all limitations that hinder everyone from quick accessibility. Complex indoor layouts are distilled down to be usable on smartphones utilizing indoor positioning technology. As a result, when users are pressed for time, they can look up information.
3. No more late arrivals or disruptions
Nothing stresses students out more than being late for class or entering the wrong facility. Also, it's unlikely that you'll be able to find someone to explain the route during peak hours. Wayfinding eliminates all hassles by directing you to your destination.
4. Seamless transition into other activities
Students may have other commitments after classes, and wayfinding makes life easier. How? It traces the path to their next desired location so they don't have to fret about the next schedule. Every student will be on time with wayfinding technology.
5. The only truest solution to campus emergencies
Unexpected events can derail the campus's slow pace. In these situations, a strong solution is required to guide people to assembly points and emergency exits in an orderly manner. This is where wayfinding shines, allowing people to move efficiently in crises scenarios
6. Improves spatial context of campus
From UPS shipments to family visits, wayfinding improves spatial awareness in first-time visitors. Even if the campus architecture appears to be identical, they quickly become oriented with it.
Digital wayfinding for colleges & universities in the future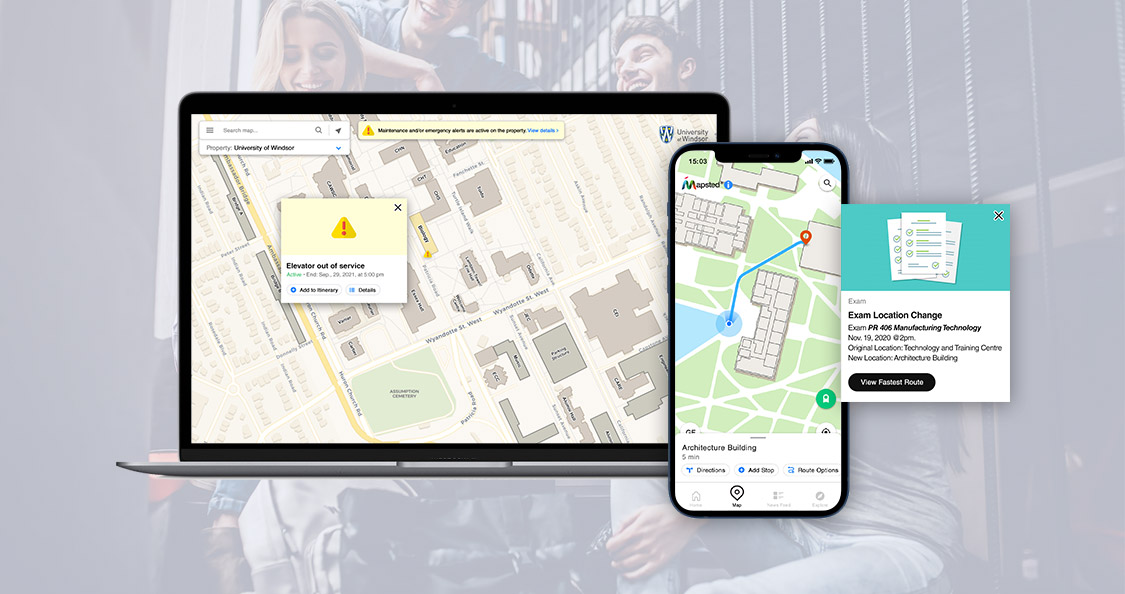 Mapsted challenges all preconceived notions about indoor navigation by utilizing campus wayfinding signage. Our technology is a paragon of user-led choice, with limitless options for customizing indoor mapping to meet the needs of clients. All campus users benefit from our ease of finding facilities and mapping user journeys. Whether it's administrators, visiting professors, or new students, our technology will feel stunningly intuitive from the start, defeating all indoor navigation curveballs.
Make the right choice by choosing Mapsted – the best university wayfinding partner!
Frequently Asked Questions
Q1. How do I join the wayfinding movement?
Ans. Mapsted's tactical approach to one of the oldest problems encountered by university campus users has achieved a remarkable interest in wayfinding. You can contact us 'here' for assistance in implementing wayfinding technology at your location.
Q2. Are digital wayfinding technologies secretly storing user data?
Ans. Users should not be concerned because digital way signs only display directions to specific destinations when a QR code is scanned. The system does not invade users' privacy or store personally identifiable information.
Q3. Are wayfinding solutions only useful to resident users?
Ans. The mission of wayfinding for all is to normalize the use of wayfinding apps to get from one location to another. The technology is aimed not only at students and teachers but also at anyone from package delivery agents to visitors.
Q4. Can wayfinding apps only provide directional information?
Ans. No, switching from physical to digital wayfinding grants you access to an API that integrates with a variety of productivity services, including classroom management and facility booking. Everything is under one roof.
Q5. How has wayfinding helped in post-pandemic?
Ans. When a user is too close to another user, the system can send a proximity alert. It detects the presence of a crowd and notifies the administrator when a crowd formation pattern is detected. It facilitates crowd control by redirecting foot traffic.