May 26, 2022
Categories:
Technology Trends
As times evolved, technology behemoths have advanced a notch than one could have anticipated and one of the top-rung change-driven organizations in that order is Google. It isn't just the world's most-loved popular search engine, but also the maker of applications that ease our lives and one of which is a widely used navigation app – Google Maps. But did you know that Google Maps is not limited to the outdoors? They've launched a new alternative to Google Maps for indoors that will help locate and track targets in a confined area.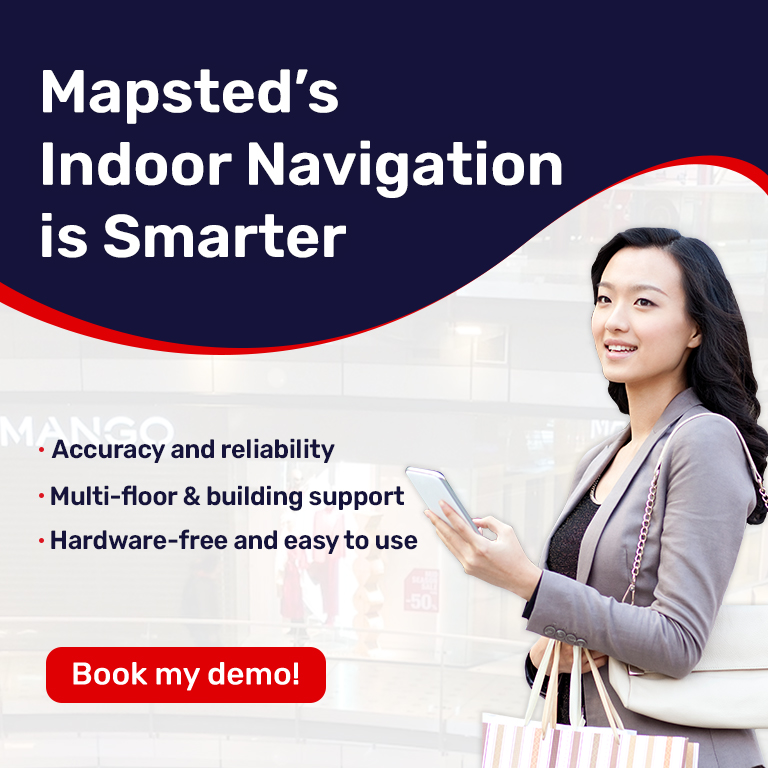 What is Google Indoor Maps? 
In November 2011, Google unveiled its interior mapping initiative and self-publishing tool, Google Maps Floor Plans. With Google Maps Indoor, you can carry a smart and convenient directory everywhere with you at all times. When you use the Google Maps app on iOS or Android and zoom in on a building with indoor map data, detailed floor plans will appear automatically. The Indoor Google Maps is the best Google Maps alternative for the indoors of larger venues.
How does Google Indoor Maps Work?
All businesses can submit floor plans, but Google's website makes it very clear that they're especially interested in providing indoor maps for large venues that receive higher footfalls – facilities where a user would be most likely to require navigation when inside. Indoor maps can be used in places like airports, shopping malls, and sports stadiums, according to Google.
When a business submits its floor plans, Google can turn them together into large-scale indoor maps highlighting significant places of interest within the periphery. Users can also change the floor or level they're looking at by clicking on the floor or level number. The business owner is responsible for keeping the business listings up to date with any changes, such as new hours or menus. They are responsible for submitting their floor plans to Google, which the search engine will then transform into an indoor map and include in its listings on Google Maps indoor.
What Can Users See Using Google Indoor Maps?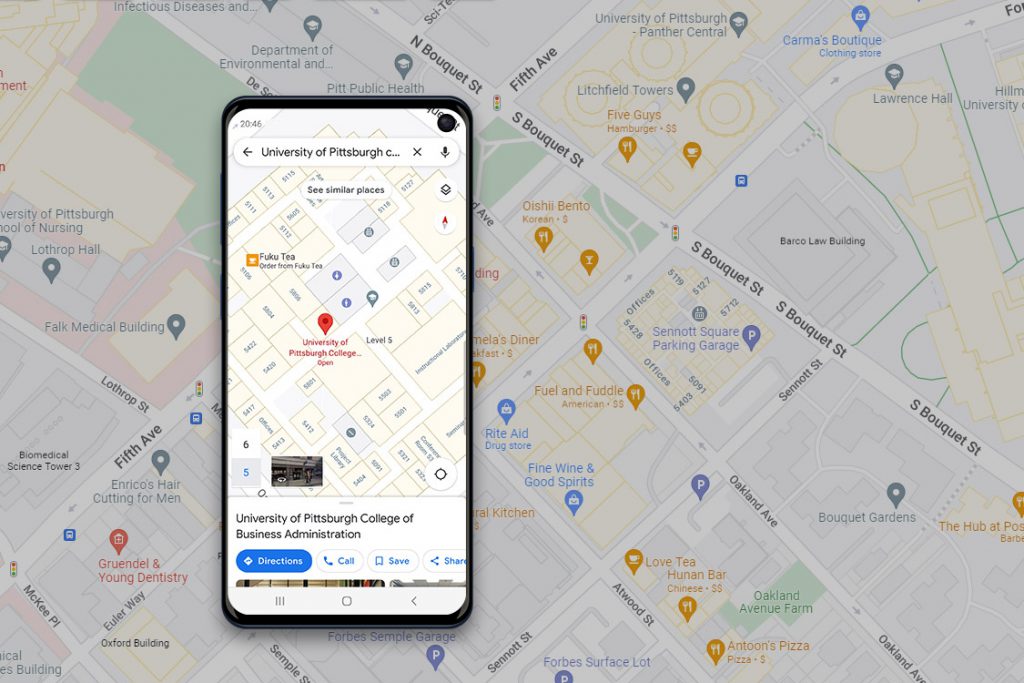 Indoor Google Maps are an alternative to Google Maps and they can show as much detail as an organization plans to show. However, when you talk in general, these maps can show where the elevators, stairs, escalators, and businesses are present in an example of a mall. Additionally, one may also be able to locate nearby washrooms, water fountains, etc.
Where can Google Indoor Maps be used?
Google Indoor Maps can be used in any kind of establishment if the business submits a floor plan and follows the process. There have been several popular buildings that provide Google Indoor Maps for their audiences such as the Wembley Stadium, The University of Pittsburgh, CERN, and more.
What Are the Benefits?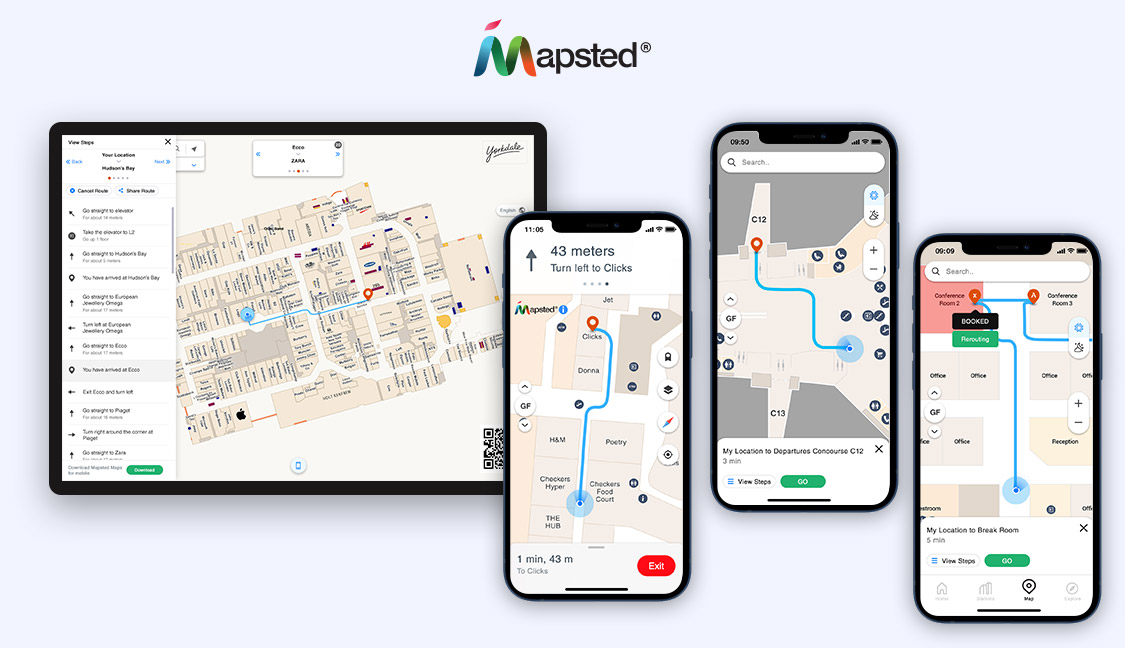 1. Better Experience
When people visit larger areas without any navigational assistance, they're less likely to have a stress-free experience. But when presented with an indoor replacement for Google Maps that they use to navigate outdoors, users will have a more pleasant and convenient experience overall.
2. Time-Saving
Just like it is better to use Google Maps for navigating outdoors rather than asking for directions, Google Maps for indoors will also help in saving up a lot of time. Visitors no longer have to look at building directories to track where a specific area of interest is located with indoor navigation.
3. Accurate Location
Similar to the "You are here" icon on the Google Maps app, the alternative of google maps for indoors represents that with a blue dot. This blue dot shows where you're standing in an indoor space and from there, you may track where to go.
4. Better Accessibility
When there are indoor maps accessible, guests will have the ability to view a building's floor plan. Visitors are able to navigate between floors of multi-story structures in order to get a sense of how each floor is laid out.
Can You Use Google Maps as an Accurate Indoor Positioning System?
If conditions are right, Google Maps are accurate and easy to use indoors. This is especially true for large indoor venues like stadiums and airports, with building ells that extend far out from the main structure. Unfortunately, Google Maps has one major drawback, making it hard to use for seamless indoor navigation and positioning – GPS.
GPS signals from several satellites triangulate users on a map of the world. When used outside, a GPS is usually accurate to within 10 meters, which is more than enough for most situations. There are, however, several problems with this. GPS is hard to use indoors because it can't penetrate walls, doors, and other permanent obstacles.
Google may be working on a "Google Maps alternative" that uses hybrid trilateration methods using GPS and an indoor positioning system (IPS). In order for this to work, they want to use visual light communication protocols. But until they get better technology, they aren't very accurate for navigation inside permanent structures.
What are the Drawbacks of Using Google Maps for your Indoor Maps?
1. Quality is the Biggest Factor
Google Map features are still not fully available to all businesses, regardless of whether they wish to utilize it or not. Google has a very strict process for approving indoor maps because they are particular about the high integrity of their Maps. There is a possibility that Google may not approve and publish an indoor map at all if the floor plan is not comprehensive enough or does not follow Google's eligibility rules.
2. Time-taking process
Even if Google accepts the floor plans of your business, the first step of processing and publishing the indoor plans is a long-drawn-out process. Similarly, if you wish to make any amendments to the floor plans, Google will always have a similar process of approval causing a lot of delays. It is understandable since Google receives thousands, if not millions of map requests every day.
3. Inaccurate indoor navigation
As stated above, Google Maps use navigation systems such as GPS and GPS alone cannot help track targets within smaller areas. For outdoors, it is sufficiently accurate, but Google will have to upgrade its technology to provide indoor navigation systems to its users.
4. Functionality Plays a Bigger Role
The quantity of information that can be displayed on Google Maps' indoor map is constrained. Google will automatically ignore some components of a structure in order to maximize its functionality because it processes floor layouts.
Can There be a Better Alternative to Google Indoor Maps?
Mapsted is an app for interior navigation that does not require any external gear to work. There are a number of difficulties that interior navigation apps face, including the fact that it is easy to disrupt external sources such as GPS, cellular towers, and Bluetooth nodes. In order to accurately locate a user in an indoor setting, their system leverages a variety of inputs. Smartphones' built-in technology, such as gyroscopes and magnetic sensors, are used in most cases. Multi-building and multi-floor support are just two of the many fascinating features of this software that can be a great google maps API alternative.
When comes to Mapsted's app, creates high-quality indoor maps from user-submitted data. A powerful algorithm analyses and processes the floor data to improve mapping accuracy. This crowdsourced data helps a large number of users find specific points of interest within centimeters of their actual location. Because of the unique operating principles, there hasn't been a better technology to supplement Mapsted. It does not necessitate the installation of additional hardware or infrastructure on-premises or in user handsets. That makes Mapsted's app the best alternative to Google Maps.
Conclusion
With so many alternatives capable of supplementing Google Maps, it's time to ditch a system that has more restrictions on how you want to map your indoors for foot traffic. That said, Google Maps are nowhere close to becoming a dinosaur technology because Google sees a possible future and will continue to expedite development focused on large and most importantly medium-sized businesses that are on the search for an effective technology that serves them best without compromising on user experience. That being said, today indoor wayfinding and positioning are more reliable if you can transition to Mapsted's solution. It's easy to configure for complex venues and layer the area with a grid on which assets can be tracked actively or passively.
Frequently Asked Questions
Q1. How can you use Google Maps indoors?
Ans. You can just zoom in and zoom out in a building and also visit floor to floor with Google indoor maps.
Q2. Can Google Maps show the interiors of a building?
Ans. If the specific building has uploaded its floor plans on Google, you can easily see the insides. These are generally used in malls, airports, etc.
Q3. Can I use Google Indoor Maps on my iOS device?
Ans. Currently, Google Indoor Maps are available on desktop and android devices but you can easily find google maps alternative android to find indoor maps.
Q4. Does it cost anything to have Google Indoor Maps for my business?
Ans. No, this feature is currently free for all businesses.
Q5. What is a good alternative to Google Maps for indoors?
Ans. Applications such as Mapsted, Path Guide, IndoorAtlas, and more are available for users and businesses.