May 14, 2022
Categories:
Hospitals & Healthcare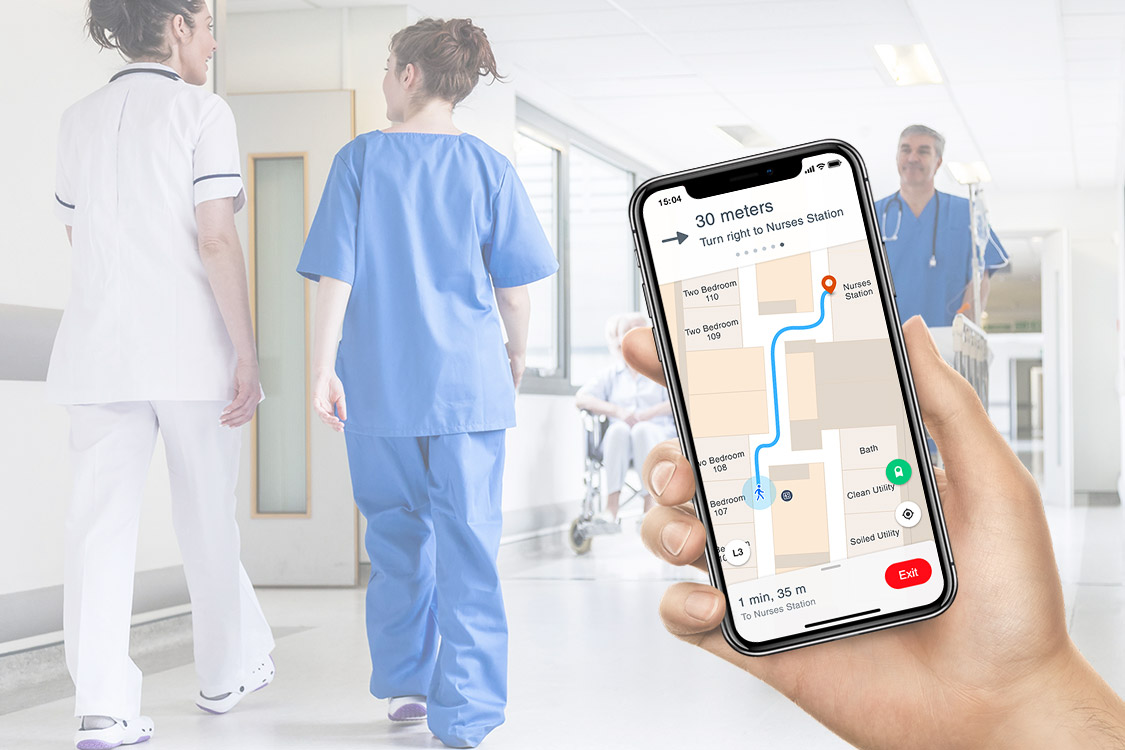 Let's face it, few places are more confusing and anxiety-ridden than airports and hospitals. Between the two, it's probably fair to say that hospitals — or any sprawling healthcare facility, for that matter — take Top Prize in Confusion, Wasted Time, and Stress in most people's experiences. When you consider the fact that a hospital is a place where moving about quickly and efficiently is uber-important, that's pretty ironic.
So how can we improve the way in which folks in a healthcare facility get where they need to go? Through effective hospital wayfinding.
The term "wayfinding" made its first appearance way back in 1960, but it's only in recent times that wayfinding has come to the forefront of how we humans get around inside.
Today indoor wayfinding is a sophisticated integration system of diverse technologies. These technologies can range from something as simple as signposting to something as complex as an indoor navigation app for mobile phones.
In a healthcare setting, wayfinding has the potential to bestow upon human navigators more than just turn-by-turn directions and the ability to deftly negotiate confounding terrain; it can also give us a 360-degree experience within a venue. In this way, strategic route-making is elevated to a more human thing — and that really is the ultimate improvement one can seek. So How to Improve Wayfinding in Hospitals?
The Stuff That Goes Into Spatial Problem-Solving: Make It The Good Stuff
Solving the problems that human beings face in a hospital or any daunting space boils down to two things: the human stuff and the technical stuff.
The human stuff is comprised of all the things that need to be considered around the spatial problem; this forms the basis of the overall interior navigation plan. Obviously, the better the work is at the conceptual stage, the better the actualization will be. This kind of planning is a sophisticated process that merits a discussion all of its own. For a good academic overview of the discipline, refer to the article Design Principles of Wayfinding:
The technical stuff is what falls out the bottom of the spatial problem equation as the best way to resolve the issues that have been identified. The technical components of wayfinding in any interior space can be comprised of any number of the physical and visual things in the environment, such as:
• Color
• Lighting
• Architectural features
• Physical landmarks in the space
• Printed guides and maps
• Physical and digital signage
• Digital information kiosks
• Interactive maps and touchscreens
• Mobile indoor navigation apps
These elements provide the interface that enables our cognitive processes to do their thing.
Color, lighting, architectural features, and physical landmarks — we all instinctively understand those. Printed guides and maps — we all know how to use those.
Let's talk about the high-tech things that can really make a difference when it comes to the indoor navigation of a hospital or healthcare facility.
The Stuff That Enhances Wayfinding in a Hospital: Make It Cutting Edge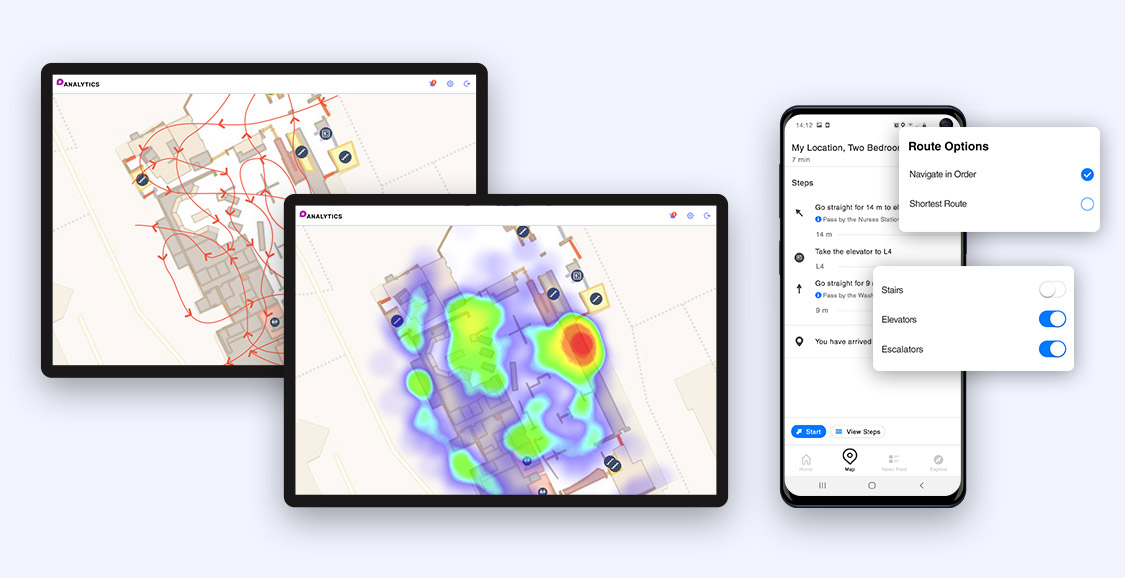 Digital Signage
Digital signage is an innovation that's intuitive and effective in virtually any setting. Alongside traditional signage, it can significantly augment the effectiveness of the whole signage scheme on hospital campuses.
This technology can be configured to accomplish an assortment of tasks, everything from displaying up-to-the-minute information and notices for the hospital in general to whose number is up to have blood drawn.
Digital Kiosks
Locating specific rooms, departments, services, and people in a healthcare facility can be made easy with digital information kiosks. Digital maps and more in-depth information are literally at the user's fingertips. As opposed to printed materials, updates on digital kiosks can be made much more swiftly and with much less waste.
Indoor Navigation Apps for Hospitals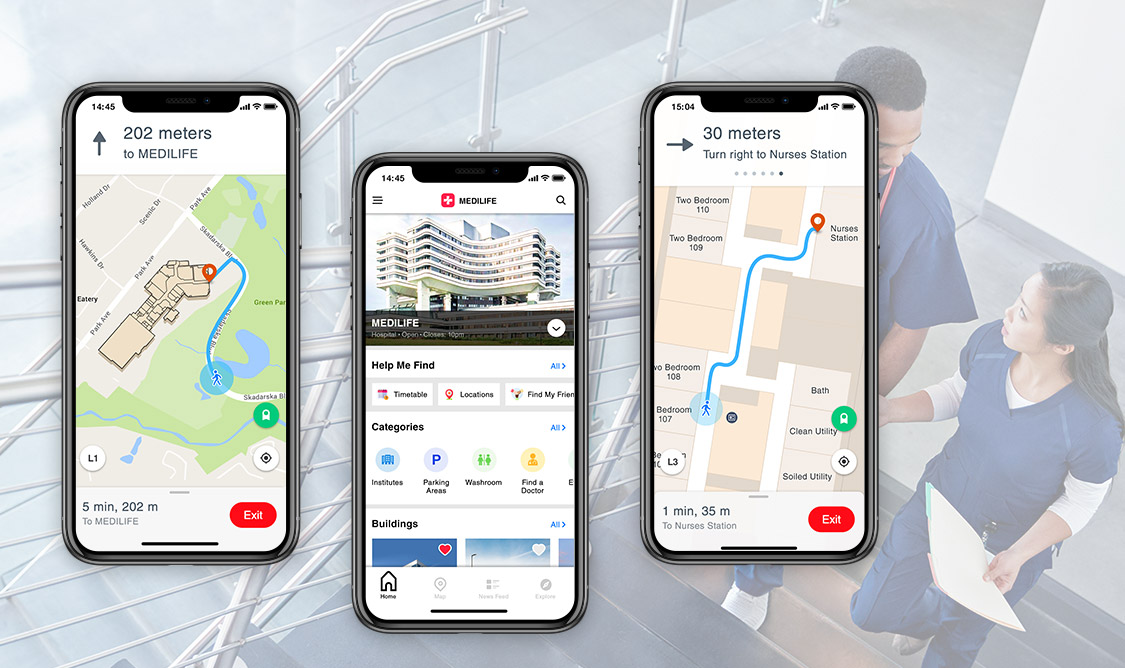 Of all the technological pieces, the bandwagon everyone seems to be jumping on is indoor navigation apps for mobile phones. And why shouldn't it be? We're already in the habit of using the navigator on our phones to find our way when we're in the car. It only stands to reason that we'd want to do likewise when we're in a hospital or mall or train station or art gallery.
The benefits of a mobile app that gives you step-by-step instructions on how to find your surgeon's office or the x-ray clinic are clear, but its usefulness reaches further than that. An indoor positioning app for healthcare campuses is like having a concierge in the palm of your hand. If you need a chocolate donut fix, some flowers, or a magazine, the app can find them and take you there. With these kinds of capabilities, technology creates a truly comprehensive care experience.
The 5 Crucial Benefits of Implementing an Integrated Hospital Wayfinding Platform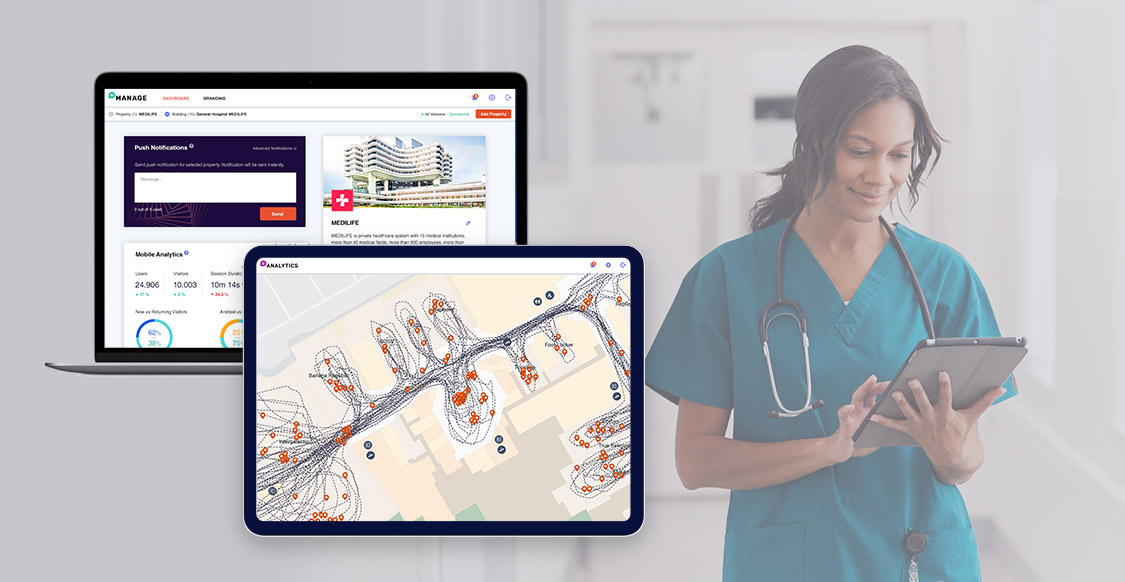 When it comes to the patients, visitors, and staff who are navigating the multiple departments, common areas, and buildings in a hospital, the benefits of a well-planned, well-integrated wayfinding design are obvious — but the effects are further-reaching than that. Hospitals themselves can get mileage out of the positive results that come from a well-executed wayfinding solution on the healthcare campus.
Here are five ways in which successful wayfinding in healthcare facilities can benefit everyone in the scene, from those who roam the halls to those who manage the facility.
1. Reduces Stress, Frustration, and Anxiety
In an environment where emotions are already running high, it's clear that lowering stress is good for everyone — patients, visitors, and healthcare workers alike. It's interesting, then, that one of the biggest complaints by hospital visitors is frustration and anxiety over getting lost! One of the simplest ways to alleviate frustration in hospital campuses is an indoor navigation system that enables people to get where they want to go in the easiest way possible.
2. Saves Time for Patients, Visitors, and Staff
It goes without saying that when you find your way by the most direct route it saves time and frustration. In a hospital setting, saving time can have implications beyond the inconvenience factors — a life may depend on it. But whether a situation is life-threatening or not, time is always precious, no matter if you're a patient trying to find your way to a department for tests, a visitor trying to find a loved one, a healthcare worker going at warp speed with a mission to accomplish, or a new staff member trying to get the lay of the land.
3. Enables Staff to be More Focused and Efficient
Now more than ever we are sensitive to the massive burden on healthcare workers. If we can find our way without having to ask for directions, that's one less thing some overworked orderly has to do. For hospital staff, fewer interruptions mean greater focus, and greater focus means greater efficiency. Staff is happier and more productive, and this ultimately improves the patient experience as well.
4. Reduces Congestion, Improves Traffic Flow, and Raises the Vibration
This benefit is closely tied to point 1 because reduced congestion and improved traffic flow contribute to a less stressful experience for the living beings in an enclosed space. From the standpoint of facilities management, better traffic flow is a Holy Grail, no matter the nature of the venue.
But better flow is not just limited to the practical aspects of physical entities moving around a space; it affects the vibrational energy of the entities and space as well. Freeing up nodes of physical congestion has the higher-level impact of upgrading the collective vibe. It might not be stated that way in every management master plan, but raising the vibrational energy of a space and the people in it is an implicit goal of improving traffic flow. With patient experience and value-based care models taking on an ever more important role in hospital philosophy and management, the macro-energetic aspect of wayfinding in the world of healthcare cannot be overlooked.
5. Increases Trust, Satisfaction, and Brand Identity
Now we're getting into a more subtle realm of modern wayfinding in healthcare facilities, and an important one for hospital management. Besides the immediate effect of reducing stress and frustration, wayfinding technology in healthcare can have the lingering effect of boosting trust. The fact that management cared enough to make it easy for you to find your sister, find your surgeon, or find a Starbucks is not lost on people. Whether they consciously register it or not, this sort of positive impression translates to satisfaction, which leads to increased trust on the part of patients and visitors.
Conclusion
In the competitive acute-care market, an indoor navigation system that sorts out the difficulties between spaces and the people in them is an opportunity for a healthcare facility to stand out in the area of user experience. Ultimately, it's a value proposition that can culminate in loyalty.
Mapsted is an industry leader and innovator in the areas of digital signage, digital information kiosks, and indoor-outdoor navigation apps. Our system is hardware-free and uses proprietary location technology that furnishes incredibly accurate real-time positioning through our mobile app. Our clients include prestigious healthcare centers around the globe.
Please contact us to find out how we can help you improve wayfinding in your healthcare facility.