February 01, 2021
Categories:
Industry News
Tips & Tricks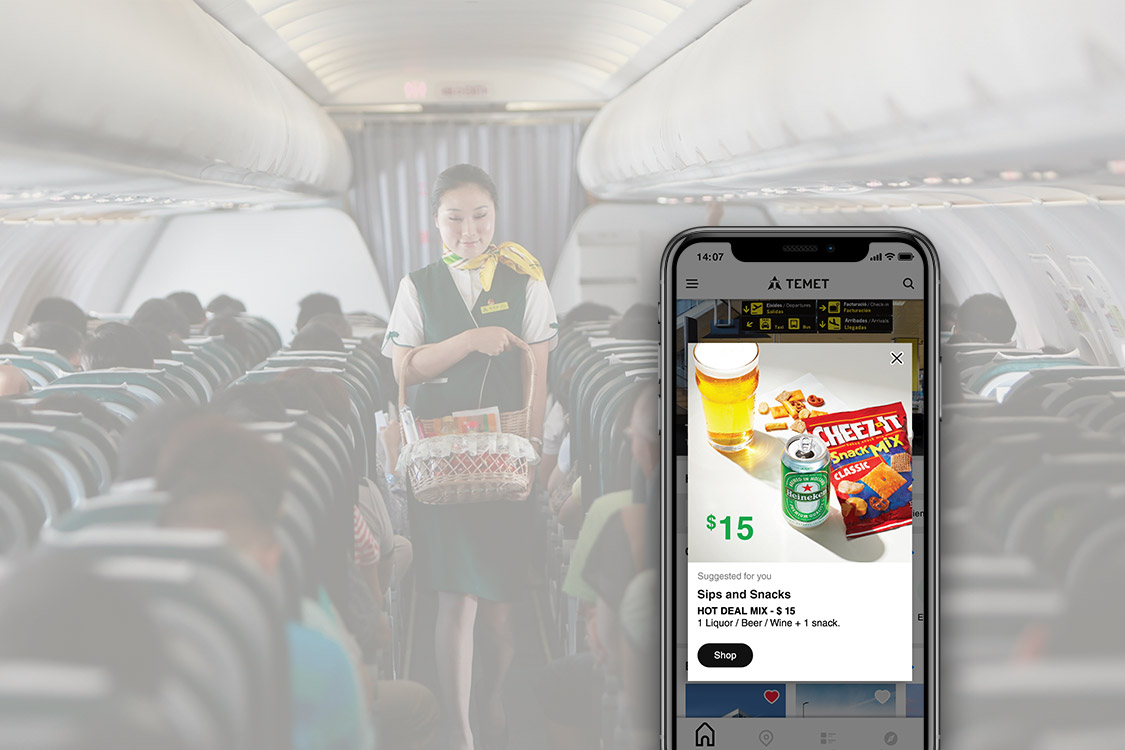 "Artificial intelligence, which also encompasses numerous technologies and processes, will play a central role in enabling the dynamic pricing and personalization that airlines will need to become authentic and effective retailers"
IATA Atmosphere Research group
By 2021, it's predicted that mobile devices will be the only method travel agents, passengers, and other customers will use to connect with airlines.
Given this information, it's clear that airlines need to focus on providing passengers with a great mobile experience, before other mobile solutions step in and fill the travel technology gap.
A report written by IATA shows:
45% of business passengers believe they use too many websites and apps to find flights
41% of leisure passengers want flight shopping to be as easy as shopping for a mobile phone online
While these numbers are only targeted toward searching and purchasing flights, research by Expedia estimates that travelers use an average of 38 digital tools, including search engines and airline sites, just to book a single trip.
Mapsted Maps & Indoor Navigation
Mapsted's indoor maps provide seamless outdoor-indoor navigation and localization with turn-by-turn blue dot navigation without the use of beacons or other external hardware.
Learn more
What does this mean?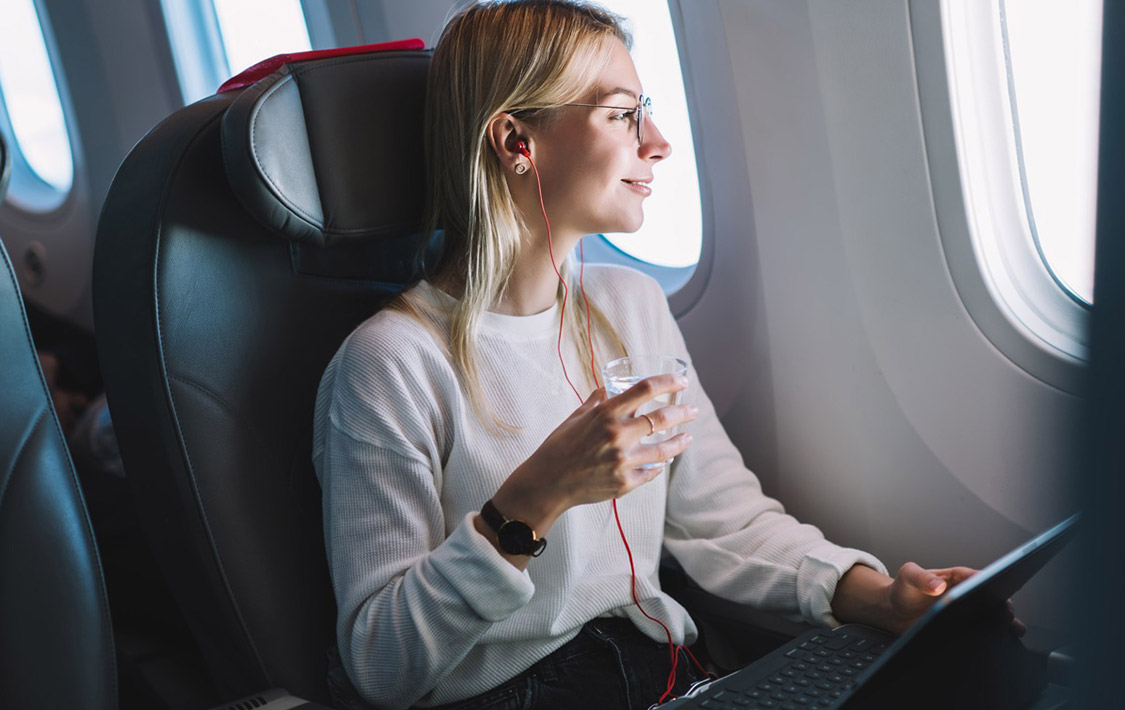 This means that the airline industry is in the perfect position to provide a product customers can get excited about. Ideally, a single app that could provide travellers with a customized suite of services, and could send them personalized offers based on their unique profiles.
The solution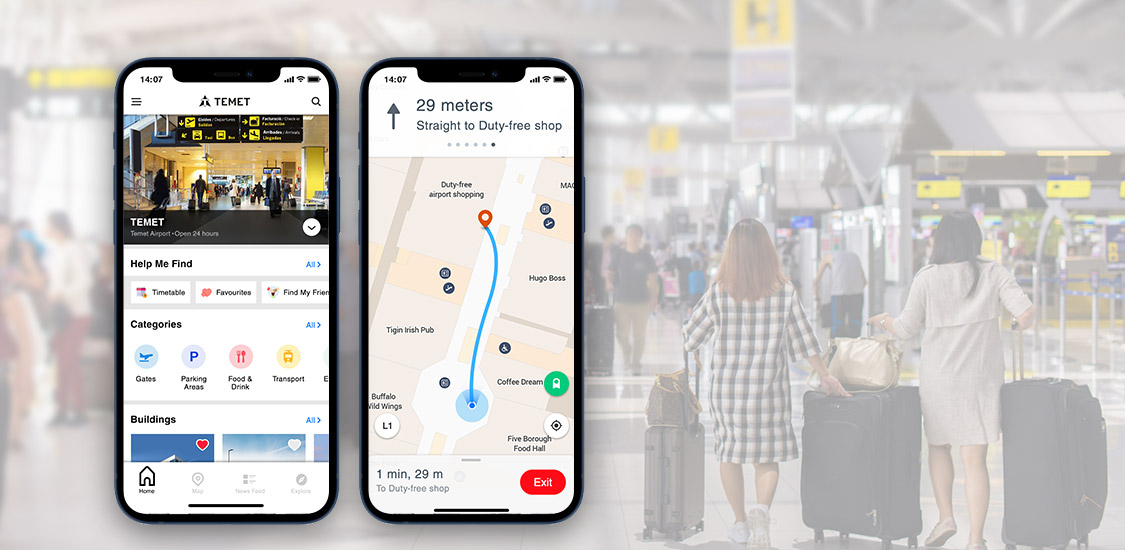 Airlines need to think about how they can provide a world class customer experience while also keeping an eye towards increasing revenue.
Integrating Mapsted's indoor location platform into their applications, allows airlines to provide their travellers with the customized service they want right now.
Mapsted's hyperlocal, intelligent marketing technology lets airlines upsell one-day passes to their exclusive lounge to passengers waiting in the terminal, send offers on duty-free products directly to passenger smartphones – in the airport and from the comfort of the cabin. They can also send passengers discounts to restaurants closest to their gate, if they're in for a long wait before their flight. These are the little things that will help airlines offer a highly personalized customer experience to passengers, that they won't be able to find anywhere else.
By adding Mapsted's technology into their existing app, airlines are giving passengers a superior travel experience with turn-by-turn directions from check-in until they reach their gate, real-time updates on flight changes, and chances to easily purchase duty-free items in-flight – even in airplane mode.
There's no need for passengers to struggle through 38 tools anymore. They can do everything directly from one app using Mapsted's next-generation indoor location-based services, giving them a smart, easy way to connect directly with their favourite airline.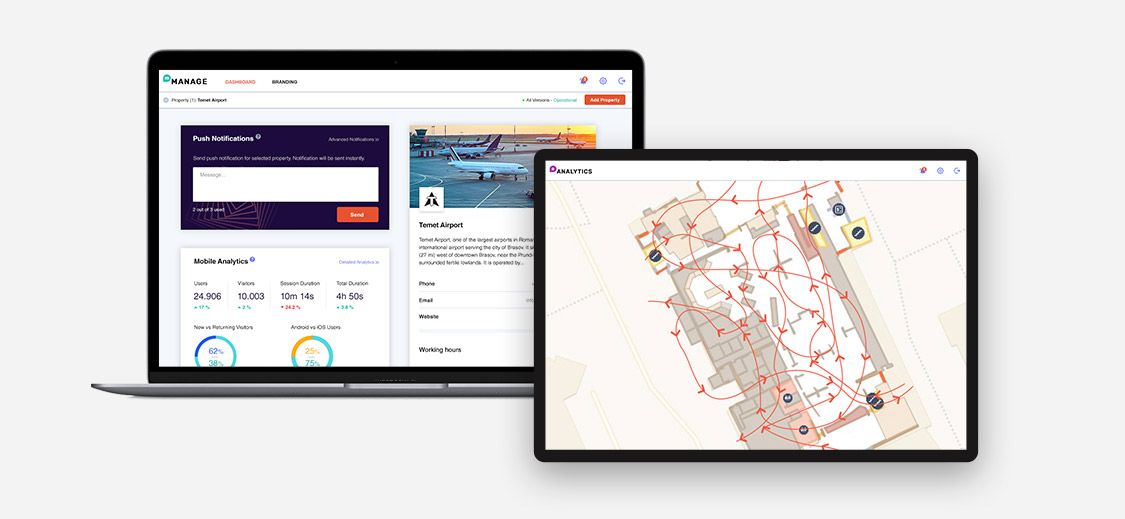 Ready? Reach out and book one of our exclusive indoor location-based services today!