February 01, 2021
Categories:
Industry News
Technology Trends
Tips & Tricks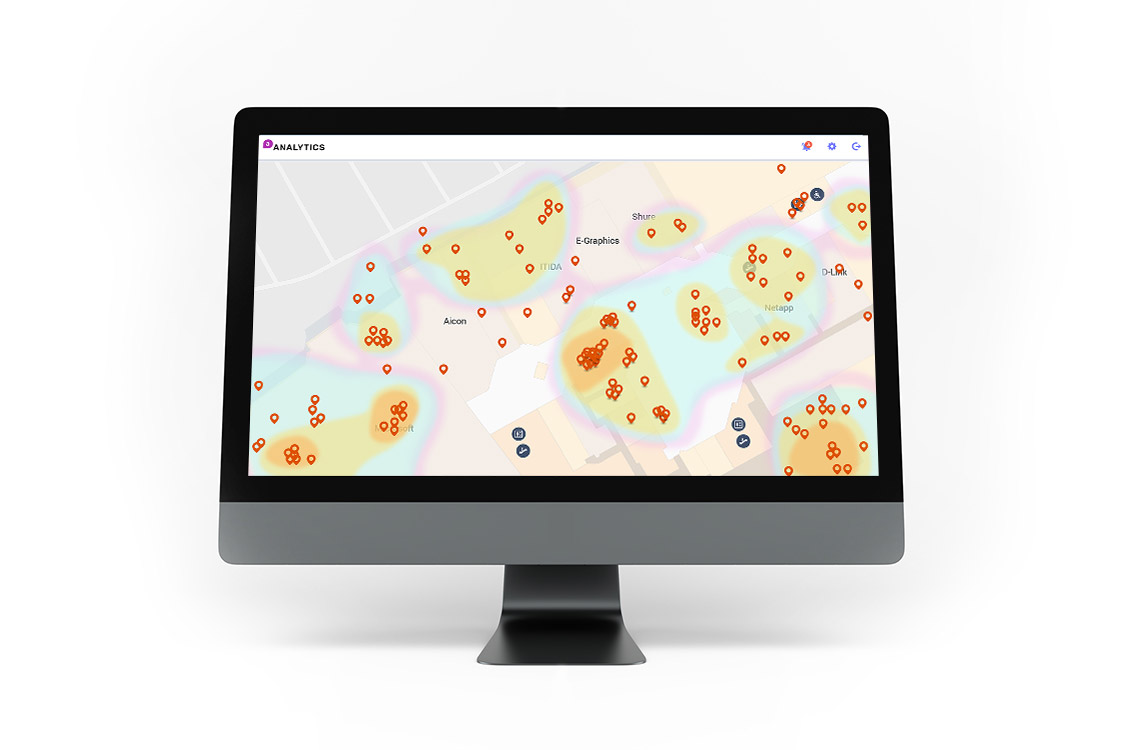 An accurate trade show traffic count can be the difference between a vendor agreeing to spend their marketing dollars with you or at another event. Find out how to use the latest heat map analysis for trade show technology to get the most accurate traffic counts and optimize flow, and create a better trade show experience for your exhibitors.
When you first talk to a potential exhibitor about your trade show, one of the first questions they'll ask you is most likely going to be about location analytics, specifically, they'll want to know about demographics and foot traffic.
Why does foot traffic matter?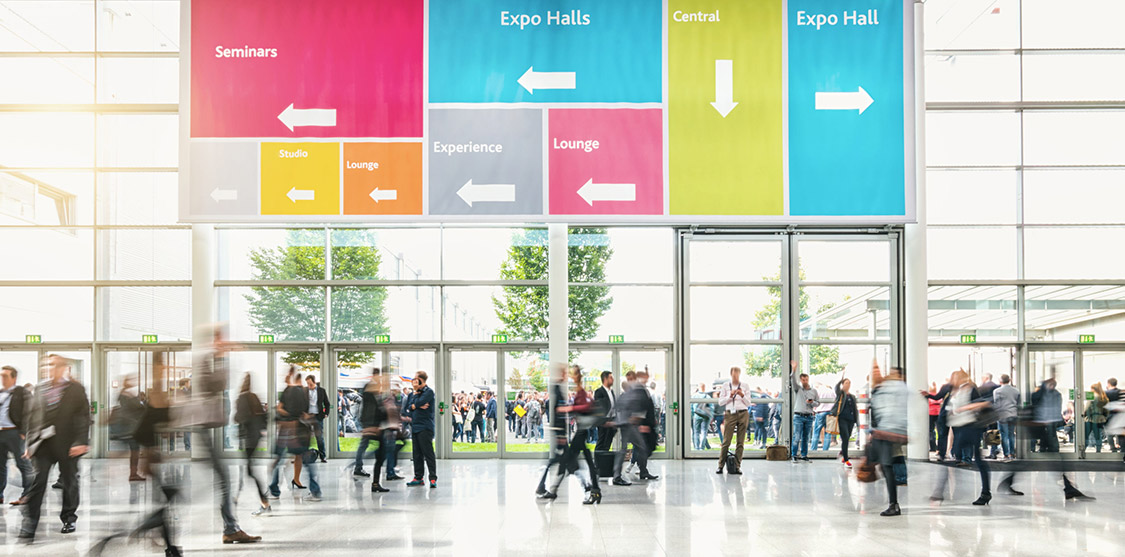 Foot traffic is also the metric they'll use to measure how successful the show was for their business, and whether it's worth buying a booth again next year. If there's a lot of foot traffic, even if that traffic isn't necessarily going to their exhibit, they may consider coming back for the next trade show. But, if they don't see the numbers, they'll know their time is probably better spent somewhere else.
An accurate measurement of traffic is not only important to exhibitors, but to trade show hosts as well. Relying on hand counters at the entrances, or on ticket check-ins and ticket sales, only gives you a rough estimate of the numbers, especially if you have multiple ticket options available. Not to mention, these methods are outdated. So how can you accurately measure traffic at your venue when you have so many other things going on?
Mapsted Maps & Indoor Navigation
Mapsted's indoor maps provide seamless outdoor-indoor navigation and localization with turn-by-turn blue dot navigation without the use of beacons or other external hardware.
Learn more

Heat Maps
A heat map is a graphical representation of the traffic flow analysis for trade show data, where the individual values contained are represented as colours. Heat map analysis' for trade shows use different colours to represent the data in a heat map, however darker shades of the chosen colour represent larger values in that specific region, and lighter shades represent smaller ones.
When talking about a trade show, for example, the exhibits where the most people stopped to look, would appear as a deep, dark red, and the areas that nobody visited would not show any colour.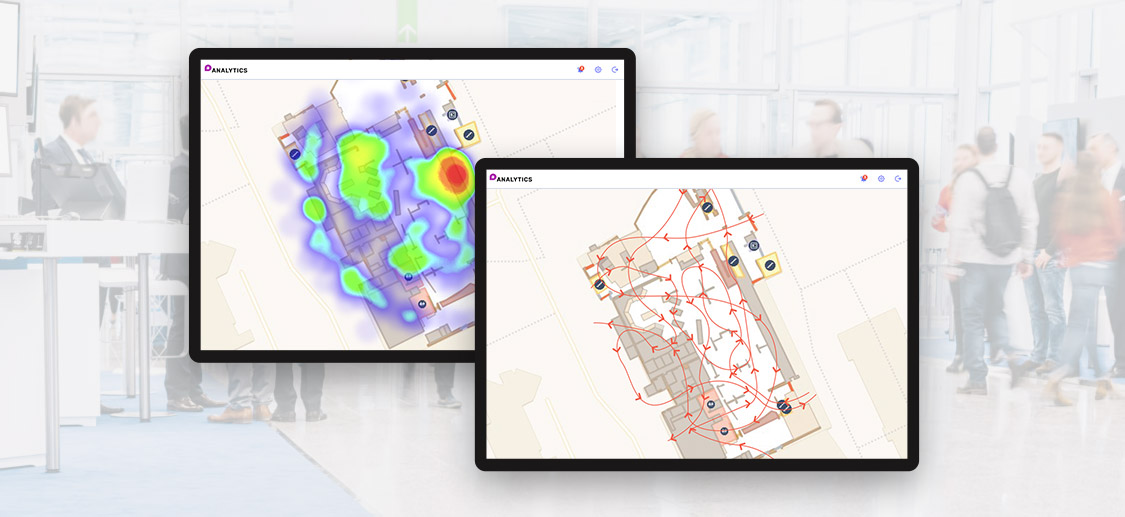 Heat maps won't just tell you where attendees gathered, they'll also show you how they moved around your venue. The colours in the heat map correspond to the foot traffic during a particular time period. For example, red areas typically represent the most visited areas, while green spots mean lower traffic.
But heat maps can show event planners more than just numbers and traffic flow. They can also give you insight into how long someone stays in a particular area. This lets you know what products, demos or exhibits your visitors are most interested in. This data can be analyzed hour-by-hour to see how traffic progressed and changed throughout the day. It also helps event planners know what areas are the most valuable because they draw the most attention. With data on traffic patterns, it's easy to create desirable areas that exhibitors would pay a premium for.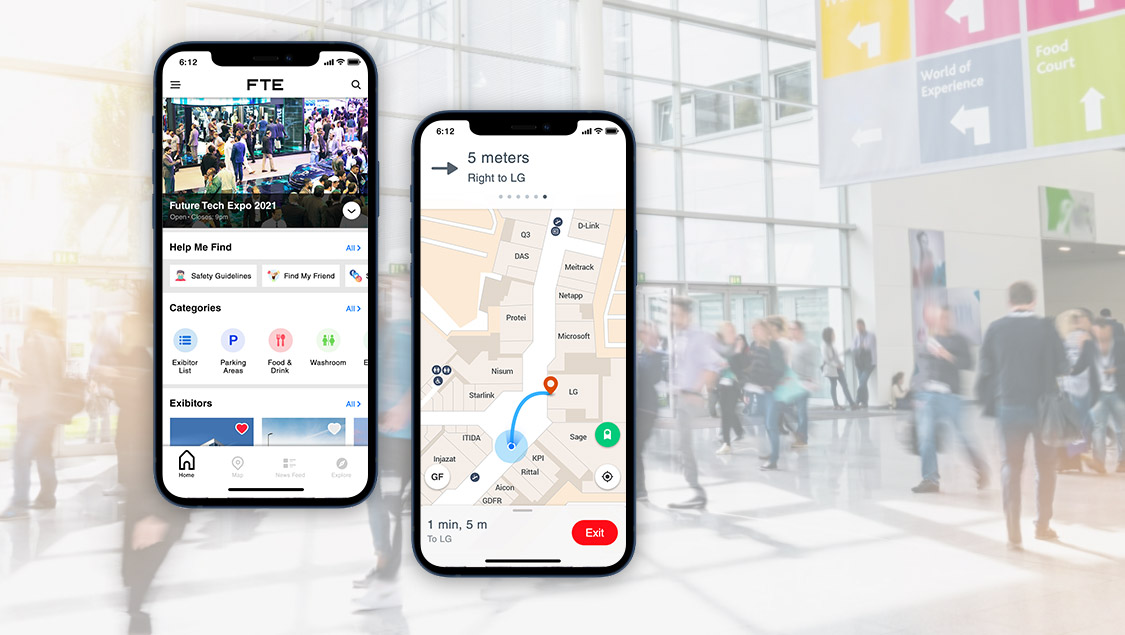 Giving trade show organizers and vendors accurate traffic information is the difference between their continued investment, and them looking somewhere else to spend their marketing dollars. As important as those counts are, there's no reason to tie up a lot of staff time on them, instead, choose a technological solution, like Mapsted's location analytics that feature heat maps, to streamline the task and provide excellent accuracy.
Frequently Asked Questions
Q1. What can a heat map tell you?
Ans. A heatmap is a simple two-dimensional data visualization tool, which in the case of indoor localization, shows visitors. It depicts populated areas in warmer tones, while less crowded space is depicted in cooler colors. Using a heatmap is a great way to track on-the-floor activities over time and deduce patterns from them.
Q2. Which is the best tool for heatmap analysis?
Ans. Mapsted Analytics is the best heatmap analysis tool right now. It has a lot of features, but only what you need to interpret from visitors congregating in an indoor space.
Q3. Why not use Google Maps for heatmap analysis?
Ans. Google Maps is a useful tool for outdoor navigation and on-the-fly analysis, but it has fewer advantages for those who track visitor activities indoors. They cannot provide more accurate data than other standalone heatmap analysis tools. This is one of the factors that lead businesses to seek analytics solutions from Mapsted.
Q4. How does heat analysis influence decisions in smart factories?
Ans. Heatmap analysis can improve plant safety, worker health, and productivity, which would otherwise be a difficult task for data analysts because they would have to interview and focus on vigorous data collection, which is neither cost-effective nor time-saving.
Q5. Why does heat map matter at trade shows?
Ans. A thorough analysis of foot traffic would be required to determine the success of your event. Only then can you determine the budget for the next event and whether it is worthwhile to rebook the booth. Heatmap analysis connects the data to complete the picture that ticket check-ins cannot.