May 14, 2022
Categories:
Technology Trends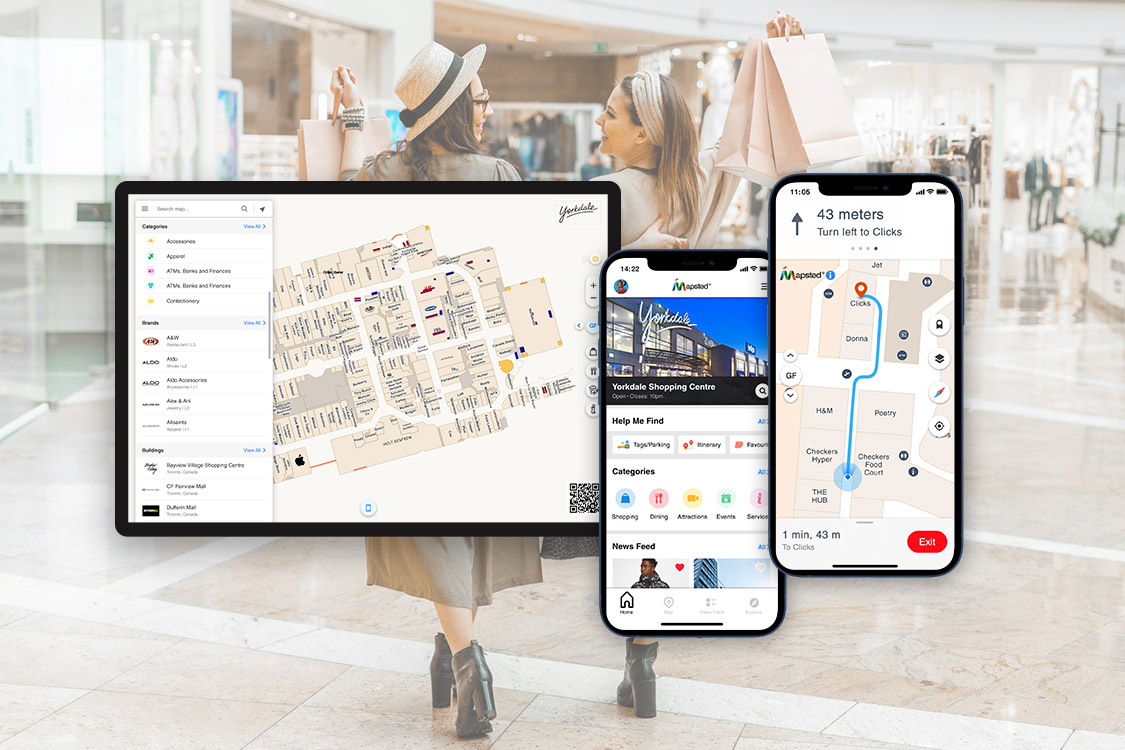 Innovations in indoor navigation and smart facility management technology are paving the way for new experiences in Smart Location Marketing. According to IDC, there will be more than 41 billion connected devices worldwide by 2025. The market for indoor positioning and Indoor Navigation is estimated at $43.51 billion globally. In such a huge market, there is a tremendous need for new technologies in facility management, and innovative wayfinding solutions.
Other breakthrough innovations include hardware-free location solutions. The impossible becomes a reality using a unique algorithm that sources over 50 data points, ensuring accuracy and scalability. Technologies that redefine the customer experience, provide location marketing and indoor navigation are trends for 2022. Here's a bit more about these innovations, and more.
What's New for Indoor Navigation and Building Facility Management
Trends for the future on Smart Facility Management forecast a shiny horizon for the future. There is no doubt that the future of Facility management goes hand in hand with technology. access to accurate data on various aspects of the property that range from maintenance, risk management, customer behavior, and financial control and that can be all done from your smartphone. Innovations like 1-3 meter real-time indoor navigation solutions without the need for additional external hardware. Also, Enterprise functionality is capable of supporting the most sophisticated use cases. Mapsted, a world-leader Canadian indoor positioning company, with clients like Tesco and the University of Windsor, developed a unique algorithm that draws on more than 50 data points to ensure accuracy and scalability.
This revolutionary algorithm combines multiple data inputs, allowing users to navigate inside buildings and properties and have access to personalized information and updates in real time. it provides accurate and real-time notifications. With the help of AI-based technology, you can have a better understanding of the deepest analytics of your customer's behavior and preferences.
Artificial Intelligence In Building Management
Artificial intelligence (AI) in Smart facilities management and trendy Indoor Navigation software and systems are tools that also offer a series of benefits in Facility and Real Estate Management Technologies. That saves time, which is a precious asset in modern society. The introduction of Artificial Intelligence in Facilities Management is one of many tools that can help automatically monitor data, auto-compare and more. As well as preventing human mistakes. We can mention a unique algorithm designed by Mapsted that draws on more than 50 data points to ensure accuracy and scalability. This data provides an overall estimate of the user's location, which dynamically adjusts over time as multiple measurements are collected. Aided by AI, Transportation companies, Supermarkets, Banks, Higher Education entities and so many other segments will be adding value to their services and taking their processes into outstanding grounds.
Facility Management Technology Software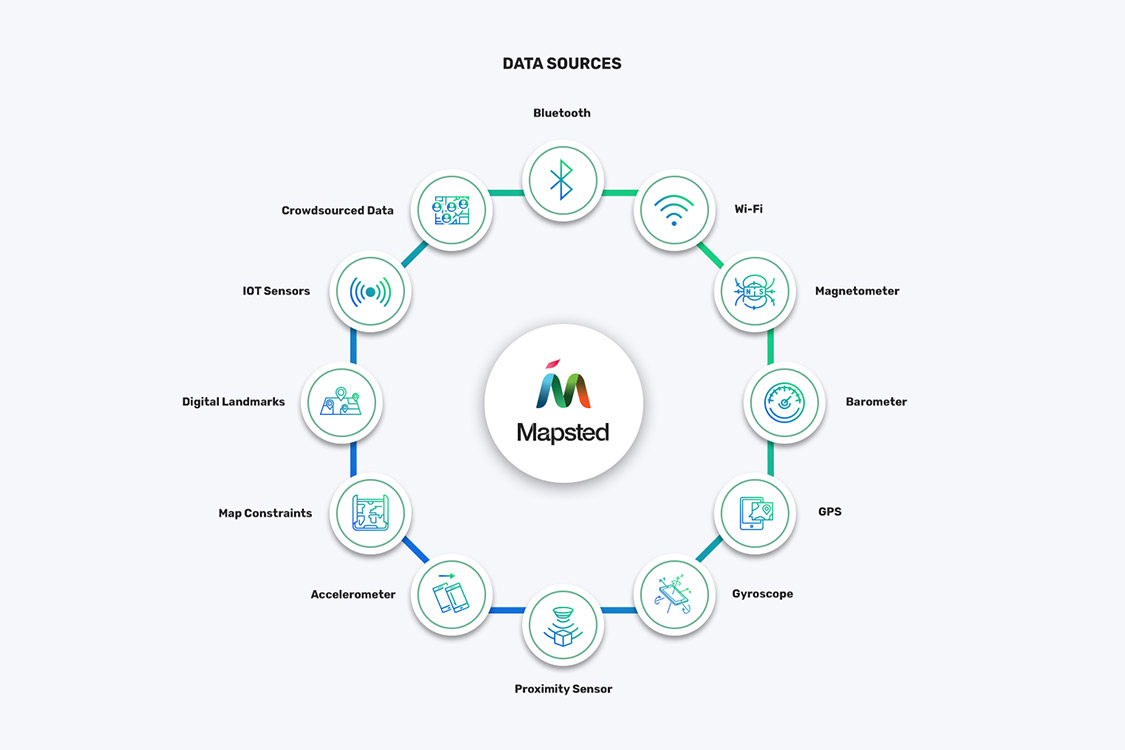 The new Facility Management Technology Software Trends come with a tidal wave of innovations in 2022. One of those innovative ideas that stands out is the
ground-breaking new algorithm engineered by Mapsted. that includes features like:
Combining Crowdsourced data,
Bluetooth. IoT Sensors
Magnetometers
Digital landmarks, and a lot more.
This algorithm can respond effectively to the changing needs of businesses and properties and design solutions that will work best in their type of environment, ensuring their visitors have the best experience possible when interacting with their properties. With Location Marketing Platform that helps clients find the right audience for their services and improves customer engagement with advanced market segmentation, customer engagement, and targeted notification tools.
Location Marketing and New Technology in Facility Management

Trends and software platforms have revolutionized facility management and optimization. Smart Buildings now are equipped with self-learning devices that are connected to the Internet, which automatically improve the performance of their assets over time and collect data so you can prevent and fix problems before they even occur. And with the data collected, you can control the entire environment from the device. what allows you to know where your customer is, receive data from your customer's behavior and preferences, and finally improve customer engagement and promote yourself to the right audience with a notification and advising system.
Understanding the needs of your client and being proactive in providing the right response Also, the compelling need of getting simpler equipment is a requirement from almost all companies.
Smart Technology in Facilities Management

Smart technology is here to stay. Self-learning algorithms and processes, and the Internet of Things provide Facility Managers with an extensive range of tools and solutions to make the property and Building management easier, faster, and optimized. Among Facility Management Software Trends for 2022, Mapsted stands out with its Building Calibration Platform. This is an advanced smartphone application that ensures your property is equipped with the most accurate indoor navigation technology available. By uploading a map or floor plan of your building and completing the process using an Android device.
There are also a series of benefits in Facility and Real Estate Management Technologies, Predictive maintenance, Indoor Navigation for tenants and privacy ensure, once tenants will be invisible to one another. All that gives you a better idea of the health of Management systems which makes intervening when necessary easier and more cost-effective.
Conclusion
In conclusion, after learning about some of the Facility Management Technology Trends for 2022, the new products that are offered, as well as the variety of use cases in the technology can be implemented, Now, more than ever, it is a good time for action and proactiveness in taking all the amazing benefits of innovation that are already available. Platforms like No broker for example can use Analytics data collected to predict when some painting, cleaning, or maintenance needs to be done, giving room for a fast and excellent service provision. No broker users can also easily navigate inside the properties using the smartphone application, the possibilities are endless. you should have a crystalline understanding of how important and impacting they are for the future of the corporate world, and more specifically for Facility Management and Indoor-positioning and navigation solutions.
2022 is the year when businesses and organizations worldwide will be empowered with robust and easy-to-use outdoor indoor navigation and enhanced enterprise functionality. That will allow harmonious and proficient management of key business processes, governance, customer relationship, and much more. Mapsted is playing a leading role in the dawning of this New Era of Smart Location and Personal indoor Navigation by delivering simple but efficient solutions in complex environments, which makes Mapsted a one-stop-shop for all your indoor navigation needs.
The only constant changes. and in a world of constant transition, even innovation can be reimagined. Imagination and inspiration are trending and these new trends can offer insights and ideas to help you reach your goals and keep pace with the best science and technology can offer to your personal and professional lives.
Frequently Asked Questions
Q: What's new in Smart building facility management?
A: Trends for 2022 present cutting-edge technology, Today, real estate service providers and facility managers can greatly benefit from technologies that connect and share their data over the Internet, simultaneously helping and receiving data.
Q: Why implement Smart Technology?
A: The advantages of having an integrated Smart Building are countless, especially for the Facility Management experience, making tasks easier to do and changing daily schedules for more profitable and practical ones, giving you insights on what is generating a profit and what is not, as well as saving you from a lot more expenses with maintenance later on.
Q: Can FMs or properties benefit from IoT?
A: Yes. Implementing Artificial Intelligence to bring Facility Managers (FM) the best choice for every problem and situation, making profiting a priority and setting a course for the future.
Q: Overcoming Hardware limitations, is possible?
A: It is! Mapsted created a self-learning algorithm that is capable of delivering the best experience in Indoor Navigation and Facility management and there is no need for external hardware.
Q: What is the future of Location and Smart Facility Management?
A: Innovation and Integration That's the future. and the possibilities that are already here, now, are astonishing.