June 21, 2023
Categories:
Museums & Galleries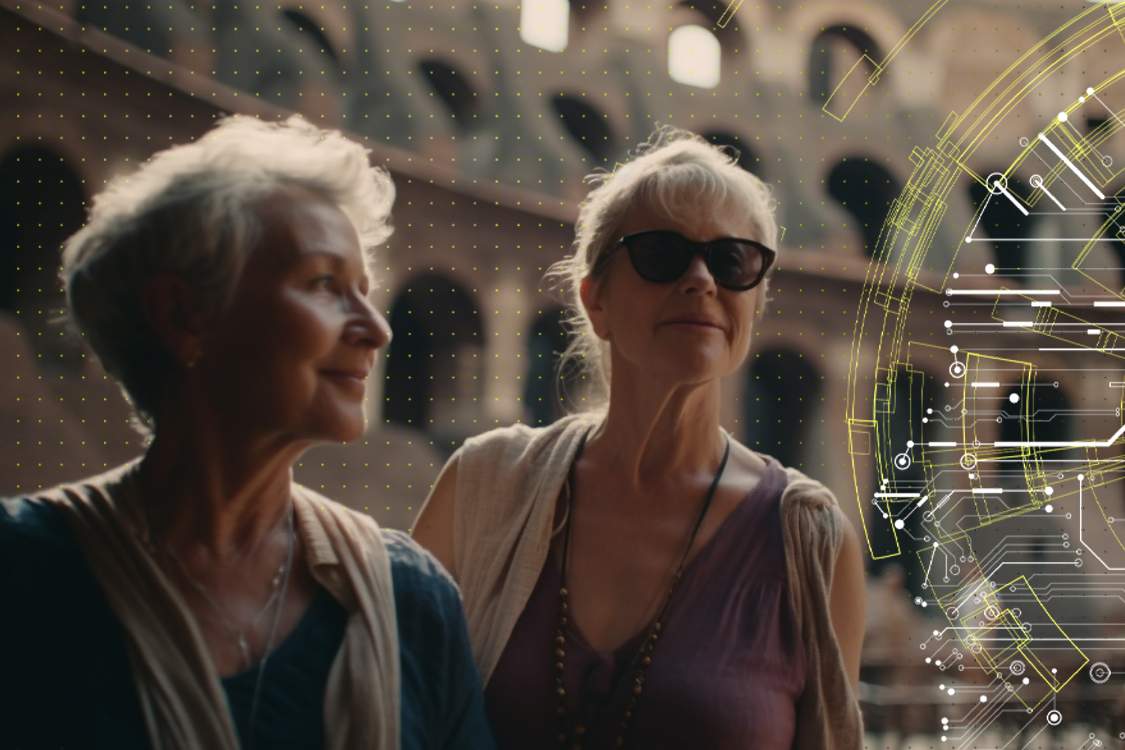 Museums are undoubtedly some of the coolest places to visit. When they also "tear down the walls" and feature outdoor exhibits, the cool factor doubles. Whether it's wandering through mazes, trekking to find art installations or just spending time outdoors chilling amongst the artifacts, you won't want your visitors to miss a thing – and that is exactly where location-based technology can make a real impact to improve outdoor museum experiences.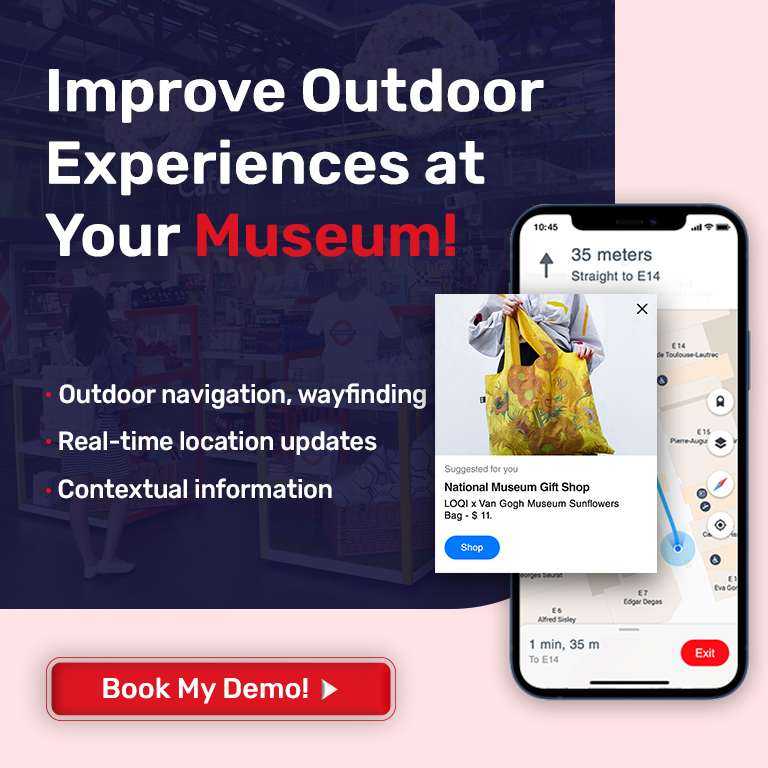 The Art of Navigation
To appreciate the benefits of location-based technology in outdoor museum spaces, it's essential to understand outdoor navigation. It involves using different technologies, tools and techniques to determine and guide individuals' locations and movements in outdoor environments. Its purpose is to assist people in reaching their desired destinations or exploring unfamiliar outdoor spaces.
Navigation systems for museums can also employ added features to enhance the navigation experience such as providing:
Maps and route planning
Turn-by-turn directions
Real-time analytics
Points of interest search
Offline navigation
Guidance
Use of interactive maps
Real-time location updates
Contextual information
Audio guides
Augmented reality (AI) enhancements
Gamification and interactive challenges
Safety and emergency assistance
The Potential for Heightened Experiences
Museums around the globe are increasingly making use of their outdoor spaces to attract visitors. In fact, some museums are strictly "open air," meaning their installations are predominantly outside. The Louisiana Museum of Modern Art (LMMA) in Denmark, for example, features a sculpture park with 60 not-to-be-missed sculptures on its grounds that add magical visual appeal to the great outdoors.
But imagine how the experience could be elevated with an outdoor digital map and navigation system to lead visitors around the space, keeping them informed and on track to make the most of their visit. They could access information about the creators of the pieces and how each piece integrates with the others. The map could also provide additional information on each piece to embellish the overall user/visitor experience.
A sculpture at the Louisiana Museum of Modern Art's Sculpture Park in Denmark (photo courtesy of the LMMA)
Navigating Large Areas
Hidden in the Tuscan Hills of Italy is another imaginative outdoor museum art space. The Tarot Garden features 22 huge sculptures based on the tarot deck, scattered over a sizable 14 acre space. The brainchild of French artist Niki de Saint Phalle, the Tarot Garden is alive with mythical creatures like a sea monster, goddesses and other beings of unusual shapes, colours and exaggerated proportions. While an imaginative interactive map is offered on the garden's web site, imagine how much easier it would be to experience the large-scale sculptures with location-based technology!
One of Niki de Saint Phalle's whimsical sculptures at the Tarot Garden in Tuscany, Italy.
Visitors could start their journeys from the moment they find a parking spot by pinning it on the map for easy location after their visit. Real-time notifications could welcome visitors to the garden, and geofencing could trigger pop-up information about each sculpture visitors encounter. With 14 acres to explore, it might also be a wise idea to find the nearest washroom facilities and perhaps places they can stop for a cold beverage and/or a bite to eat. Having a navigation map is helpful in many ways!
Imagine also, how location technology could enhance a trip to the Art Musée Rodin in Paris, where the marriage between art and nature is in its element. The sizeable museum also features a Sculpture Garden that showcases Rodin's talents on a seven-acre oasis of calm in the centre of the bustling "City of Light."
With location technology employed in a space like this, visitors could be equipped with an outdoor-indoor wayfinding map to easily move from outdoor to indoor settings. With the specific locations of all outdoor sculptures available on the wayfinding app on their mobile devices, visitors could choose which pieces they would like to view first and how to find the easiest ways to see those they would enjoy most. They could receive real-time messages on gift shop discounts and what may intrigue them to take home as a memento. A replica of The Thinker, perhaps? Families with young children can plan their visits and have access to where they can find washrooms and baby changing facilities. Disabled visitors will also know where to find accessible areas and services.
The Thinker by Rodin in the Sculpture Garden at Art Musée Rodin in Paris.
Making It Easier Beyond the Walls
An outdoor-indoor wayfinding map can be immensely helpful for museums with outdoor exhibits in these ways:
Orientation
An outdoor digital map gives visitors a visual overview of the whole outdoor space so they can grasp the layout, locate different exhibits and plan their visits accordingly.
Navigation
Digital maps that work outdoors can include clear paths, routes or trails guiding visitors from one exhibit to another helping them to find their ways around efficiently to ensure they don't miss anything which certainly ups the enjoyment factor.
Information and content
A wayfinding map can incorporate additional interesting facts about outdoor exhibits as well as any history associated with it. Visitors engage more when they know more about what they're seeing, ultimately providing a much more rich experience.
Points of interest
A wayfinding map can highlight points of interest about outdoor exhibits such as notable sculptures, interactive installations and landmarks. People are apt to spend more time exploring when they have more details.
Integration with indoor exhibits
There may be times when outdoor installations coincide with ones indoors. A wayfinding map can provide a seamless transition from outdoor to indoor viewing by providing pathways or directions guiding visitors to corresponding exhibits indoors. What a cohesive museum experience!
Visitor services
A wayfinding map can include information regarding services in an outdoor centre such as washrooms, places to sit and rest, picnic areas or food vendors. This way, visitors can plan their breaks to make the most of their outdoor time.
Promotion
A wayfinding map is priceless for a museum when its use includes promotion. It can showcase the diversity of outdoor exhibits to entice visitors to explore them. It can be distributed online, in brochures, or displayed prominently within museum premises to raise awareness and generate interest.
The Final Word
Clearly, location-based technology can improve outdoor as well as indoor museum experiences, and Mapsted's advanced outdoor-indoor positioning technology is the premier system for the task. Our flexible framework delivers seamless outdoor-indoor navigation and it doesn't need Bluetooth beacons, external Wi-Fi or additional external hardware. That means you will save on installation and maintenance costs. Plus, it works anywhere! We invite you to reach out to us for a no-cost demonstration on how you can elevate your visitors' museum experiences both indoors and outdoors and promote your venue at the same time.
In the meantime, you may be interested in our blog on Keeping Visitors Engaged Using Gamification in Museums & Art Galleries, or this short video on Reimagining the Museum Experience With Location Technology.
Frequently Asked Questions
Q1. How can outdoor navigation help museums with outdoor exhibits?
Ans. Outdoor navigation can greatly benefit museums with outdoor exhibits by providing guidance to visitors with the use of interactive maps, real-time location updates, providing contextual information and audio guides, enhancements with augmented reality (AI), providing gamification and interactive challenges and providing safety and emergency assistance.
Q2. How does a wayfinding map help museums with outdoor exhibits?
Ans. A wayfinding map can offer several benefits to museums with outdoor exhibits such as providing orientation, exhibit locations, navigation assistance, information on displays, points of interest, accessibility considerations, visitor services and act as a promotional tool.
Q3. What location-based technologies are commonly used in museums to enhance the exploration of outdoor exhibits?
Ans. Several location-based technologies are commonly used in museums to enhance the exploration of outdoor exhibits such as a global positioning system (GPS), mobile applications, Bluetooth beacons, QR codes, Wi-Fi positioning, geofencing, AI and interactive kiosks.
Q4. What are the advantages of using mobile applications or interactive kiosks with location-based features to guide visitors through outdoor exhibits in museums?
Ans. Using mobile applications or interactive kiosks with location-based features to guide visitors through outdoor exhibits in museums offers several advantages such as more personalized experiences, navigation and wayfinding, enhanced interpretation, interactive and engaging content, multimedia integration, accessibility and inclusivity, data collection and analytics and flexibility and updates.
Q5. Can location-based technology help museums gather data on visitor behaviour and preferences related to outdoor exhibits, and how is this information utilized?
Ans. Location-based technology can help museums gather data on visitor behaviour and preferences related to outdoor exhibits. This information can be utilized to provide visitor flow analysis, show exhibit popularity, track dwell time analysis, show visitor interactions with outdoor exhibits like paths taken, provide personalized recommendations based on data collected, garner visitor satisfaction and gather feedback through surveys or interactive prompts.