May 29, 2023
Categories:
Transportation Hubs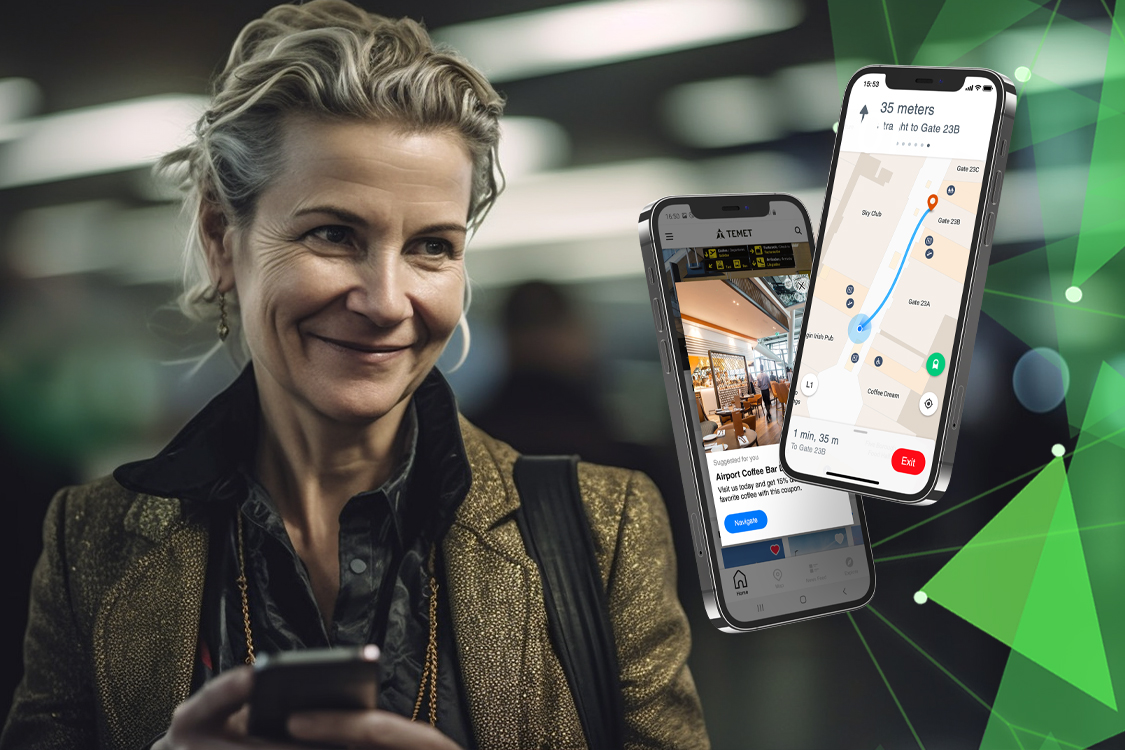 Airport experiences have evolved to alleviate passenger predicaments in a variety of ways. Many airports are weighing an unplugged approach to curb decision bottlenecks. All that in hopes to reduce the hassles of air travel. The future of air travel, like that of any other industry, is dependent on providing a memorable customer experience. 
In this blog, you'll learn the seven ways to create a stellar customer experience for air passengers. But first, let us walk you through the principles of the airport customer experience.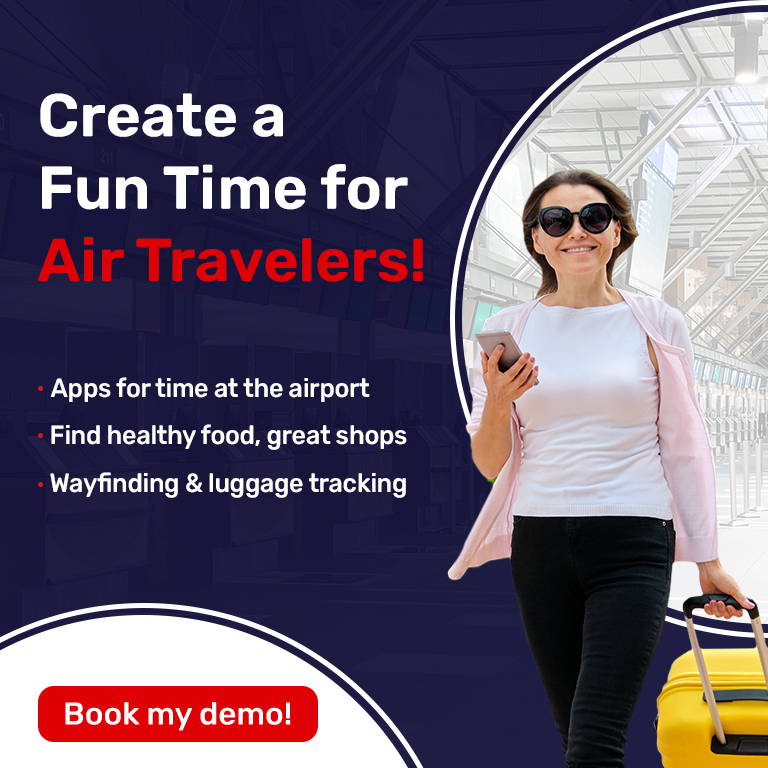 Define the Airport Customer Experience
At a time when airports are rated based on customer satisfaction (CSAT), all focus is on improving user convenience. Why? If given the option, people will choose another airport if it better serves their needs. As a result, the majority of airport customer experiences revolve around creating a seamless wayfinding experience for everything from finding terminals, checking in luggage and navigating to duty-free shops. As a result, airports are careful not to make people's journeys more stressful and instead strive to improve them by incorporating local flavours into touchpoints. All of this is done to give people a sense of place and to provide excellent customer service. 
Why Is Airport Wayfinding Important?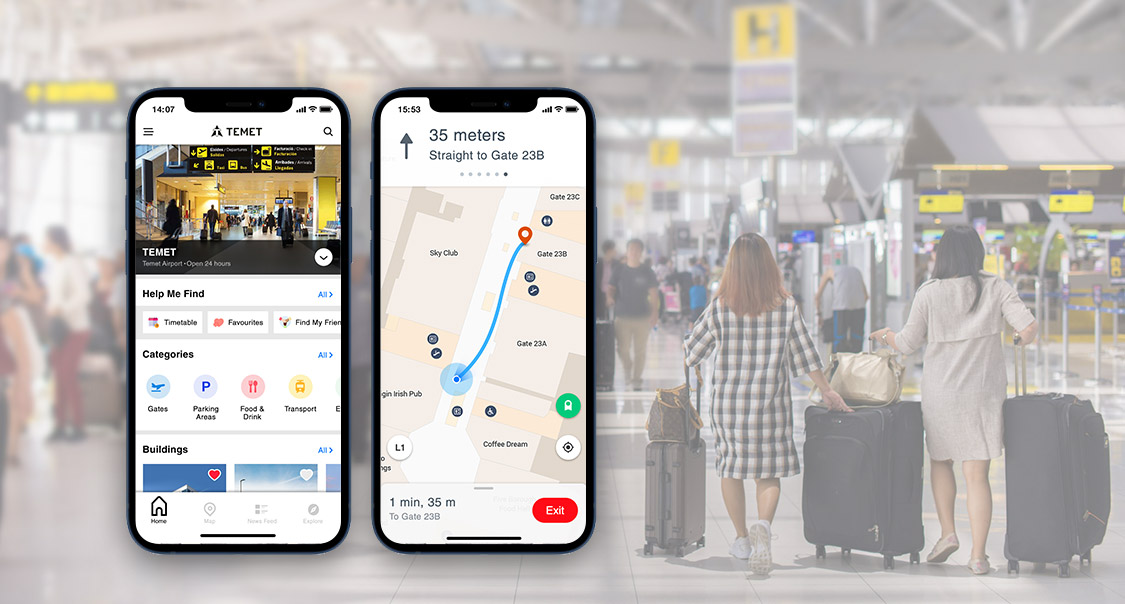 Navigating cultural and institutional contexts can be a daunting task when it comes to airport wayfinding. Transiting passengers often need more support compared to locals. The one-roof ideology aims to minimize passenger inconvenience by enhancing access to various airport wayfinding options. This ensures passengers have clearer information regarding routes, distances and available services.
Additionally, efficient airport wayfinding plays a vital role in both arrivals and departures. It helps guide passengers seamlessly from the public area to the airside and vice versa, without any unnecessary detours.
Airport Wayfinding Signage Benefits
The ultimate goal of wayfinding is to declutter decision-points so that both passengers and non-passengers can enjoy themselves in a complex airport environment. Well-planned airport wayfinding designs will reduce passenger anxiety by quickly orienting them with their surroundings.
The main challenge for operators is determining how to project information without making it cumbersome or causing misinterpretation. Airports currently use the following wayfinding to assist airport traffic in moving freely.
Static signage that informs passengers of their current location and orientation in relation to the environment. The wayfinding signs must allow people to follow the cues without being hindered by language barriers. As a result, it should ideally be a mix of colors, icons, and text.
Wayfinding, by definition, fulfills accessibility concerns by displaying various services and destinations that are relevant to users without providing a detailed explanation. It is intended for people who use the facility when they are anxious and have little time to think about their options. As such, it should consider cultural backgrounds, linguistic taboos and euphemistic usage to ensure that the message is clear.
Airport Wayfinding Design Standards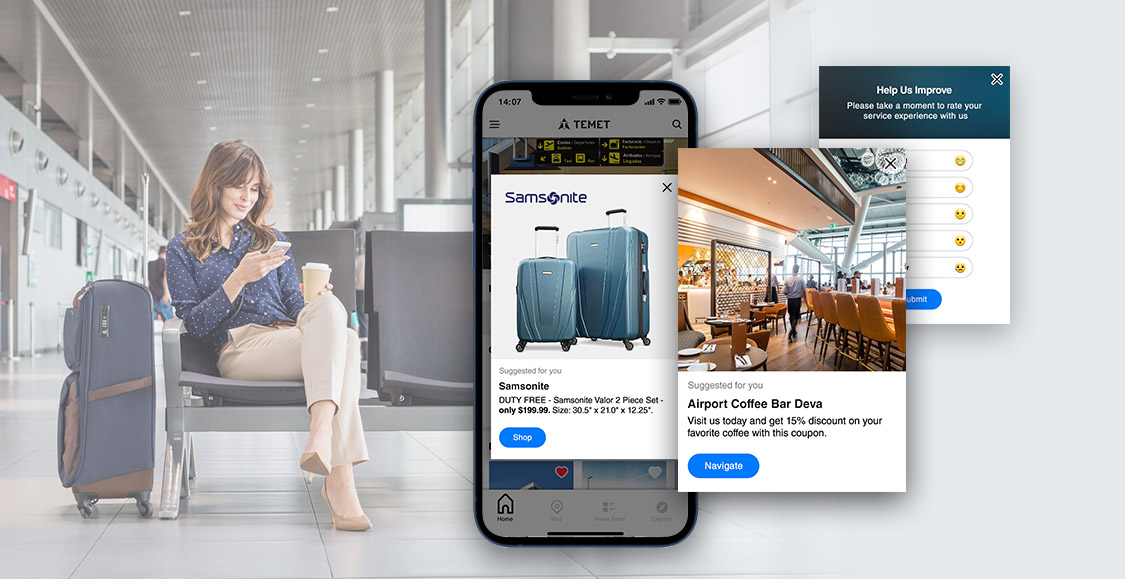 Wayfinding design should feature clear sightlines, distinct paths, and landmarks, as well as text information and the location of helpdesks. Points of interest are not only more visible but also easier to find with a well-marked wayfinding design. It makes recalling the information on it easier, which aids in quickly orienting with the landscape.
7 Ways To Improve the Airport Customer Experience Using Location Technology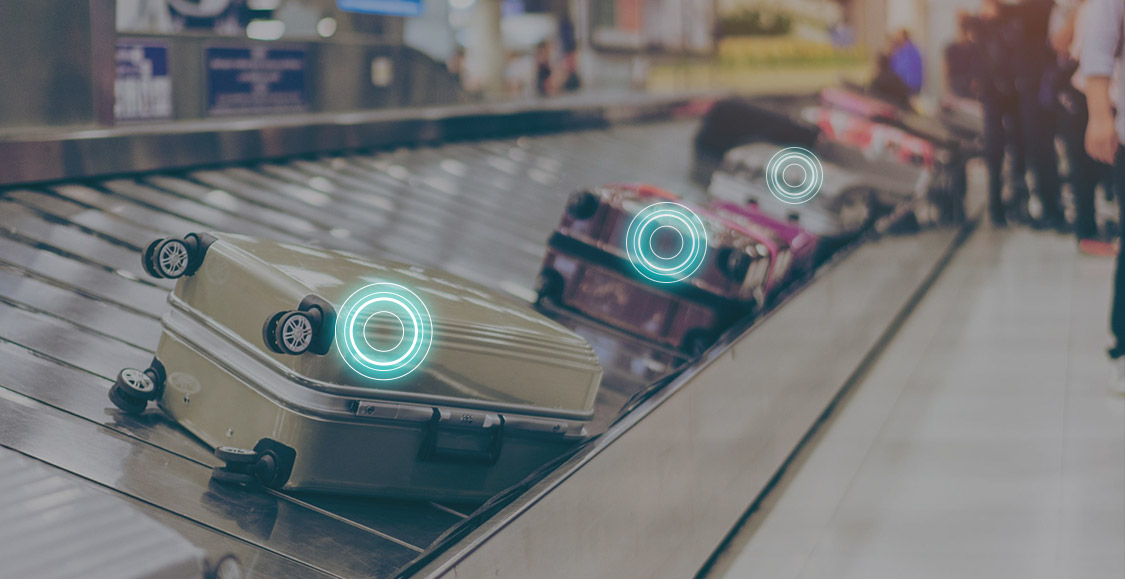 1. Auto Wi-Fi Detection and Pairing
Having readily available internet connectivity is the only respite during airport hustle. It allows air travellers to make quick calls, watch content, and receive travel updates so they don't feel cut off from civilization. Filling out request forms to access free Wi-Fi is an unnecessary hassle when they could be doing something more productive. When properly configured using location technology such as Mapsted's geofencing capabilities, for example, passengers arriving at terminals would be sent a push notification reminding them of free Wi-Fi availability. Not only that, but network pairing should be a one-click function to eliminate the need for digital forms.
2. Instant Access to Terminal Wayfinding Information
Of all things, travellers dread being asked where they want to be dropped off. Taking time to figure out the terminal is the recipe for all travel-related troubles. It's too unwise to make guesses about departure plans when there is zero room for error. Most passengers are particularly worried about this.
While it seems easier to stay one step ahead with timely planning, the reality is that most people find large airports bewildering and they rely on technology as a crutch, which often leads to panic when they try figuring things out on their own. Today, the proliferation of IoT location-based technology makes it necessary for smart airport applications that put passengers on the fastest path to reach their flight terminals. This includes airport wayfinding and interactive map design.
3. Geolocate Preferred Parking Spots To Shorten Detours
Some travellers prefer to drive themselves to the airport rather than being chauffeured. What awaits them is a never-ending struggle to find parking. Even if a spot exists, it may be a distance away from the terminal and they would need to cart their luggage over a distance and back upon their return. 
It's not difficult to imagine how a connected airport app could solve this issue. Vacant spots can be updated in real time so airport users will know in advance where the closest parking spaces are to the terminal. Airport location technology such as Mapsted's solution for airports can also allow travellers to mark their parking spot on a digital map for easy recall when they return post-travel. 
4. One-Click Operation for Lounge-Hunters
Travelling is stressful, and once checked in most passengers just want to want is to relax and enjoy a refreshing drink while waiting for their flight to board. Having an app that conveniently displays the nearest lounge and its available services would be highly valued by many. Mapsted's searchable airport maps come to the rescue, helping travellers easily find their desired location and providing step-by-step directions. This creates a refreshing experience and allows them to have extra time to unwind, shop or explore the terminal stores.
5. Health Monitoring Apps To Nudge People Into Healthy Eating
It is said that when people embark on travel, they lose track of healthy habits. As passengers hastily move around crowded airports, they also deserve to be reminded about healthy eating. From sharing quick health tips and facts to recommending nearby healthy eateries, location-based notifications open up endless possibilities to put health before everything else.
6. Ad Serving Based on Location and Store Maps for a Convenient Shopping Experience
Nothing beats having an app to browse duty-free product catalogs and place pre-orders while on the go. Or imagine travellers being prompted to browse what airport shops have to offer when passing by a store and being led directly to the item they seek. To make things even easier, stores with access to travellers' shopping histories and location data can recommend products they're likely to buy as well as entice them with their latest promotions. All these features add value and ease to the airport experience.
7. On-the-Go Entertainment and Assistance
Long layovers are extremely boring because there is nothing to do but stare awkwardly at the ceiling or airport architecture. While we don't condemn those with an enthusiastic eye for artistic detail, it can be intimidating for many to do nothing. This is where the airport assistance app comes in. They keep your fingers and mind occupied, allowing you to multitask. It is extremely useful for passengers to receive navigational assistance to nearby points of interest. Such as recommending a waypoint to a popular restaurant while never letting you forget about your ETA and distance to the assigned gate.
Conclusion
Eventually, there is no way out of altering the current customer service ideals. One thing becomes clearer as expectations shift. Personalization is essential for staying on track with the growth line. Although aviation, like all transportation sectors, has caught on to the change, there is still much-untapped potential. Even simplifying wayfinding has positive effects on the CSAT. Location-based services are now being used in a variety of ways that are propelling the industry forward, such as recommending eateries, shopping zones, and the quickest route to terminals during peak hours. Thanks to location-based technology, ETAs for indoor spaces are far more reliable than GPS, and they help operators monitor crowds in a local area and redirect travellers' paths to avoid bottlenecks. Indoor positioning in airports is significantly simplifying lives and experiences and improving CSAT scores. To make sure your airport is part of this groundbreaking change, contact Mapsted today.
If you made it this far, we also want you to read about location-based analytics and how location intelligence is paving way for new possibilities. Alternatively, clicking this video on the role of Mapsted as a turnkey solution for transportation hubs could enhance your understanding about our product.
Frequently Asked Questions
Q1. What is customer service at the airport?
Ans. Airport customer service representatives improve the airport customer experience by assisting people with itinerary changes, general inquiries, and reservation-related questions. It goes a step further by making it easier for users to find restrooms, shops, and their terminals through location-based technology.
Q2. Why is customer service important at the airport?
Ans. A positive customer experience will lead to repeat visits and increased loyalty, in addition to positive reviews that other prospective travellers will use to make their decisions. Customer service is also important at airports because it sees high-pressure situations where passengers worry about missing their flights and skip out on other side tasks that they would have tended to with extra reassurance and schedule transparency.
Q3. How can the customer experience be improved at airports?
Ans. Customer experience can be improved at airports by:
Understanding the customer's expectations.
Using positioning technology to map the journey.
Consulting with indoor positioning experts for assistance in placing customers in the right place at the right time.
Valuing customers – non-flying persons included.
Providing training data to the team to improve response times and customer satisfaction.
Shortening the time people spend at decision points.
Gathering customer feedback and improve the experience
Concentrating on increasing NPS.
Using social media to assist customers in locating assistance.
Q4. How to make airport wayfinding highly impactful?
Ans. Consult with digital wayfinding experts like Mapsted to help you design an airport wayfinding app that can be accessed via mobile devices. They can then follow the map to their indoor destination without any additional hardware. Wi-Fi and other in-house technology are used by location-aware technology to tell users where they are and the shortest path to a terminal.
Q5. How can wayfinding signs help improve customer experience?
Ans. It is not enough to have wayfinding signs at decision points at airports. Having access to digital navigation data at all times inspires trust and confidence while relieving stress. A relaxed traveller has more things to think about and is more willing to try out other airport amenities like shopping and food joints.