February 01, 2021
Categories:
Resorts & Parks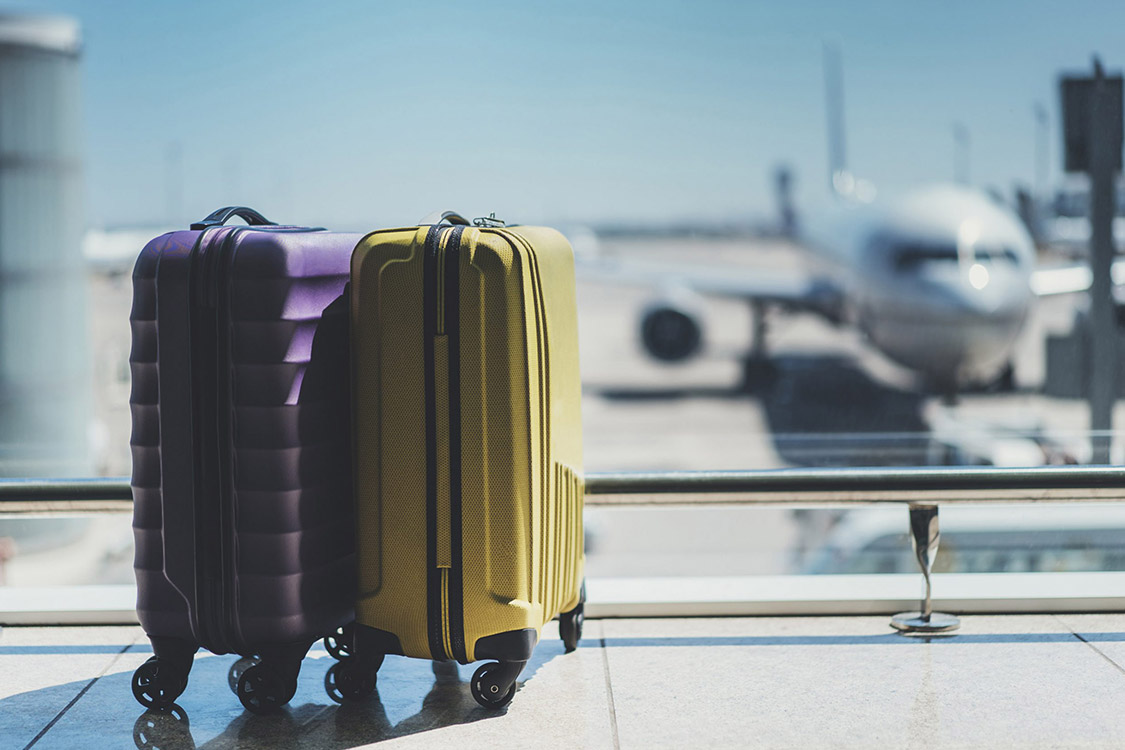 Vacation fomo (fear of missing out) can make or break a getaway.
One-dimensional apps, pamphlets, and information desks typically all lead to one common problem: guest frustration.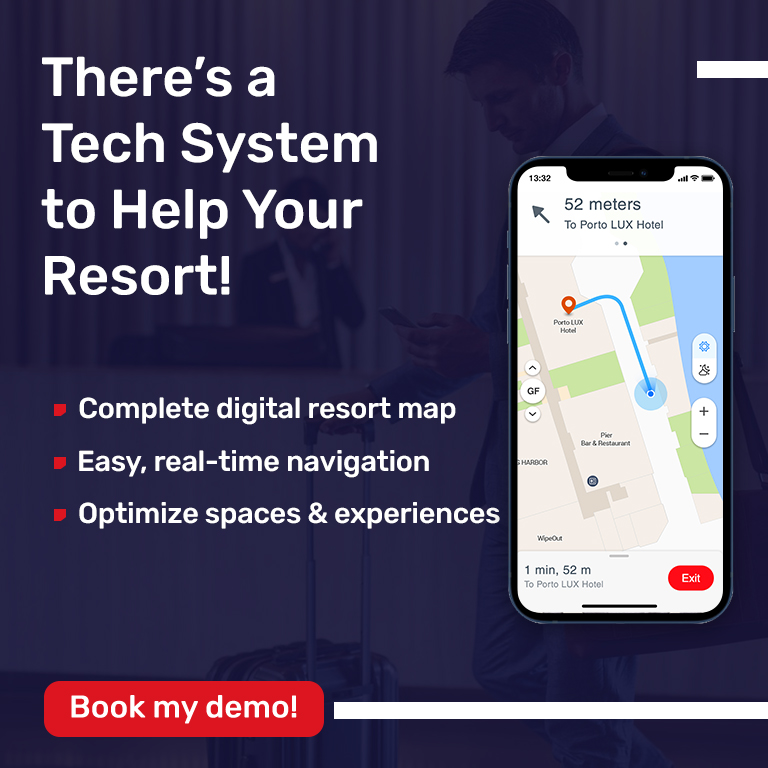 The frustration of Generic Indoor Navigation Solutions
Resorts may have their own apps, but these tend to offer guests only a few generic services like the ability to choose their room, unlock their door, and on occasion, learn about upcoming events. What these apps are missing is a highly personalized platform that caters specifically to each guest of the hotel or resort.
While pamphlets and flyers were always the main method of keeping guests up to date with the latest amenities and events, people often get frustrated when they have to carry around their smartphone and a random paper.
But let's face it, carrying all that around is still better than trying to remember 20 directions, and the times of the five different events you learned about at the resort information desk. This is definitely not the relaxing experience guests are looking for during their stay. This may be the reason people say they need a vacation after they come back from their vacation.
Resorts should be a place where guests come to relax and unwind, not stress about travel fomo or getting lost on the property.
A New Way to Vacation
Mapsted is the world leader in indoor navigation technology. And unlike the existing competition in the resort industry, Mapsted's indoor location-based solutions help to find ways to overcome vacation FOMO. Guests can easily navigate around the resort using only their smartphones. 
From welcome messages when they arrive, to the chance to send feedback and suggestions when they leave, make the experience all about the customer, ensuring they don't experience vacation FOMO and they receive a highly-personalized stay.
Based on location-based triggers, guests instantly receive push notifications letting them know about nearby excursions or events, so they never miss that fitness class they wanted to take or the special evening show in the theatre. In addition, when a guest receives this notification, they are given the option of being guided right to the event, via the indoor GPS option, ensuring a worry-free enjoyable experience.
With this technology, guests don't have to rely on a piece of paper or the resort information desk to stay up to date with the latest events happening around the resort.
Next-generation Personalized Customer Experiences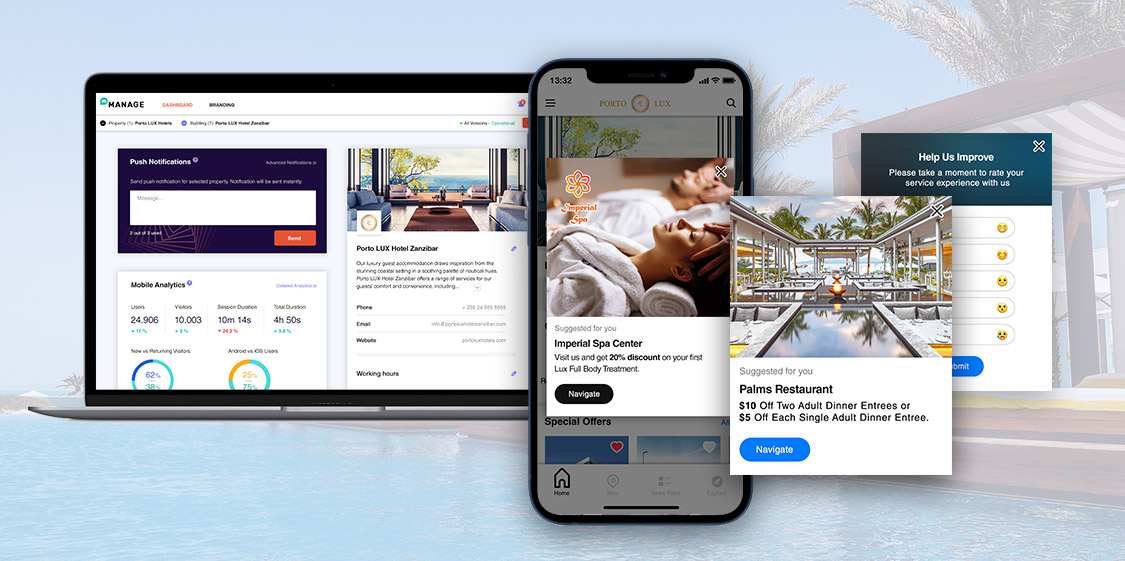 Based on the feedback received from guests, and advanced analytics, Mapsted is able to help resorts accelerate, improve, and increase operational efficiency. Mapsted is able to determine which areas of the resort get the most attention, so resorts can optimize the areas that don't get enough traffic and direct guests to the new and improved attractions.
Resorts should value the experience of their guests above anything else. By using Mapsted's advanced indoor location-based technology, resorts can give their guests access to everything they need right in the palms of their hands: from stress-free and effortless navigation to personalized messages, and updates on all the important events taking place around the resort.
Navigating around a large resort complex can be frustrating, especially for first-time guests. Mapsted's next-generation indoor location-based services enable resorts to provide effortless navigation to all their amenities, send guests personalized messages to make sure they don't experience vacation fomo, and receive timely feedback to take their guest services to the next level.

Ready? Reach out and we'll help you create the perfect getaway.
Frequently Asked Questions
Q1. How do I add indoor/outdoor navigation services to my resort?
Ans. With Mapsted it's easy! Our Map Team will create a digital map of your resort and then our team will come in and calibrate the entire property. Once calibration is complete you will be ready to start using real-time navigation.
Q2. How do I market to my guests at the resort?
Ans. Mapsted has a marketing platform available for subscription that allows you to target your guests with highly personalized offers at the right moments. Send out offers for room upgrades, dinner specials, and more through your resort app.
Q3. Does indoor navigation help staff as well as guests?
Ans. Yes! Having indoor navigation can assist maintenance, cleaning staff, and managers with optimizing their cleaning routes as well as showing real-time updates on the map to indicate whether a room has been cleaned or not.
Q4. What benefits can I expect from using location-based solutions?
Ans. A multitude of benefits come from location-based services such as improving the guest experience, space optimization, a safer resort, and streamlined workflow.
Q5. What information can I gather from location data on my resort?
Ans. Using the Mapsted Analytics platform you can derive insights from heat maps, common path trajectories, and guest dwell times. Reduce overcrowding in areas where congestion happens for a safer and more pleasant guest experience. Make decisions surrounding the profitability of restaurants and bars by seeing which ones are performing best based on guest dwell time and look for areas that could be improved.