August 23, 2023
Categories:
Resorts & Parks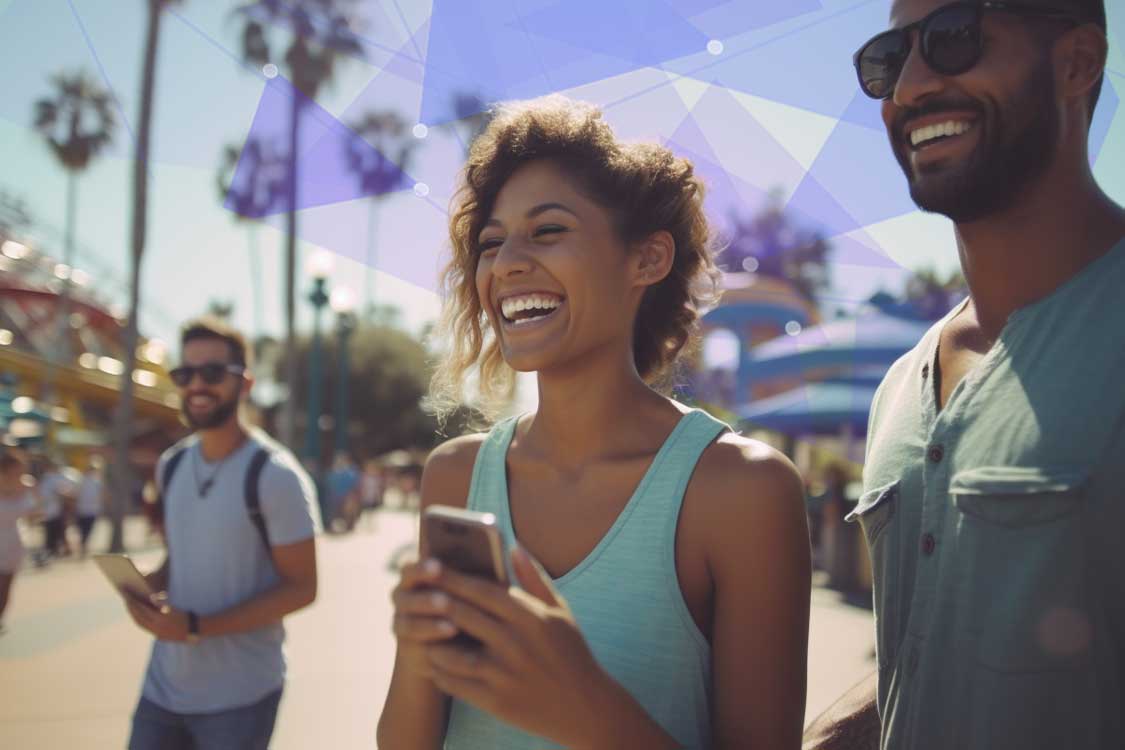 How Theme Park Map Solutions Can Transform the Visitor Experience
The theme park industry has grown rapidly during the past decade. But navigating the park and waiting in long lines to enjoy a few minutes of park rides is frustrating for visitors – and a challenge for theme park management. Some theme parks are already experimenting with theme park map solutions and internet of things (IoT) technology to beat mile-long queues, but that's not the furthest technology will go to streamline the experience. "Make your own theme park map" is a trend, thanks to location solutions designed for queue management, wayfinding, security, and data crunching.
Decoding the IoT Sandwich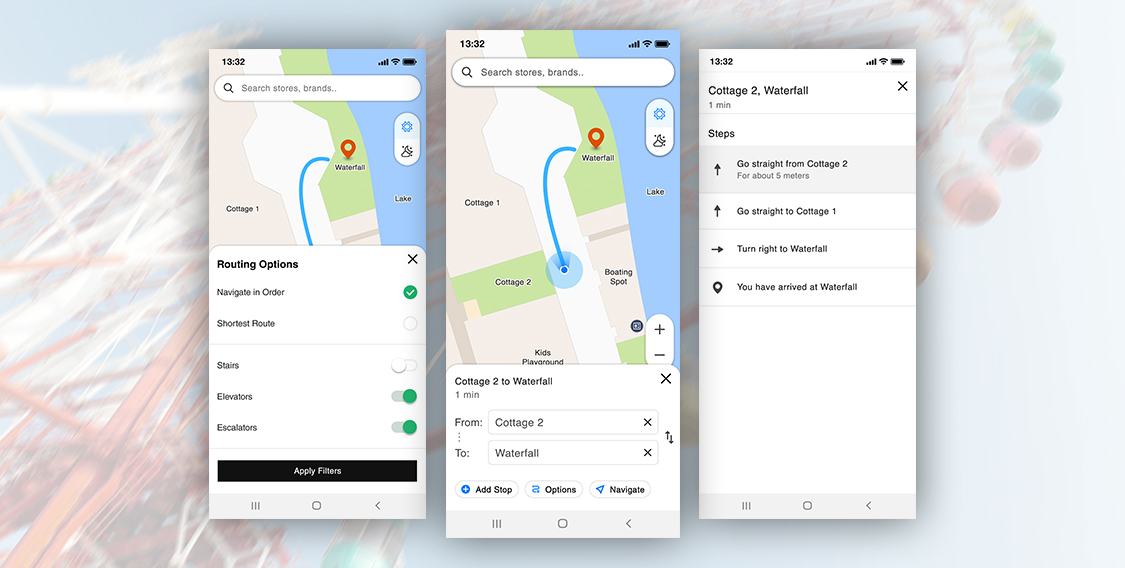 IoT and interactive theme park maps serve the same purpose. It's like making a sandwich if you implement the former. A device-agnostic top layer will serve as the front end on mobile and desktop, while navigation algorithms and software go in the middle. The final layer is hardware that includes transmitters and scanners. Together they become a location solution that requires installation, calibration, and maintenance.
The importance of choosing proper hardware cannot be overstated. Bluetooth Low Energy (BLE) has emerged as a strong choice, but you have to invest upfront before you know whether it works. So, what if we pointed you to an even better technology?
Say goodbye to sandwich techs and hello to a cohesive location solution that does more than just point the way.
With Mapsted's location solution, it's easier to create small theme park maps on your own for proximity marketing and contextual messaging without any hardware. Check out Mapsted's features that will enhance the theme park experience.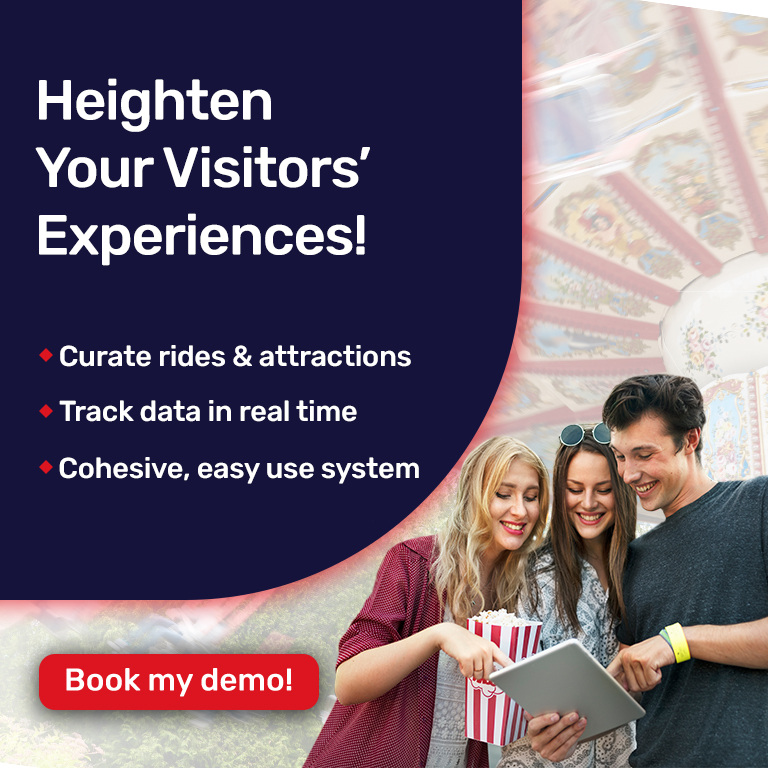 Benefits You Can't Afford to Miss
The reason hardware-free navigation should be your first choice, however, is what we're about to tell you.
Humanized Navigation
Soon frustrating wait times in crowded theme parks could be over with the rise of indoor maps for theme parks. Where GPS is ineffective, tags and beacons provide more accurate wait times, markers, and location intel including real-time alerts to keep visitors informed of all park activities. They will always be kept up to date, be it events or emergency forecasts. With a single action, navigation apps solve two problems – rescue people from long waits and improve their safety.
Blue-dot navigation on amusement park maps is no doubt a progressive step in easing congestion and cluelessness but let's look at a typical theme park atmosphere to identify challenges. Every theme park has oceans of visitors swarming attractions in search of one-of-a-kind experiences, despite not conversing in a common language. But people of all backgrounds will have the same want: seamless navigation. While physical route maps are on their way out, smartphone navigation is all the rage. This makes parks ideal testing grounds for theme park map concepts.
A digital theme park map eases navigation by directing people to amenities like restaurants and restrooms as needed. Finding other people will be a breeze too if enabled with real-time location-sharing. When combined with tracking tags, the technology can help adults supervise children's safety beyond the reach of their eyes.
Theme parks are perfect getaway destinations to plan meet-ups with loved ones. Dropping a pin would make the shortest and safest route visible to users. A similar level of convenience will extend to those looking for parking spaces. They will no longer need to drive in circles to find a vacant spot. All of these would make theme park map solutions a valuable asset for parks.
Customized Experiences in Every Step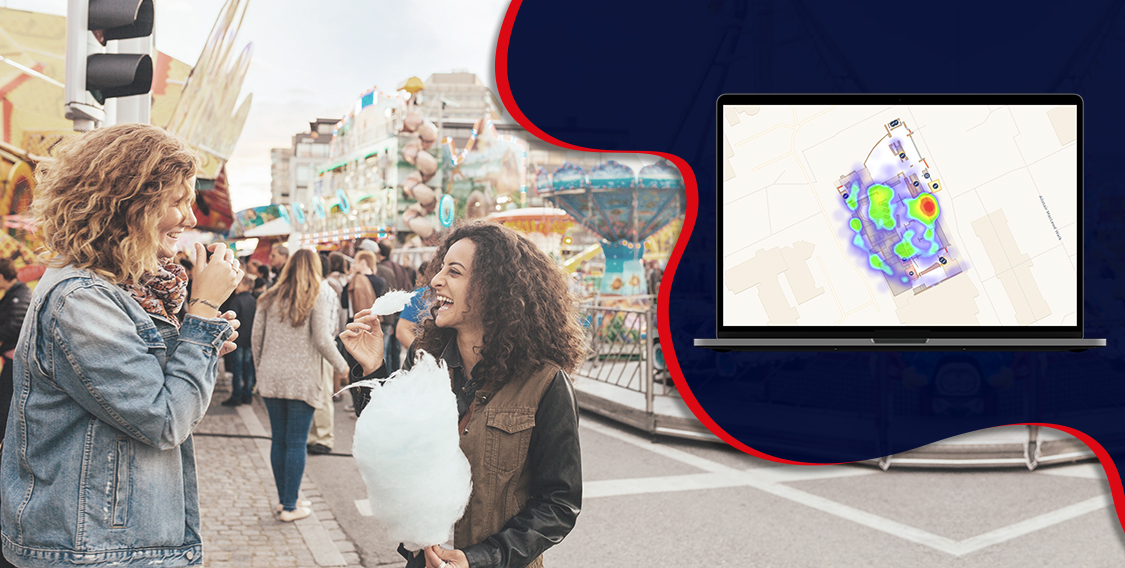 Sending targeted contextual messages is enough to shake visitors and set the stage for deeper participation. Using a device-focused strategy close to the data source invalidates the need for costly hardware and ongoing maintenance. Mapping experts like Mapsted accomplish this through hardware-free location technology. Whether it is park ride details, bonus facts, or event alerts, content is contextualized to users' preferences and location. For instance, multiple visits to Disney-themed events will help marketers to show ads when they're near Disney attractions. An indoor map for theme parks can be used in countless ways. In addition to finding cafes and restrooms, there are broader applications such as ordering gate passes, finding disabled-friendly support, and exploring event schedules.
Real-Time Analysis and Data Learning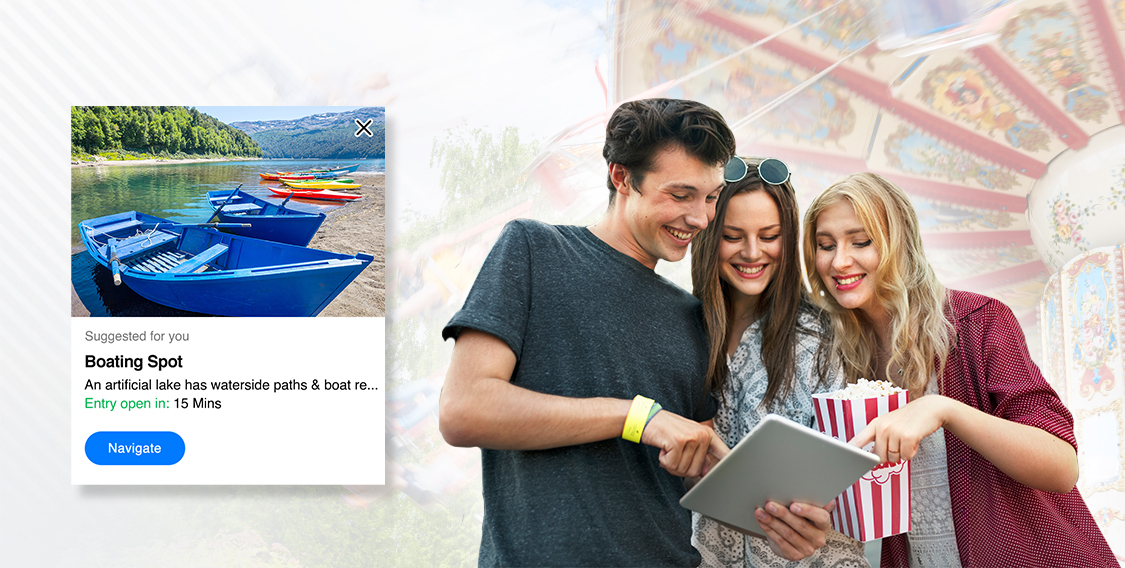 Heaps of valuable insights can be mined from theme parks for fine-tuning strategies to increase footfall and sales. While Bluetooth beacons are available in simple hardware forms, visitors must be encouraged to use BLE wearable technology. This is not an easy task because the majority of people are not persuaded by the perks of real-time monitoring. While marketers are interested in trend data to better understand behavior based on dwell time and hotspots, they will first need to address suspicion about the purpose.
If location data gleaned from each visitor is used to fuel targeted campaigns, it should encourage more future visits and satisfaction with the theme park maps.
Conclusion
Logjams in theme parks are typically found in areas where a large number of people congregate. When they can't find a parking spot or feel safe in the crowd, chaos reigns. While BLE and tags are fantastic for data-driven monetization, they do require a significant initial investment to set up the infrastructure. The most appealing aspect of Mapsted's theme park map solution is that there are no upfront costs involved in making parks navigable, nor will wearable technology be required. Mapsted's system uses sensor fusion to overcome the limitations of BLE by sourcing data from magnetic sensors, IoT sensors, crowdsourced data, proximity sensors, digital landmarks, and more. Reach out to the experts at Mapsted today if you're looking for hardware-free location technology for theme park navigation, asset tracking, and contextual marketing.
Check out these blogs for more location-based information: Facility Management Technology Trends in 2023 and Mapsted vs. RFID: A Comparative Analysis of Asset Tracking Tags.
Frequently Asked Questions
Q: Why is location intelligence important for a theme park?
A: Location intelligence provides park management with insights into traffic patterns, allowing them to anticipate bottlenecks and direct staff to maintain order in movement. Location intelligence can also analyze park facility usage and dwell time with a fine-toothed comb.
Q: How do you attract customers to theme parks?
A: An orderly experience will allow people to get to attractions faster than following the herd. An interactive theme park map will make navigation easier; without one, getting around may be difficult. It also introduces visitors to attractions and facilities that they would not have discovered otherwise.
Q: What are IPS in theme parks?
A: Indoor positioning systems (IPS) are ideal in theme parks for showing visitors where they are in real-time and how to navigate using Blue-Dot navigation. It also aids in the discovery of assets and people in a large space.
Q: What facilities are in a theme park?
A: Theme park rides are top attractions, while other amenities include souvenir shops, tourist centres, refreshment stalls, washrooms, stairs, escalators and parking spots.
Q: What was the first theme park in the world?
A: Dyrehavsbakken – also known as Bakken, is the World's oldest Theme park. The name literally means "the hill." The park opened in Klampenborg, Denmark in 1583.