November 28, 2023
Categories:
Trade Shows & Exhibitions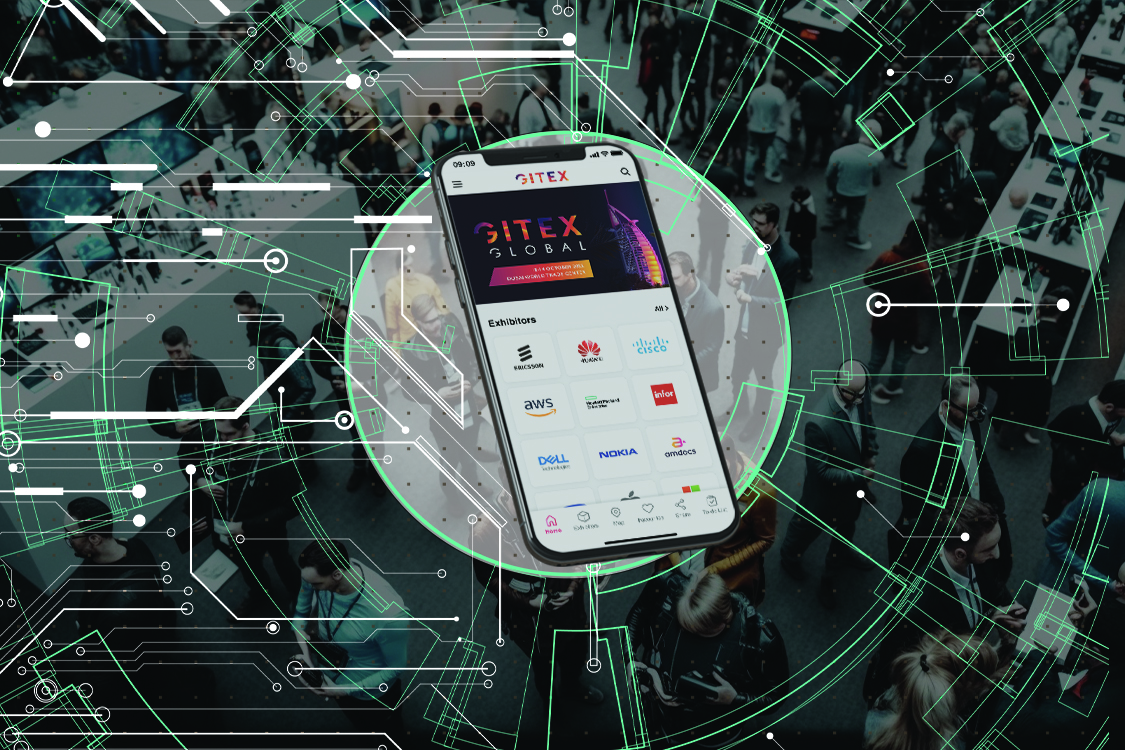 Running a tradeshow can be an expensive endeavor. It requires careful planning, coordination, and ample resources to attract exhibitors and their audiences. If you're worried about low attendance and not getting enough value out of your investment, there are several strategies you can employ to boost your tradeshow's ROI.
If you're already swimming in endless numbers and data pools without knowing which way to navigate, don't worry! We have a comprehensive trade show strategy that can help you see success.
But before we dive into that, let's take a look at some promising numbers: According to the Center for Exhibition Industry Research (CEIR), 94% of surveyed marketers planned to return to exhibiting live after the pandemic. This just goes to show that trade shows are not going anywhere anytime soon, and there is ample opportunity for success.
Digitization is also a key concern at 17%, followed by competition with other media at 15%. It's important for trade show organizers to be aware of these challenges and adapt their strategies accordingly to ensure success in this competitive industry.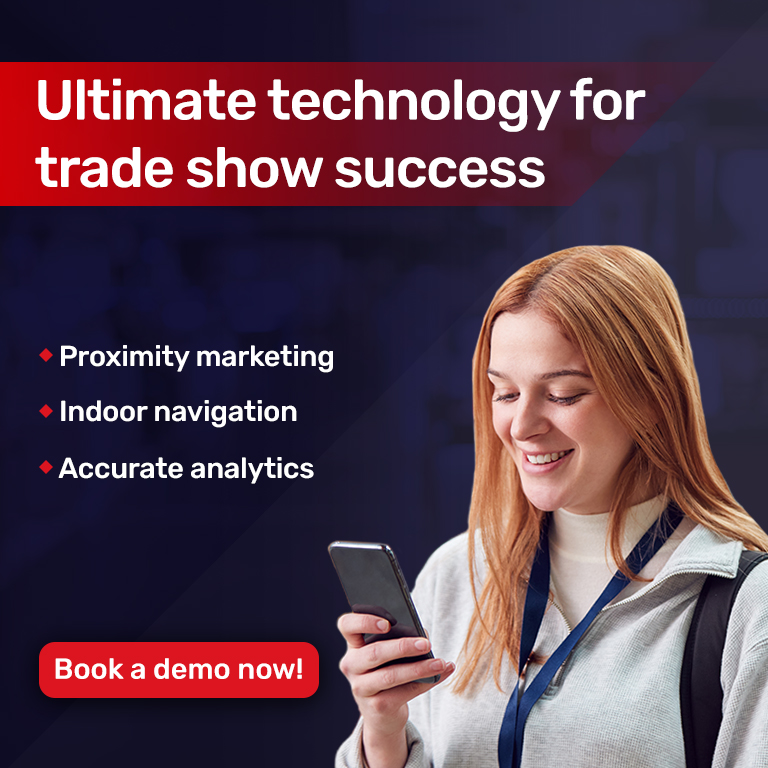 Location Tech Takes the Lead
Trade shows are undoubtedly more complex than art expos, as they involve a large number of exhibitors competing for limited space and time, not to mention the logistical challenges that must be overcome. While virtual experiences and social media promotions have greatly enhanced the product experience through technology, face-to-face interactions still remain a critical component of trade show success.
Regardless of your industry vertical, whether it's automotive, real estate, or retail, there is a growing trend toward capitalizing on technology to supercharge interactivity and engagement. But not just any technology will be a substitute for face-to-face interactions. You might be surprised to learn that new location intelligence technologies such as Mapsted's hardware-free solution for trade shows & exhibitions are breaking ground in this industry by delivering impressive ROI numbers through location-based technology and smartphones. 
Is Mapsted the Solution to Trade Show Success?
Location technology can be a valuable tool for trade show organizers throughout the entire event cycle, from pre-show planning and event day, to post-show follow-up. Here are some ways that location technology can help:
Pre-Show Planning. Mapsted's location technology offers a powerful solution for trade show organizers to create detailed floor plans and maps of the event venue, complete with booth locations and exhibitor information. This valuable feature provides attendees and exhibitors with a comprehensive understanding of the event layout, enabling them to better plan their visit and make the most out of their time there. In trade shows where Mapsted's advanced location technology is used, organizers can ensure a seamless and efficient event experience for all participants.
Event Day. Mapsted's location technology is a perfect tool for trade show organizers to guide attendees and exhibitors to specific booths or areas of the venue, significantly reducing confusion and frustration. Furthermore, this innovative technology enables organizers to track attendance and monitor traffic flow throughout the venue, allowing for real-time adjustments to be made to optimize the event experience.
Post-Show Follow-Up. Mapsted's location technology is the perfect stop-gap solution in a post-event for trade show organizers to gather valuable data about attendee and exhibitor behavior. With the ability to track which booths were visited most frequently and how long attendees spent in specific areas of the venue, this innovative technology offers unparalleled insights that can be used to optimize future events and enhance the overall attendee experience. Using Mapsted's location technology provides a unique experience that cannot be replicated. It offers event organizers the opportunity to outpace their competitors and consistently introduce new innovations in future events.
How Mapsted Sets the Standard for Event Technology?
Personalize
With Mapsted's location technology, exhibitors can easily stand out, then blend in. A dedicated portal offers exhibitors a seamless way to update their business information and branding materials, eliminating marketing hiccups. This innovative feature allows exhibitors to focus on what they do best – showcasing their products and services.
Visitors only need event QR codes to access exhibitor locations and their branded content. The same QR code can help in floor-level navigation, to locate the exhibits they are most interested in.
Strategize
Mapsted's meeting scheduler is a powerful strategic tool to secure appointments with prospects at trade shows. With its user-friendly interface, exhibitors can easily track and schedule engagements in a jiffy. Whether you are meeting with a small number of visitors or scaling up to accommodate a large crowd, our meeting scheduler can handle the job with ease. This valuable feature offers unparalleled convenience and efficiency, ultimately resulting in increased sales traction.
Promote
The ability to engage visitors remotely, even before they arrive at the exhibitor stand, is a true game-changer for trade shows. With targeted messages and geofence notifications, exhibitors can activate leads and drive buzz around their brands without the need for traditional business card exchanges.
Analyze
When it comes to measuring the success of your event, numbers don't lie. However, it's not just about any numbers, but rather those that pertain to attendee behavior, dwell time, real-time searches, and engagement. Here too, Mapsted's advanced location intelligence, provides unparalleled insights into attendee behavior and engagement, opening doors to new possibilities and opportunities. With the ability to accurately identify gaps and opportunities, Mapsted's solution sets the new standard in trade show technology.
6 Best Practices for Implementing Location Technology at Trade Shows
There are various factors to consider when implementing location technology. The following practices can help ensure the desired outcomes are achieved:
Determine your goals and objectives. Prior to deploying location technology, establish precise aims and objectives for the technology to accomplish. These goals may range from optimizing attendee engagement and monitoring foot traffic to enhancing navigation.
Choose the right technology. Currently, various location technologies on offer include beacons, GPS, and RFID. But there is also a newer and more capable technology – such as Mapsted's patented, award-winning platform – that requires no hardware to suit your event objectives and financial plan.
Plan the implementation process. Create a timeline for the deployment of location technology and ensure that all parties involved are informed of the plan. Additionally, ensure that the implementation process is intuitive for both attendees and exhibitors.
Communicate with stakeholders. Communicate the benefits of the location technology to attendees and exhibitors, outlining how it will enhance their overall experience. Offer precise guidance on how to utilize the technology and address any queries or apprehensions they may have.
Monitor and analyze data. Use the location technology to gather data on attendee behavior, foot traffic, and other pertinent metrics. Conduct a thorough analysis of the data to uncover patterns and valuable insights that can guide future event planning initiatives.
Continuously improve. Utilize the feedback and data collected to proactively enhance the deployment of location technology at upcoming trade shows.
Location Technology at Trade Shows: Not As Easy as Pie!
Here's why:
Limited network connectivity: If your venue has spotty network connectivity or none at all, it can be a real buzzkill! You may then have to consider beefing up the network infrastructure or exploring offline solutions like Mapsted, which requires no external Wi-Fi.
Privacy concerns: Privacy is a big deal! When it comes to collecting attendee data, it's all about being upfront and transparent. Therefore, it's vital to communicate exactly how the data will be used and make sure that everything collected is in line with privacy regulations.
Cost: Sticker shock is real! However beneficial they may seem, location technology can be a serious investment. If you want a capable, yet budget-friendly option that'll pay for itself over time, then consider Mapsted today. With a little creativity, we make location tech work for most budgets.
User adoption: It's normal for attendees and exhibitors to feel befuddled if the benefits of location tech at trade shows aren't crystal clear. In fact, they might even assume it's not worth their time! The solution is simple. Just choose a technology that speaks for itself and is simple to deploy.
Data analysis: Collecting data is only the first step – the real magic happens when that data is put to good use! The problem is that not all location technology is created equal. If it's only numbers that don't tell you anything useful, you need a technology that is designed to work with your trade show goals.
Final Thoughts
Undoubtedly, trade shows will continue to be an important business activity, and while there are challenges, including the impact of COVID-19 and increased competition, organizers can boost ROI by using location-based technology like Mapsted. Mapsted's features, including personalized branding, meeting scheduling, remote engagement, and analytics, can help organizers attract exhibitors and enhance the overall attendee experience. By using location technology, organizers can optimize the pre-show planning, event day logistics, and post-show follow-up, providing a seamless and efficient event experience for all participants. For more information on successful strategies for your next trade show, you may want to check out this blog on Trade Show Marketing Tips: 5 Ways to Attract and Retain the Best Exhibitors and this short video.
Frequently Asked Questions
Q1. Can location technology help me attract more exhibitors to my trade show?
Ans. Location technology like Mapsted can give attendees and exhibitors a better understanding of the event layout, allowing them to plan their visit and make the most of their time there. This can attract more exhibitors and create a seamless event experience.
Q2. What are the benefits of using Mapsted's meeting scheduler for trade shows?
Ans. Exhibitors can use Mapsted's meeting scheduler, a robust strategic tool, to effortlessly manage and arrange meetings with potential clients at trade shows. This useful functionality provides unparalleled ease and productivity, leading to improved sales traction.
Q3. Can Mapsted's location technology help me analyze attendee behavior and engagement?
Ans. Yes, Mapsted's location intelligence enables identifying gaps and opportunities in attendee behavior and engagement by tracking frequently visited booths and time spent in specific areas of the venue, providing valuable data.
Q4. How to personalize the exhibitor experience using Mapsted's location technology?
Ans. Mapsted's location tech helps exhibitors stand out with a dedicated portal for seamless updates to business info and branding. Visitors access exhibitors' locations and content using event QR codes.
Q5. How can I promote my brand at tradeshows using Mapsted's location technology?
Ans. Engage visitors remotely before arrival with targeted messages and geofence notifications, driving buzz and activating leads. A game-changer for trade shows promoting your brand and driving more engagement.