March 21, 2023
Categories:
Hospitals & Healthcare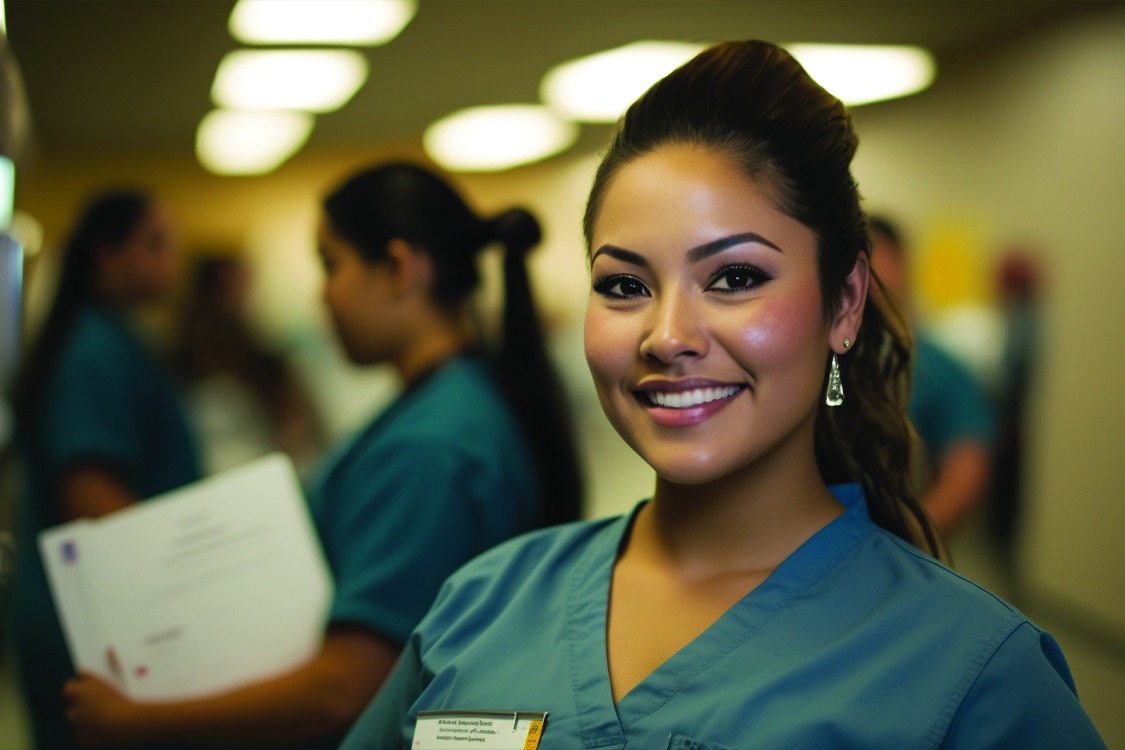 Emergencies blare over the intercom. Physicians, nurses, and other staff members hurry through packed corridors. Visitors try to find their loved ones among dozens of rooms – such is life in a large hospital, especially teaching hospitals.
Large hospitals are like little villages. People make bonds there, they laugh there, and they cry there. People are sick and people get well. Hospitals hold memories of souls newly entering the world and, sadly, of people taking their final breaths.
Life in a hospital is chaotic. There's no getting away from that. Staff members work in a stressful environment. Consequently, when hospitals offer something extra to make life less exasperating, it may be the one element that sets them apart when the best of the best in healthcare is deciding on where they would like to work. Technology can play a huge part in that decision-making.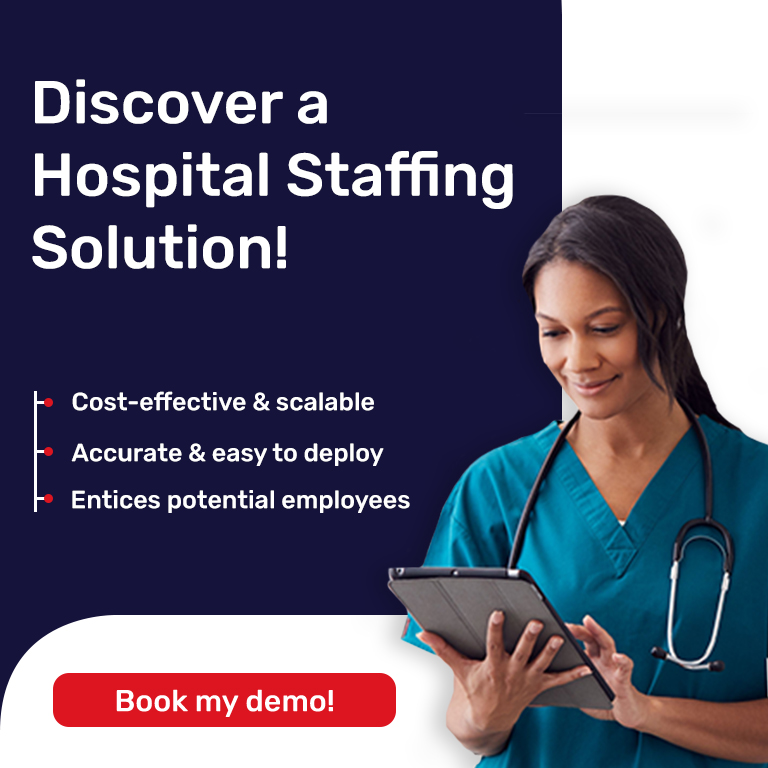 Staffing Issues are Problematic
The World Health Organization (WHO) estimates that by 2030 there will be a global shortage of 18 million health workers. Third-World countries will be hardest hit, but developed countries aren't immune. As such, hospitals are making investments in new technologies and systems with the goal of finding better ways to engage with consumers and leverage enormous amounts of data. These digitization efforts hinge largely on driving change in three key areas: Operational, patient, and employee impacts.
When it comes to priorities, keeping talented staff members happy in their hospitals is at the top of the list. Creating a work environment that accomplishes that goal is paramount. Having the right tools and technology has a big influence on how people feel about their jobs. Digitization can free employees and clinicians of mundane tasks and redundancies, helping them focus on areas where they add the most value – direct stakeholder engagement.
Enticing Staff with Indoor Location-Based Technology
Few things can equal having a hospital environment conducive to staff doing the best jobs they possibly can. When you interject location and wayfinding systems into the picture, working life in a hospital can become much less tense. When staff members know where they're going, they can get there quicker and with less anxiety than landing on the wrong floor, or in the wrong corridor, and so on.
Hospitals are always on the lookout for how to fix staffing shortages in healthcare. Not only does indoor location-based technology help staff, but it can also help facility management manage resources more effectively. This intelligent technology is useful in monitoring medical staff and equipment, tracking patient movements, and providing real-time information about hospital operations in general. A well-managed hospital helps those in healthcare make decisions on where they will practice and work.
Not only does indoor location-based technology help staff, it can also help facility management manage resources more effectively.
According to survey results from the U.S.-based firm, The Deloitte Center for Health Solutions, technology is no longer just a buzzword in hospitals, but essential in moving into the future. Survey results show one of the six key reasons hospitals are embracing digital transformations is to "prepare for next-generation talent with a focus on the right quantity and quality of the workforce." 
Shortages in Staffing Create Many Challenges
During COVID-19, particularly, many hospitals experienced staff shortages. Data out of the U.S. shows by the end of 2023, the country expects to lose about 500,000 nurses, (some through retirement), creating a shortfall of 1.1 million nurses. The American Hospital Association (AHA) also reports that by 2033 there will be a shortage of up to 124,000 physicians. With these statistics, it's not surprising hospitals are looking at different ways to lure staff to their realms. Deficits of healthcare workers impact patient care, create burnout in employees already in the workforce, heighten workplace stress, and increase absenteeism. Furthermore, staff shortages aren't conducive to a positive workforce culture.
Is Location-Based Technology a Missing Puzzle Piece?
In short, the answer to that question is "yes." Using location-based technology with real-time data is definitely a step in the right direction for hospitals trying to remedy staff shortages. The Deloitte survey also indicates this technology is already in use in 20 to 25 percent of healthcare systems. It offers a way to modernize operational flow which improves staff and patient experiences and can lead to improvements in clinical outcomes.
For instance, real-time location services like those Mapsted offers can reduce time spent on such tasks as looking for equipment. Without this technology, nurses spend an average of more than 20 minutes each shift simply searching for equipment, translating into about $500,000 in work time that could be better spent on patient care. That statistic translates into about 90 hours each year simply looking for equipment. Mapsted's location-based systems have the potential to greatly reduce those hours.
How Can Location-Based Technology Help?
Potential healthcare workers are more apt to sign on the dotted line with hospitals utilizing intelligent technology. Here are some ways location-based technology can help:
Cuts down on time staff spends tracking down functioning and available equipment
Cuts down time spent on manual monitoring in temperature-sensitive spaces
Lessons slow or inadequate security responses because of inaccurate location data
Cuts down on missed appointments because of inaccurate navigation
What to Look for in an Indoor Location-Based System
When hospitals are looking for the right digital system, they should keep in mind some important things to consider. An elite system should be:
Secure. The system is capable of collecting vast amounts of data about vital hospital operations, so investing in a secure system that protects data while in transit or not, is crucial.
Omnipresent. A hospital location-based system should encompass the entire facility. That includes the basement and parking areas. There should not be dead zones.
Scalable. Solutions need to work effectively whether a hospital has 100 or 1,000 assets now or in the future.
Cost-Effective. A hospital's system should provide a positive return on investment (ROI). Additionally, the service provider should work with hospital administration to ascertain the fastest way to a return. Affordability and the opportunity to upgrade should also be a part of the equation.
Accurate. One of the biggest attributes of having the best technology for a hospital hinges on its ability to be able to find assets and staff members accurately all the time.
The Last Word
Discovering solutions to fix staffing shortages in healthcare is not an easy task. However, Mapsted's indoor location-based system improves hospital efficiencies and efficient hospitals are exactly where bright, eager healthcare workers are looking to spend their working lives. Mapsted's system is hardware-free, scalable, accurate, cost-effective, secure, and easy to use. Having such a system in a hospital reduces stress on staff, patients, and visitors. Hospital staff shortages aren't going to disappear anytime soon. However, having an elite indoor location-based system in place is a step in the right direction. Giving patients, visitors, and staff a way of diminishing additional stress in an already stressful environment will go a long way to increasing staffing numbers in an industry dealing with a myriad of staffing shortages. Watching this short video may give you further insight into how Mapsted can help hospitals become more innovative and effective with intelligent technology.