August 09, 2023
Categories:
Universities & Colleges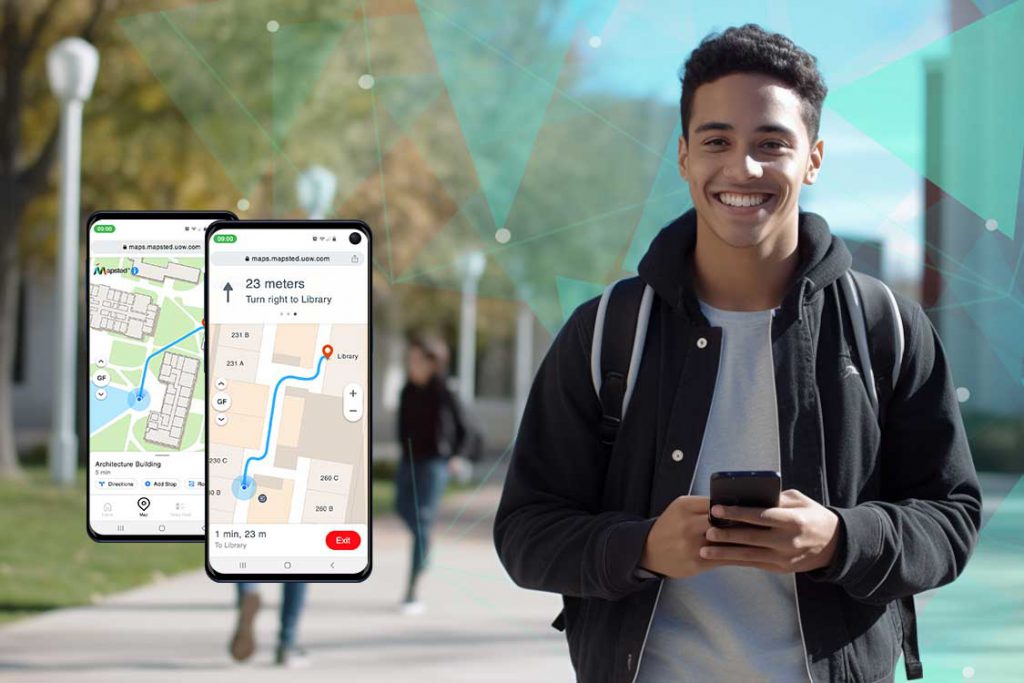 College and university are major life events for students. Those years aren't just an important academic experience. For many, it's the first time they've been away from home and navigating life on their own. On-campus indoor navigation systems can significantly impact students' experience when they arrive at your school.
The pressure to succeed in the classroom while balancing other areas of college life can be overwhelming. In addition, most college or university campuses are like small cities. Students may have difficulty finding their ways around, adding another layer of stress and frustration.

College – Before Indoor Navigation
Traditionally, when students arrive on campus, one of the first things they'll do is take a long walk. This stroll around campus is a way of noting and remembering landmarks to use in the future. But unless the landmarks are easy to remember, students can quickly forget, and getting around campus can remain difficult and confusing.
While most campuses have welcome center staff to guide students in the right direction, it's a hassle to use them. Who can remember 20 verbal directions at once? And no one wants to carry around a brochure with a map on it – this isn't the 1990s anymore.
Navigating the Modern Campus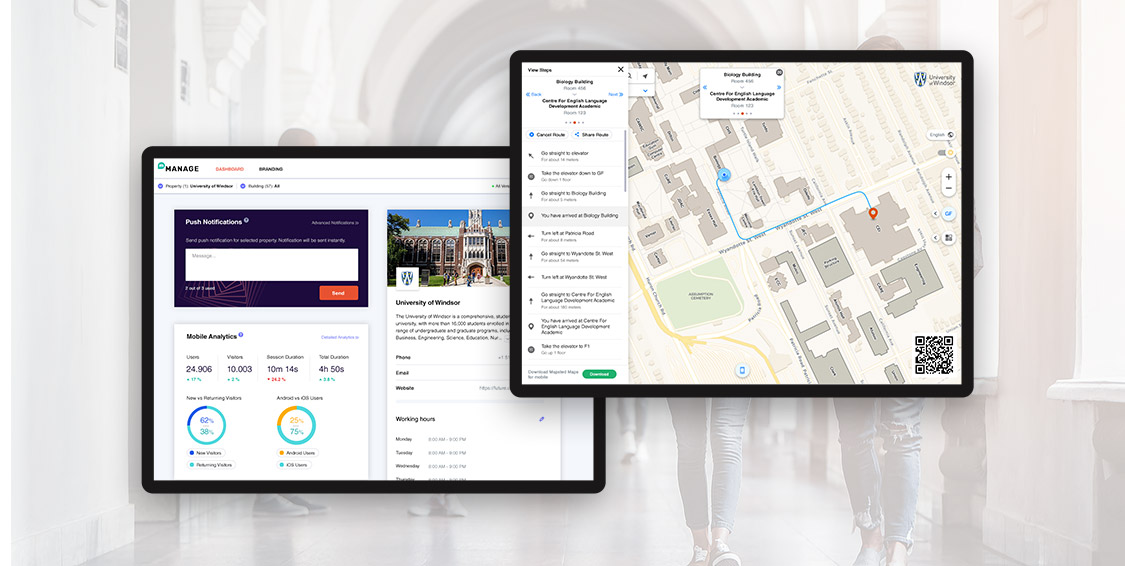 These days, students carry smartphones and they're constantly looking at their screens. It only makes sense for schools to provide a navigation solution for their students built right into their mobile devices.
Many wayfinding apps exist, but they are often limited. They are created with wayfinding in mind but are not accurate. Many guide students to within 10 metres of their desired location. On campus, this means the difference between one classroom and another.
Mapsted's indoor navigation platform for campuses is the only technology that requires no additional hardware. Services work without Bluetooth beacons or Wi-Fi routers, making them affordable. It also offers one-meter accuracy to get staff, faculty, and students precisely where they want to go.
With this platform, people on your campus will never miss an event. They'll easily find their way around campus, and they'll be sent notifications directly to their smartphones.
Indoor Navigation for College Campus Real-Life Application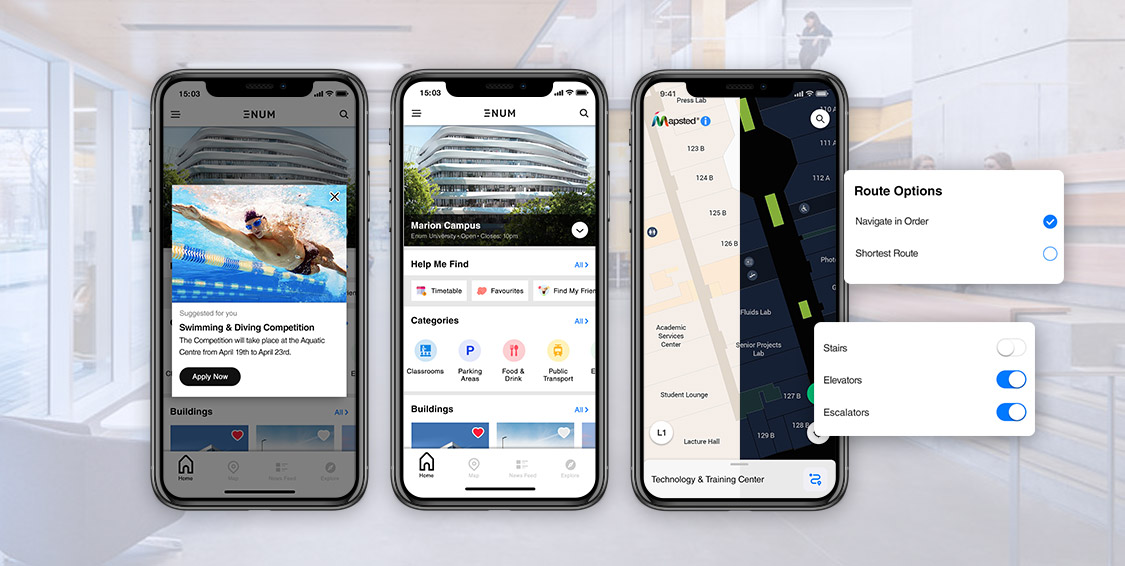 Here's a real-life example: let's say students are on their way to an exam and the location changes at the last minute. With Mapsted's technology, they'll be notified and guided to the new location.
Here's another: imagine a student walking by the campus basketball arena. Using Mapsted, they will be notified about the game, as well as upcoming ones so they don't miss out.
This location-based notification system ensures everyone on campus is aware of the events that matter most to them. Whether its information on clubs, programs, awards, sporting events, or available volunteer positions, Mapsted's keeps everyone up-to-date.
Real-Time Information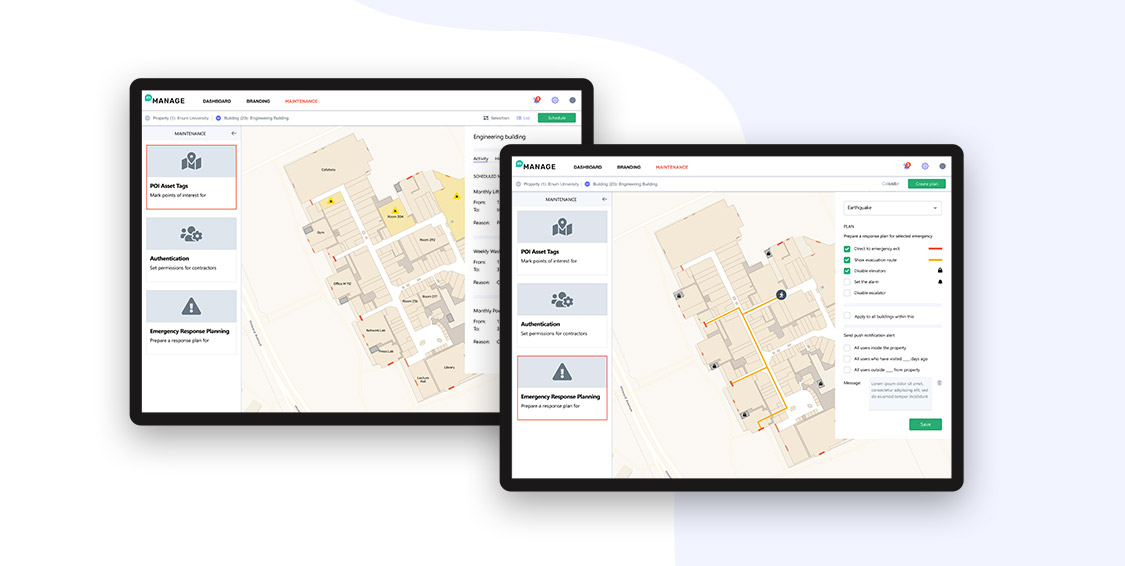 Mapsted's next-generation platform also provides detailed, real-time analytics, which includes real-time traffic flow on campus. Analysis of real-time crowd density can prevent emergencies by properly allocating staff. During an emergency, campus security can manage students more efficiently by knowing where they are in real-time. Having this information ensures a much safer environment for everyone.
University and college student workloads are already stressful – navigating their way to class shouldn't be. Mapsted's A+ navigation system enhances the overall student experience, allowing universities to engage directly with students, visitors, and staff. It provides powerful location-based, real-time analytics, helping schools gain valuable insight into their students' needs. Using this powerful data can increase security, optimize facility layouts, and maximize operational efficiencies.
Contact Mapsted today to help your campus pass indoor navigation with flying colours!
For more information on location-based technology, you might wish to read these blogs: Mapsted vs. RFID: A Comparative Analysis of Asset Tracking Tags and Interactive Exhibitions: The Role of Geolocation in Hands-On Museum Displays.
Frequently Asked Questions
Q: How can you implement indoor navigation?
A: Traditional methods involve the deployment of indoor sensors and the use of access points to measure the time difference of signal arrival, angle of arrival, or other signal properties such as signal strength in order to estimate real-time position. This allows users to benefit from blue-dot navigation.
Q: How is Mapsted different from traditional indoor navigation for campus?
A: Mapsted estimates target position using fingerprinting technology and sensor fusion methods. Furthermore, sensor data from the phone enables RTLS to function flawlessly without the need for hardware, Wi-Fi, Bluetooth, or BLE.
Q: What can a campus navigation system show?
A: A campus navigation system can display campus facilities such as complexes, offices, libraries, washrooms, dorms, meeting rooms, and all key areas accessible to students and staff. It lays out a navigational path that avoids detours and maintenance zones.