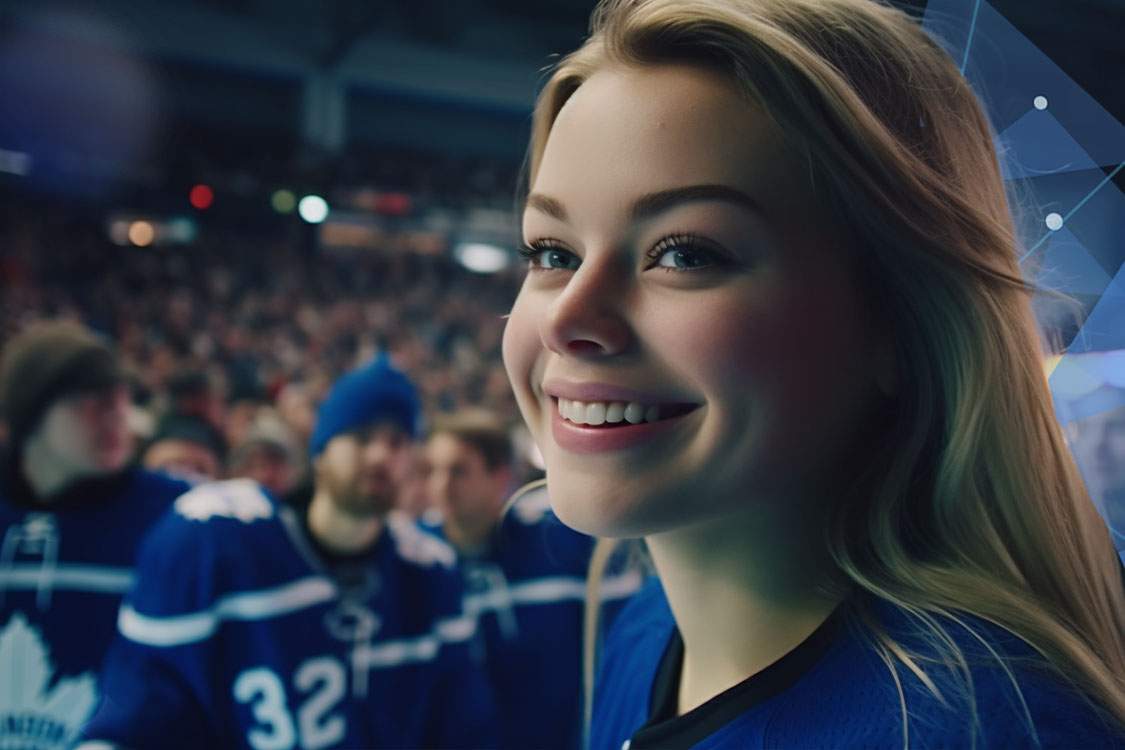 In recent years, the global need for contactless experience systems has meant that the concept of "Smart Ticketing" has also been fast-tracked in stadium and event sales operations. Smart ticketing offers a convenient solution for stadium and event organizers to manage their operations efficiently, eliminating overhead costs and process bottlenecks. This is quite significant because traditional paper-based ticketing requires more manpower and resources, making it an unsustainable way to organize sporting events. Not to mention the heaps of paper that go to waste after each event. The concept of ticketing has evolved over time, transforming from a mere access control tool to a multi-billion dollar industry that thrives on ticketing data. In other words, stadium tickets have a lot more to offer than meets the eye.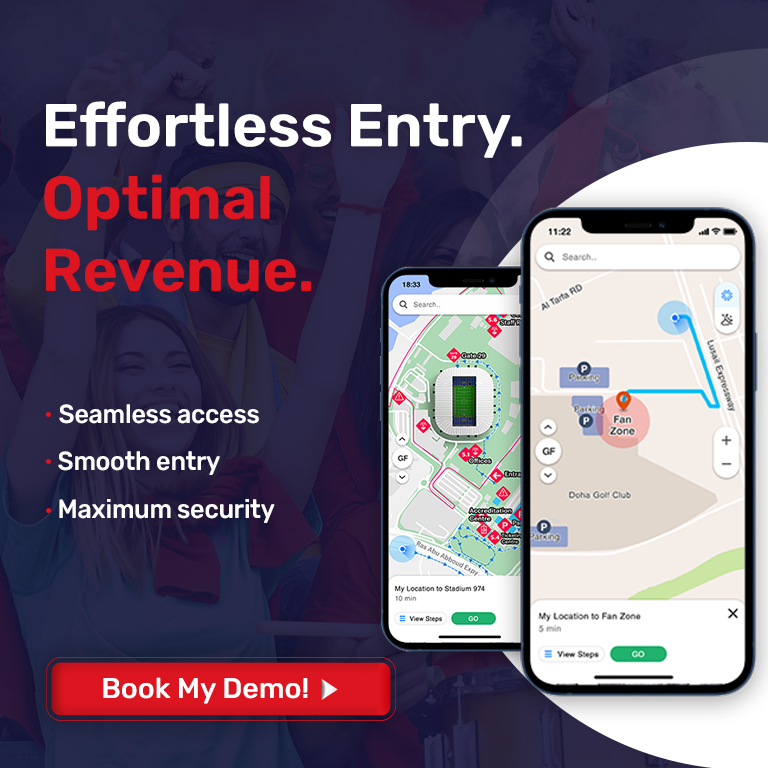 What Exactly Is Smart Ticketing?
Smart ticketing can be described as a sustainable and efficient method of storing tickets digitally, eliminating the need for paper-based tickets. In a contactless smart stadium, implementing smart ticketing speeds up waiting lines and provides a seamless scan-and-go experience both before and beyond the turnstiles. By integrating a smart ticketing platform with location technology, fan experiences can reach new heights through real-time indoor navigation, event notifications and contextual ads that promote the purchase of merchandise, beverages and snacks.
The possibilities offered by smart ticketing may seem advanced, but the change is already happening. Mapsted, a trailblazer in hardware-free location-based technology, is now playing a pivotal role in multi-million dollar sporting events. Through its collaboration with smart ticketing systems, Mapsted makes it possible to increase ticket sales, enhance data analytics and transform stadiums into hubs of innovation and opportunity, revolutionizing the industry in unprecedented ways.
Smart Ticketing + Location Tech: Elevating Stadium Experience One Step at a Time
If you're seeking that extra edge to take your stadium experience to new heights, look no further than integrating your existing smart ticketing system with location technology. This powerful combination is tailor-made for sporting venues looking to achieve:
Smooth Registration
The adoption of a smart ticketing system can significantly increase ticket sales by allowing fans to check the availability of their favourite spots and book tickets that align with their preferences. The valuable data gathered from these bookings enables organizers to understand which areas fans are most interested in, leading to the formulation of targeted ticketing strategies that cater to specific audience segments.
Automatic Notifications
From the moment tickets are booked, fan details are captured in a comprehensive database, enabling the automation of customized notifications such as welcome messages, ticket confirmations and updates on upcoming events. Smart ticketing lays the foundation for seamless future engagements within minutes of booking a ticket, ensuring fans feel connected and informed.
Targeted Engagements
With a database of confirmed bookings at your fingertips, it becomes easier to segment ticket holders and send pre-match messages containing live schedules, changes and other relevant information. Armed with complete data, you can create personalized event experiences at precisely the right moment, without appearing overly eager in your outreach efforts.
Access Control
As fans scan their QR codes to gain access to different stadium areas, they leave a digital footprint that empowers organizers to monitor their movements within designated zones. During VIP visits, smart ticketing powered by location technology helps organizers monitor and restrict access to VIP areas, ensuring a smooth and controlled experience.
Elimination of Fake Tickets
Nothing disrupts a major event more than the chaos caused by fake tickets. Smart ticketing thwarts ticketing fraud by issuing valid digital tickets only to authorized ticket holders. Furthermore, smart ticketing systems come equipped with anti-spoof features, such as ticket encryption, significantly reducing the risk of fraudulent ticket transactions. Even ticket transfers become easier and more secure with smart ticketing software.
Real-Time Analytics
Data is the key to improving event experiences and a smart ticketing system generates an abundance of valuable information. Organizers gain access to attendee numbers, hotspot data and dwell time in different stadium areas, empowering them to strategize marketing initiatives, optimize concession stand placements, enhance convenience areas and more, all based on real insights.
Efficient Staffing
With smart ticketing taking care of ticket validation, your staff can be redeployed to enhance fan experiences, assist with crowd management, provide information and guidance or support critical areas that require human expertise. By streamlining ticketing processes, smart ticketing empowers you to make the most effective use of your staff, improving both operational efficiency and the overall stadium experience for fans.
Where Does Location Technology Fit In in Smart Ticketing?
In the world of smart stadiums, location technology assumes a paramount position, reshaping the visitor experience and endowing stadium operators with the ability to seize control of operations propelled by location insights.
Although GPS, Wi-Fi and BLE have previously played substantial roles, the challenges associated with their implementation and integration have compelled stadium operators to seek a superior, more sustainable solution. Enter Mapsted, which fills this void and bestows unparalleled value without hardware constraints.
Through Mapsted's advanced location-based technology, stadiums can transcend the ordinary and ascend to new echelons of the ticketing experience. Our next-gen solution surpasses conventional methods by providing precise indoor positioning, all while obviating the need for exorbitant infrastructure or costly installations. Mapsted's integration seamlessly harmonizes within your smart ticketing apps, ensuring effortless efficacy in booking, access control and analytics.
The Mapsted Advantage
Mapsted encompasses all the functionalities sought after by stadium operators in location-based solutions. It boasts an exclusive array of features that can only be found within our platform. These features include:
Enhanced Indoor Navigation
Mapsted's advanced location-based technology empowers spectators to effortlessly navigate sprawling stadiums, easily locating their seats, amenities, concessions restrooms and other points of interest. With accuracy up to one meter, interactive maps and directions provide them with a seamless wayfinding experience.
Real-Time Updates and Notifications
When Mapsted's technology is enabled across the stadium every attendee in the venue receives timely and contextual updates, keeping them informed in every step. From up-to-the-minute event schedules, changes and promotions to emergency alerts about developing events can be condensed into a push notification.
Tailored Personalized Experiences
Mapsted's location-based technology creates personalized experiences by delivering customized messages, offers and recommendations based on attendees' specific location and proximities to PoIs within the stadium. This tailored approach enhances engagement and satisfaction for each visitor.
Efficient Crowd Management
Mapsted's location technology goes beyond conventional applications and also serves as a foundation for location analytics, making it easier to measure crowd density and flow patterns within stadiums. The invaluable insights from location data empowers stadium management to optimize crowd management strategies with precision.
Streamlined Queue Management
By integrating Mapsted's cutting-edge location-based technology with ticketing software, the efficiency of ticket scanning and entry processes is greatly enhanced. This powerful integration, especially when combined with smart ticketing systems effectively eliminates obstacles and bottlenecks in queue management.
Data-Driven Analytics
The art of data storytelling becomes truly compelling when armed with precise data on visitor movement, check-ins and dwell times. Mapsted empowers stadium operators to acquire intricate insights from ongoing events, while seamlessly amalgamating the data to craft accurate future projections.
Proximity Marketing Opportunities
The influx of fans entering stadiums presents a multitude of opportunities for partnering brands and concession businesses. However, sending generic mass messages without knowledge of fans' responsiveness to outreach efforts is insufficient. This is precisely where Mapsted's proximity marketing solutions come into play, enabling targeted engagement when a fan is in close proximity to a geofenced location. Through this approach, messages, offers and promotions can be strategically triggered to effectively engage fans and stimulate purchasing behaviour.
Conclusion
The combination of smart ticketing and location technology creates a powerful synergy that encompasses safety, convenience and engagement aspects. This presents an exceptional opportunity for stadium operators who aim to increase ticket sales without compromising the essence of the sporting culture. In today's market, only a few brands can match the immense potential that Mapsted offers in creating the perfect stadium experience for fans, enticing them to trade their big screen comforts for the thrill of live events.
While smart ticketing may still be a relatively new concept, its true potential is truly unleashed when integrated with location technology. This integration is the key to unlocking a personalized experience for each stadium attendee. By digitizing ticket booking, validation and access control, the ticketing system becomes a gateway for Mapsted's location-based solution to provide navigation support, engagement opportunities and targeted marketing initiatives.
If you're a stadium operator looking for location technology integrations for your ticketing software, choose Mapsted.
If you've reached this point, we believe you might also have an interest in exploring the potential of location technology for creating environmentally sustainable stadiums. Our blog outlines the future of stadiums, where the green revolution assumes a central role. Additionally, you can get to know Mapsted technology a bit better by watching a video on how to Unlock the Potential of Location Technology with Mapsted.
Frequently Asked Questions
Q1. What is smart ticketing and how does it enhance the stadium experience?
Ans. Smart ticketing enhances the stadium experience by providing a seamless and contactless entry process, reducing waiting times and enabling features like digital notifications and personalized engagements.
Q2. How can smart ticketing help increase ticket sales and improve ticketing strategies?
Ans. Smart ticketing increases ticket sales by allowing fans to check availability, book preferred seats, and providing organizers with valuable data for targeted ticketing strategies.
Q3. What are the benefits of automatic notifications in smart ticketing?
Ans. Automatic notifications in smart ticketing automate the delivery of personalized messages, ticket confirmations and updates on upcoming events, enhancing fan engagement and keeping them informed.
Q4. How does smart ticketing enable targeted engagements with ticket holders?
Ans. Smart ticketing enables targeted engagements by segmenting ticket holders and sending pre-match messages, live schedules and relevant information based on their preferences and booking data.
Q5. How does smart ticketing with location technology enhance access control at stadiums?
Ans. Smart ticketing with location technology enhances access control by enabling fans to scan QR codes for entry, leaving a digital footprint for monitoring their movements within the stadium and facilitating restricted access to VIP areas.