April 19, 2023
Categories:
Technology Trends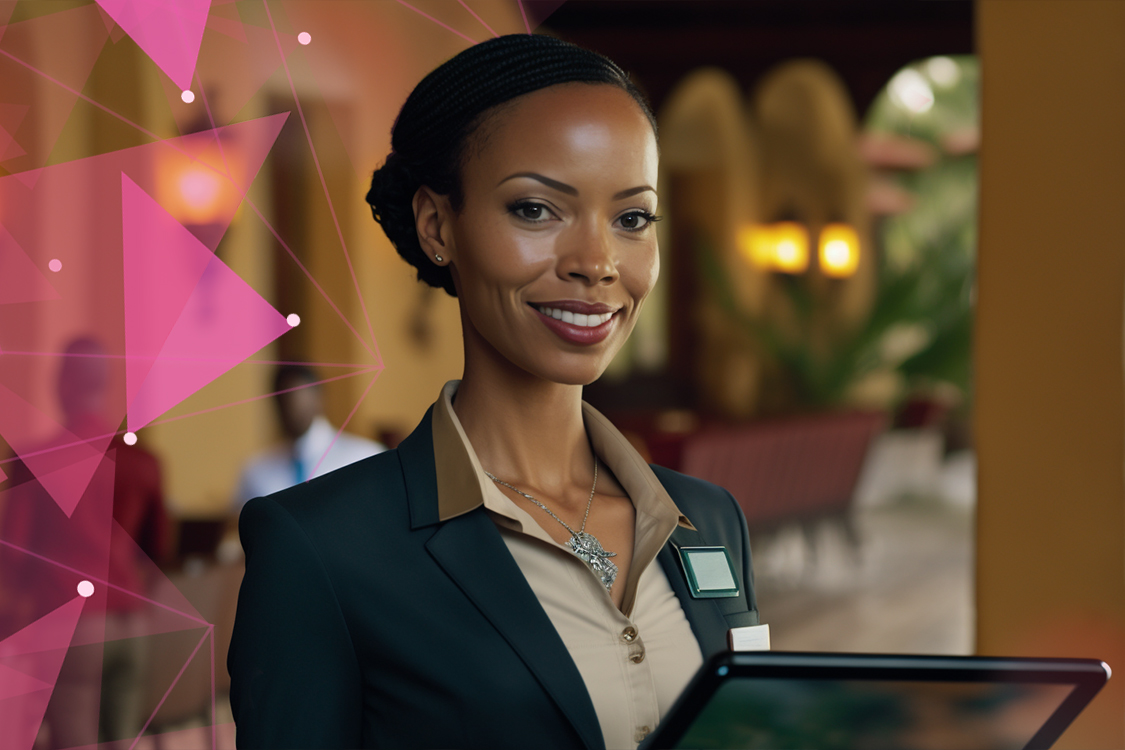 Hospitality establishments like resorts and hotels are no longer just places where people lay their heads on fancy pillows when they're travelling or on vacation. Over the past few years, the hospitality sector has been continually changing and technology is playing a large part in its evolution. With hospitality technology trends growing as they are, it's vital that hoteliers, managers, and administrators stay on top of recent technological developments to remain profitable in an extremely competitive industry.
Hotel operations and guest experiences these days depend directly or indirectly on information technology (IT).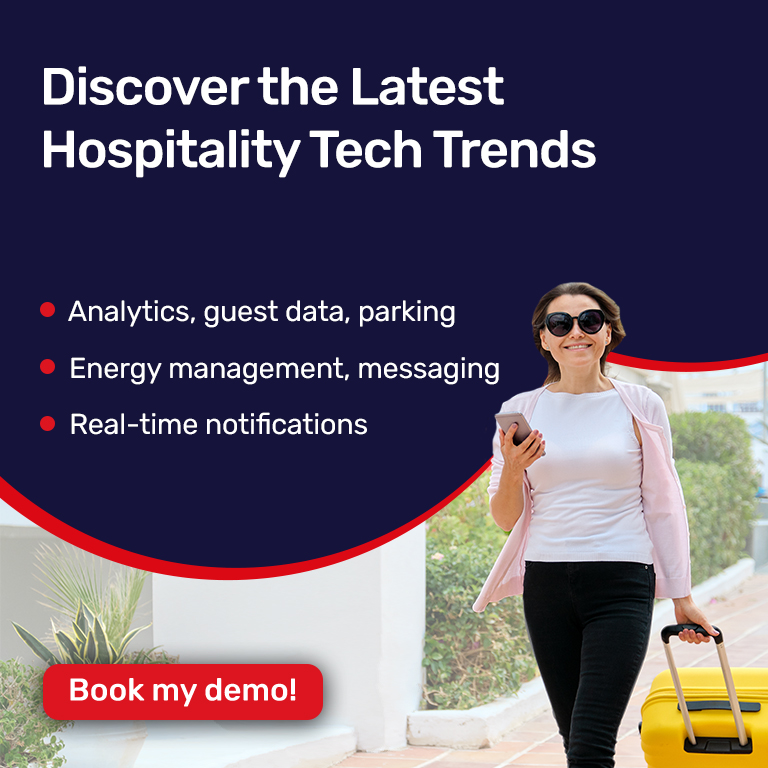 Exactly What is Hospitality Technology?
The average hotel uses about 20 different software applications for tasks such as property management, staff collaboration, housekeeping, guest feedback, and accounting. And that's just naming a few. We can expect to see a range of new technologies this year that will have a deep effect on the hospitality industry. Some of the benefits of using this technology includes:
Streamlining operations such as reservations, managing guest data, and room service. Technology can improve efficiency and reduce staff workload.
Enhancing guests' experiences such as offering services and amenities, online booking, mobile apps, in-room controls, etc.
Increasing revenue by optimizing pricing and managing income. Also can identify trends and chances for upselling and cross-selling.
Improving communication between guests and staff and between hotel departments. Guests can receive accurate and timely information helping to improve their overall experiences.
Improving security for guests and staff.
Let's go into all of this in a bit more detail. Here are a number of hospitality technology trends currently is use and gaining in popularity:
Internet of Things (IoT)
IoT allows various devices to connect to the internet and be managed by one controlling device, like a phone or tablet. Digital key cards, all of a smart hotel rooms, and even voice-activated customer service are a few examples. With IoT visitors can easily control and customize every aspect of their hotel rooms. They are also helpful in operations since IoT uses the information to highlight problems and fix them before they get worse.
Guest Services
Location-based technologies such as those of Mapsted, create localized and personalized experiences popular with modern travellers. Hotels and other hospitality-driven businesses can provide local recommendations based on the location of a guest's smartphone. For example, with Mapsted's location-based technology, special offers can be sent to guests' cell phones when they're near the hotel spa, or they can be sent a message asking if they want water or any other beverages delivered to their rooms after working out in the hotel gym.
Guest Messaging
With automated guest messaging, hotels can send offers to guests using tools such as WhatsApp and Facebook Messenger. Hotel and resort staff can also send messages tailored to specific guests. With Mapsted's hyperlocal marketing technology, resorts, and hotels can send their guests exclusive promotions for the resort's spa while they are onsite, timely notifications about local excursions, and even welcome messages when they first arrive. This helps personalize the guest experience, making visitors feel special throughout their trips.
Analytics and Guest Data
Using data analytics in the hospitality sector can help to increase customer loyalty, revenue, and market presence. When guests have a number of choices for locations to visit, it becomes harder for a brand to stand out from the rest. Here, analytics solutions can be very helpful. Areas of the hospitality industry such as business operations, marketing, rates of occupancy, food and beverage sales, and yields across departments can all benefit from insights data provides.
Tracking demand during different seasons can help the reservations departments to ascertain optimal room rates, and ensure the right discounts closer to booking dates. Additionally, analytics helps sales and marketing teams work on accurate messaging to go out to their dataset boosting reservations. With analytics, resorts, and hotels can work on optimizing energy usage and saving on costs while ensuring guests' comfort. These are just a few examples of how data analytics can help the hospitality sector.
Voice Search
This technology trend in the hospitality landscape is growing by leaps and bounds. Many people are using voice-activated searches to find hotels, restaurants, entertainment, etc. when they're travelling. The hospitality industry is realizing this and capitalizing on the trend. Websites and booking engines must be configured so guests can use the voice search. Some guests may also be expecting voice-search-enabled rooms to control smart speakers and other in-room devices. Guests can also use this to search for nearby restaurants, entertainment, and even place orders online at restaurants instead of waiting for servers to do so.
Virtual Reality (VR)
VR can be used within the hospitality industry in a number of ways, such as virtual travel experiences, virtual hotel tours, virtual booking processes, and for planning and management.
VR lets potential guests "see" individual features of a hotel or resort first-hand, achieving a much clearer sight of why rooms have a more favourable cost-to-quality ratio than competitors.
Chatbots
Chatbots can drive bookings directly. Additionally, they can quickly respond to inquiries on hotel and resort websites. This AI-powered or rule-based tool is a terrific way to create live communication since they are able to respond to around-the-clock inquiries. They can also advise potential guests to make reservations directly.
Managing Energy Smartly
Smart energy management systems analyze historical thermodynamics, local weather patterns, and peak demand loads optimizing energy consumption all year in real time. Thanks to smart technology, heating, ventilation, and air conditioning systems aren't the only ones that can save energy. Using automated energy consumption, real-time occupancy adjustments, and an improved understanding of energy requirements are all made possible by smart lighting technology.
Smart Parking
Today, hotels can use intelligent sensors and specific apps configured for them to allow guests to reserve parking spaces prior to arrival. Consequently, hotels side-sweep labor costs by having attendants manage to park and guests also experience a seamless, enjoyable arrival.
Conclusion
These are just some of the latest technology trends in the hospitality industry which is embracing a vast array of technologies and tools to enhance guests' experiences. This technology also serves to streamline operations and improve efficiencies. Mapsted's location-based solution for hotels and resorts simplifies many processes those in the hospitality industry must focus on. We invite you to reach out to Mapsted to discover what these intelligent systems can do to make hoteliers' lives easier and more productive.
For more information on how location-based technology check out this blog on overcome the vacation fomo with mapsted indoor location based solution and this short video.
Frequently Asked Questions
Q1. How can technology be used to market to guests at a hotel or resort?
Ans. Mapsted has a marketing platform available for subscription that allows clients to target guests with highly personalized offers at the right moments. Send out offers for room upgrades, dinner specials, and more through Mapsted's resort app.
Q2. How have hospitality technology trends changed since 2020?
Ans. Since the beginning of 2020, hospitality technology has seen a remarkable shift in trends. From contactless check-ins to integrated AI-driven services, the hospitality industry has been forced to adapt to the changing environment and stay ahead of the curve. As businesses strive to provide a safe and comfortable experience for their customers, they are turning toward new technologies such as virtual reality and automation.
Q3. What are the key benefits of investing in hospitality technology for resorts?
Ans. Investing in hospitality technology for resorts and hotels can provide a range of benefits that can help increase revenue and improve customer satisfaction. By leveraging technologies like AI-powered chatbots, smart check-in systems, automated booking systems, and more, resorts can offer their guests a more personalized experience while also streamlining their operations.
Q4. How will these technologies improve the guest experience?
Ans. With the introduction of new technologies, the guest experience is becoming more and more enhanced. AI-powered chatbots, virtual assistants, and other technologies are providing guests with personalized experiences tailored to their needs. These technologies can help streamline processes, automate tasks, and provide guests with efficient, enjoyable, and seamless experiences.
Q5. What technology trends are expected to be most impactful for resorts in 2023?
Ans. As the hospitality industry continues to evolve, resorts and hotels must keep up with the latest technology trends and innovations to stay competitive. In 2023, we can expect to see a range of new technologies that will have a profound impact on how resorts operate and how they cater to their guests. From artificial intelligence-powered chatbots to virtual reality experiences, these technologies are expected to revolutionize the way resorts interact with their customers and offer unique services.