April 05, 2023
Categories:
Trade Shows & Exhibitions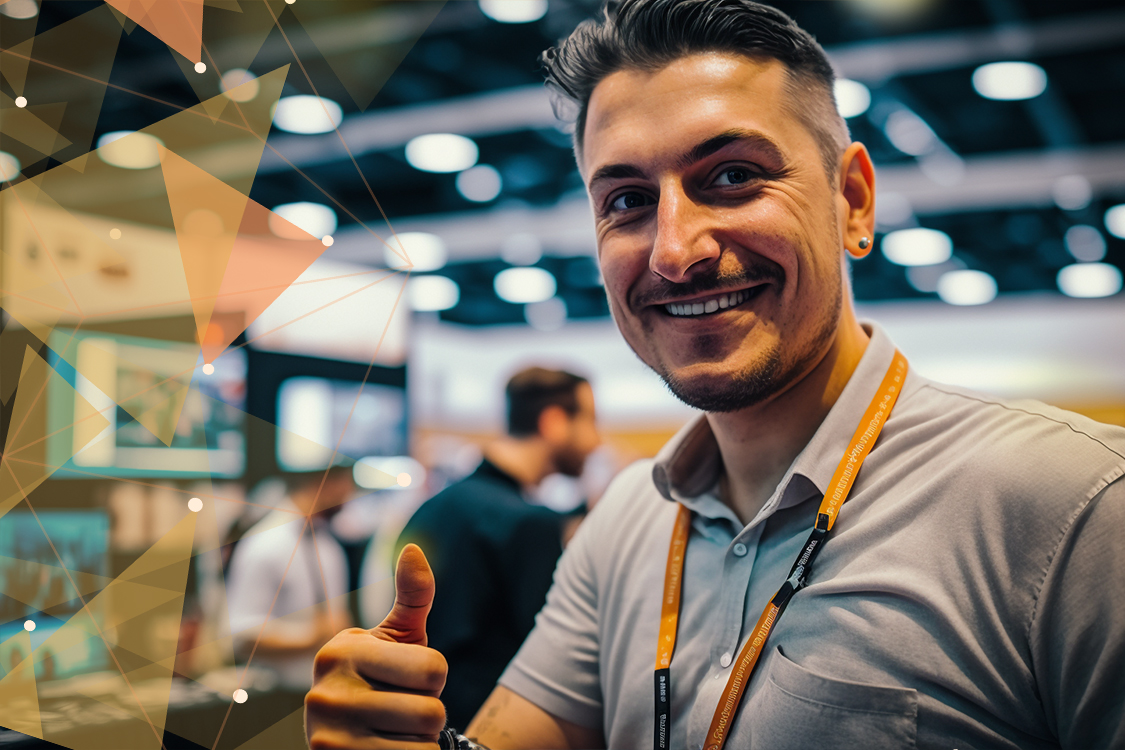 Organize a successful trade show event can be a daunting task. There's so much to think about. Trade show planning doesn't have to be an exercise in exhaustion, however, thanks to a host of tech tools that can relieve some of the stress.
Systems, apps, and software exist to help organizers plan, execute and measure an event. Consequently, more event organizers are using technology in event planning. According to a Gartner 2022 Technology Marketing Benchmark Survey, "In 2022, respondents indicated significant utilization growth of a number of critical technologies to support their marketing strategies. These include data intelligence tools, account-based marketing (ABM) technologies, and content marketing platforms."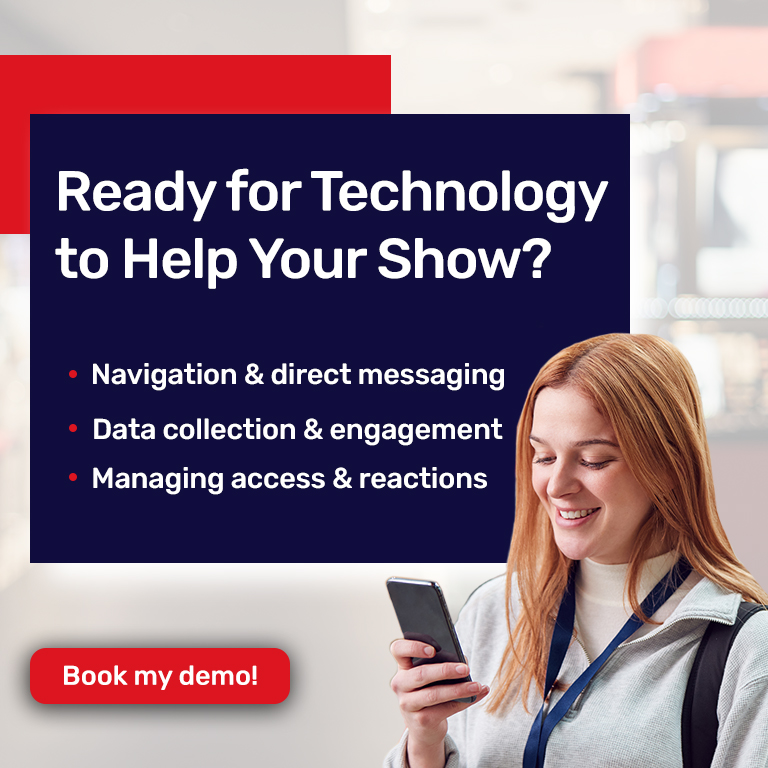 What Does Event Technology Entail?
Any software, app, or tool that assists in the planning and measurement of an event is event technology. Here are some examples:
Management Tools. Used for registration, ticketing, managing access, contact, and event reporting.
Engagement Tools. Tools such as mobile apps, polls, Q&As, chat channels, reactions, social media, etc.
Marketing Tools. Used for building a website, emailing, personalized registration, UTM links, and promos.
Content Tools. Used for registration and management, speaker portals, etc.
Networking Tools. Used for direct messaging, navigation, booking meetings with attendees, etc.
On-site Tools. Tools such as self-check-in kiosks, digital signage, and on-site badge-printing and scanning technologies.
Why It Matters to Organize a Successful Trade Show Event With Technology
Those who think event technology doesn't matter should re-evaluate their thinking. Technology is invaluable when it comes to creating the best trade show event possible. Doing everything manually is time-consuming and stressful. Prior to the use of event technology, trade show event planners had to contact potential attendees by direct mail, using print mediums, cold calling, and relying on word of mouth. That's not an ideal way of spreading the word about an event. Furthermore, following up on an event was next to impossible. Automation makes it doable. Data analytics lets trade show organizers track and measure their events.
Tracking and Collecting Data
There are a number of technologies that can gather this information and provide these tools but one technology provides a one-stop-shop for trade show organizers, providing many solutions in one convenient platform. Mapsted's location technology for trade shows & exhibitions easily tracks data to measure event key performance indicators (KPIs). This information is extremely helpful in trade show planning. Top event planners understand giving attendees the most positive experiences possible is crucial. An attendee digital journey map is pretty much a must for a successful trade show event. Mapsted's indoor location system can yield vast amounts of data about attendees' interests such as what booths they visit and sessions they attend. These indicators can help trade show event planners ultimately reap great returns on their investment.
Have a look at some of what can be collected:
Registration data
Survey responses
Sessions attended
Exhibits visited
Once trade show event planners collect this data, they can design an attendee journey using KPIs. Data earmarks KPIs to help event planners to track customer journey maps in a number of ways. Here are some of those:
Event marketing analysis. These can include email open rates, click-through rates, conversions, email clicks to register, social media shares, and forwarding of emails.
Effectiveness of booth displays. Track information like attendance, booth visits, and leads captured.
Satisfaction surveys. Data can inform planners about attendee satisfaction regarding the venue, sessions, speakers, etc.
Repeat attendees. Can track repeat attendees and exhibitors.
Cost-to-revenue ratio. Per attendee and by each trade show.
Overall session attendance. As compared to previous events.
Registration sales. Compared to trade shows in other years.
Attendee engagement. Can be measured in various ways including the percentage of app downloads, percentage of survey responses, live response polling rate, sponsorship responses, response to speaker slides, level of interaction with meeting content, percentage of gamification uses, etc.
Mapsted technology helps trade show organizers create a customized attendee journey since it is such an important facet of each trade show event.
What Does the Future Hold?
Trade shows have existed for decades. In the past few years, technological advances have changed their landscapes. Soon, trade show floors will include more than just booths, they will be inundated with interactive experiences and virtual reality. More trade show organizers plan to spend more on digital tools and that just makes sense since technology allows organizers to engage with visitors and be able to provide them with personalized experiences.
Incidentally, trade shows are the second largest source of B2B revenue in the United States with exhibitors spending $24 billion a year on trade show displays. And it's only going to continue to grow.
Mapsted's location-based systems can elevate the trade show experience. It offers leading, intelligent technology to help make trade show planning easy and seamless. By leveraging Mapsted's technology, trade show organizers can ensure their trade shows run smoothly and achieve their desired outcomes. Mapsted provides excellent customer support and offers helpful and strategic guidance. Event technology frees up organizers to continue to offer better and better trade show events and Mapsted can be a part of that equation. To learn more about how Mapsted can help you to organize a successful show event, this blog might be valuable. You might also wish to check out this blog on Trade show marketing tips to attract exhibitors to your show.
Frequently Asked Questions
Q1. What are the benefits of using technology to organize a trade show event?
Ans. With the right technology, event organizers can streamline their processes, save time and money, and ensure their event runs smoothly. From tracking exhibitor information to creating interactive experiences for attendees, technology can make the entire event experience more efficient and enjoyable. By leveraging technology, trade show organizers can create an engaging environment that encourages networking and collaboration between exhibitors and attendees.
Q2. What types of technology can be used to organize a successful trade show event?
Ans. From online registration to mobile apps that allow exhibitors to showcase their products and services, there are a variety of technologies that can be used for a successful trade show event such as location maps. Additionally, using digital signage and interactive displays can help to create an engaging environment for attendees.
Q3. How can technology help you manage vendors and sponsors?
Ans. With the right tools, you can easily track and monitor your relationships with vendors and sponsors, ensuring they are meeting their commitments. You can also use technology to streamline communication with them. Technology can also provide valuable insights into how to better manage your vendor and sponsor relationships, allowing you to make informed decisions about which ones are the most beneficial for your organization.
Q4. How can technology help you market and promote your trade show event?
Ans. By leveraging the power of technology, businesses can reach more people, increase engagement, and generate more leads. From using social media to create awareness to using analytics to measure success, there are many ways that technology can help you get the most out of your trade show event.
Q5. How can you use technology to make sure that your trade show event runs smoothly?
Ans. Technology can be a great way to ensure your trade show event runs smoothly and without any hiccups. With the right tools, you can make sure everything from registration to networking and presentations is managed in an organized manner. You can also use technology to monitor the event, track attendance, and even provide real-time updates for guests and exhibitors. By leveraging technology, you can ensure your trade show event is a success!