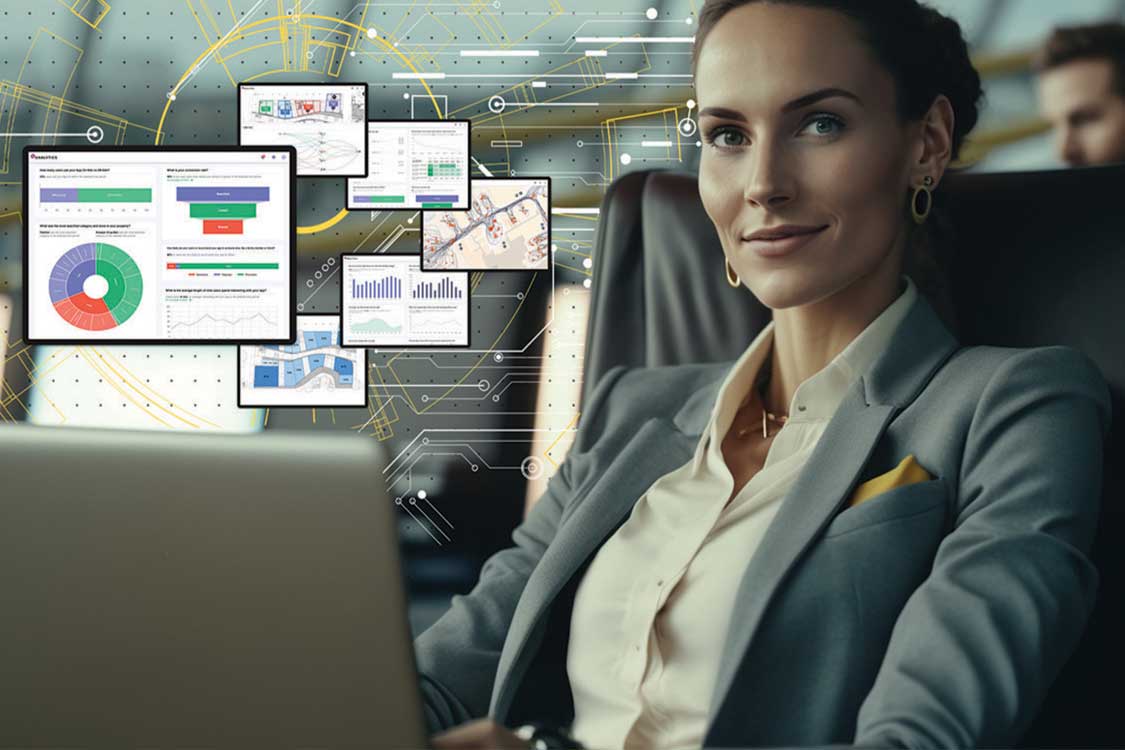 Indoor location technology is helping stadiums completely transform the stadium experience. With the help of stadium wayfinding technologies, fans no longer have to worry about getting lost in large venues or struggling to find amenities such as restrooms or concessions. With smart stadium solutions such as indoor location-based technology, fans can receive personalized, real-time directions and recommendations based on their location inside the stadium, ensuring that they never miss a moment of the action.
But it's not just the fans who stand to benefit from this technology. Stadium owners can also reap the rewards of implementing indoor location technology. By offering location-based promotions and advertisements to fans, they can create new revenue streams and enhance their overall business model. Additionally, location-based stadium analytics technology allows stadiums to monitor crowd flow and identify potential safety hazards to improve crowd management and safety, creating a more enjoyable and secure experience for everyone.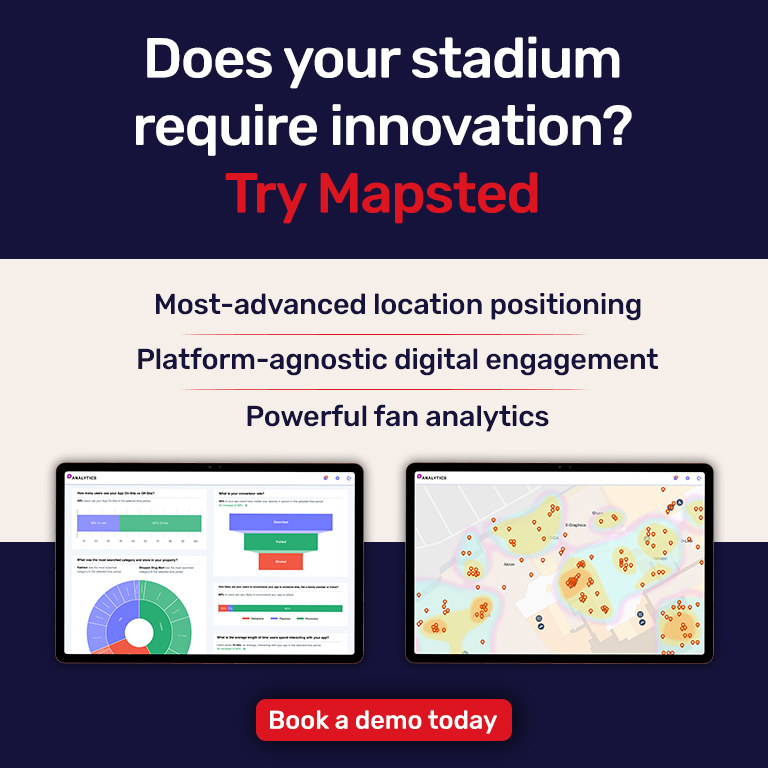 Breaking the Beacon Barrier
When people think of location-based technology, beacons are often something that comes to mind. These small, battery-powered devices planted inside the stadium use Bluetooth to communicate with nearby smartphones.
However, beacons come with a major drawback: they require hardware, which can be expensive to install and maintain. Most stadiums need a large number of beacons and skilled installation to ensure adequate coverage and improve the fan experience through location technology.
This is where Mapsted, the world's only patented, beacon-free, hardware-free location-based technology solution, really makes its mark. Mapsted has developed a hardware-free solution that surpasses traditional location-based technologies such as beacons, Wi-Fi, and Bluetooth. It's a game-changer for transforming the stadium experience, benefiting both fans and stadium management alike.
Traditional Location Technologies Are Incompatible for Future Sports Stadiums
Here's why:
Hardware limitations: Traditional location-based technologies such as beacons require expensive hardware and skilled installation, making them challenging to implement, and maintain and not easily scalable.
Poor coverage: Beacons and other location-based technologies may not provide comprehensive coverage across large stadiums, leading to inconsistencies in fan experiences.
Connectivity issues: Wi-Fi and Bluetooth connectivity may be unreliable in crowded stadiums, leading to poor location accuracy and slower response times.
Privacy concerns: Location-based technologies can raise privacy concerns for fans who may not want their movements tracked or their personal data collected.
Integration with existing systems: Integrating new indoor location technology with existing stadium systems and infrastructure can be complex and time-consuming.
Cost-effectiveness: Stadiums need to balance the cost of indoor location technology with the potential benefits to the fan experience and stadium management.
Stadium digitization can be challenging, and so is selecting the right location technology. With personalized and real-time information on seat upgrades, concession stand wait times, and in-stadium directions, fans can get the most out of their game day experience. This means they can focus on cheering for their favorite team instead of worrying about logistics. Better fan experiences lead to increased engagement, loyalty, and satisfaction. Furthermore, location technology enables teams and stadiums to gather valuable data and insights that help them optimize their operations, marketing, and revenue generation strategies. It is the key to providing fans a more enjoyable and efficient experience, which ultimately helps improve their bottom line.
How Far Do Stadiums Need To Go Find The Right Location Technology?
The growth of this market can be attributed to several factors such as the demand for contact tracing solutions due to the pandemic and the shift towards industry 4.0. Additionally, factors such as the widespread use of smartphones and location-based technologies also contribute to this growth. All these developments suggest a major revolution is in the making.
Evidently, choosing the right technology is critical, and the right time to do it is now!
Mapsted, a visionary brand from Canada, revolutionized indoor-outdoor navigation, analytics, and marketing, making it a key player in the smart stadium solutions market. With a global presence, Mapsted technology is deployed over more than 850 million sq ft on six continents, with innovation far exceeding that of Beacons and GPS, cementing its position as a true leader.
And it's not for just fans. Even stadium operators can benefit from the scalable software that offers far-reaching benefits that completely blow traditional location technology out of the water.
The Mapsted Solution – Value-Added Benefits
Could Mapsted even make meeting up at a stadium easier? Yes! With its real-time in-app location-sharing feature, connecting with friends is a breeze. The app also provides a complete map of the stadium, so navigating and exploring is a cinch.
To help your analytics team better understand fan behavior patterns, Mapsted offers hotspot insights, which identify overcrowded areas and can help alleviate congestion at entry and exit points.
Additionally, the technology can identify areas in need of optimization and address them quickly. For media and players, the app's intelligent technology uses AI to analyze telemetric data from sensors, allowing them to easily navigate between floors and rooms without the need for physical wayfinding signs. And with an impressive accuracy rate of one meter, Mapsted's technology pushes the boundary of contextualized experience in all aspects.
Indoor Location Technology: Why Does It Matter For Stadiums?
By integrating location technology, stadiums can transform into intelligent environments. The following points outline the areas where the most significant impact can be observed:
Improved Wayfinding and Navigation: Indoor location technology can provide visitors with real-time navigation tools and maps, helping them to easily find their way around the stadium and locate points of interest.
Enhanced Safety and Security: By using indoor location technology to monitor crowd flows and congestion in real-time, stadium operators can take proactive measures to improve safety and security.
Personalized Experiences: Indoor location technology can enable personalized experiences for visitors, such as targeted offers and recommendations based on their location within the stadium.
Optimized Stadium Layouts and Operations: By collecting and analyzing data on visitor behavior, stadium operators can use indoor location technology to optimize stadium layouts and operations to enhance the overall experience.
Accessibility: Indoor location technology can also help to improve accessibility for visitors with disabilities, by providing real-time guidance and assistance tailored to their needs.
Final Thoughts
In the ongoing challenge of making stadiums enjoyable and secure for fans, indoor location technology can play a key role, clearly surpassing conventional systems that rely on GPS and beacons. Mapsted technology has been deployed at several stadiums around the world, providing measurable benefits in revenue streams, safety, and crowd management.
We would love to discuss those details with you and more. If your stadium is ready to join the hardware-free location technology movement, reach out to Mapsted today! If you enjoyed learning about how Mapsted can help high-tech stadiums flourish, you may enjoy this short video, as well as another blog on elevating the fan experience.
Frequently Asked Questions
Q1. What is indoor location technology, and how does it transform the fan experience at sports stadiums?
Ans. Personalized, real-time directions and recommendations are provided by indoor location technology, using sensors and algorithms. By helping fans navigate the venue, find amenities, and receive targeted promotions and advertisements, this technology enhances the fan experience at sports stadiums.
Q2. How can stadium owners benefit from implementing indoor location technology, and what revenue streams can they create?
Ans. Through targeted advertising and personalized offerings, indoor location technology can help stadium owners understand fan behavior and preferences. Location-based services like seat upgrades, food and beverage delivery, and merchandise recommendations can generate new revenue streams.
Q3. What are the limitations of traditional location-based technologies such as beacons, and how does Mapsted overcome these limitations?
Ans. Traditional location-based technologies like beacons have limitations such as limited range, line-of-sight requirements, and the need for additional hardware. Mapsted overcomes these limitations by using advanced algorithms and sensor fusion methods, providing highly accurate indoor positioning without the need for additional hardware.
Q4. What are the common barriers to the stadium experience, and how does location technology address these challenges?
Ans. Common barriers to the stadium experience include navigating large crowds and finding amenities. Location technology can address these challenges by providing real-time directions and personalized recommendations to enhance the fan experience.