April 02, 2023
Categories:
Big Box Retail & Malls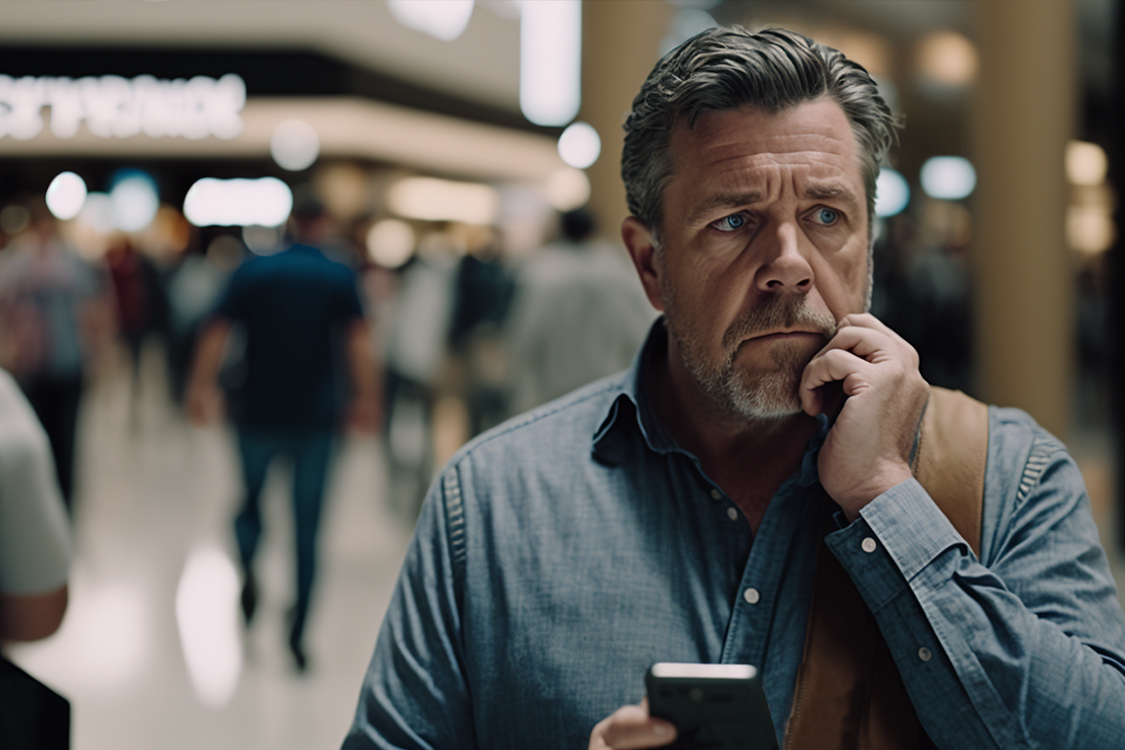 Despite a few bumpy years and empty retail mall spaces, today's shopping malls remain money-making hubs. Post-pandemic, shoppers love to purchase items in person and experience a day in a mall environment where there is a buzz of energy and opportunities to touch and feel items before purchasing. In fact, according to a Statista prediction, global retail sales – which include online and in-person sales – are projected to reach $31.7 trillion USD by 2025, up from approximately $23.74 trillion in 2020.
Many malls, however, can be massive and often confusing. Shoppers trying to find the "You Are Here" kiosk to figure out where their desired stores are can often lead to frustrated. If your facility's navigation strategy does not include a location-based technology, you are missing out on opportunities for increased sales and shopper engagement.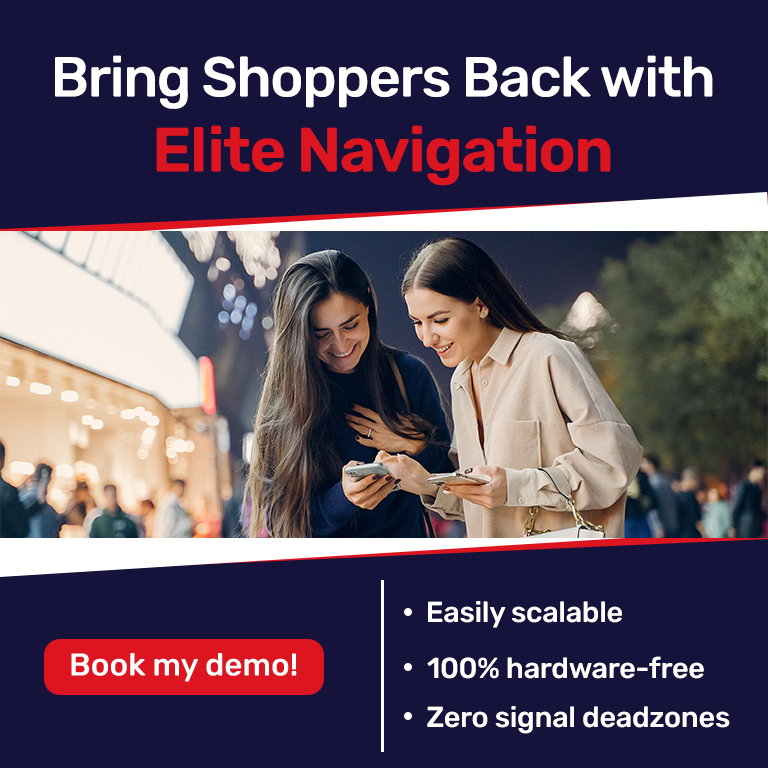 Shopping malls with poor indoor navigation face problems such as:
1) A Negative Customer Experience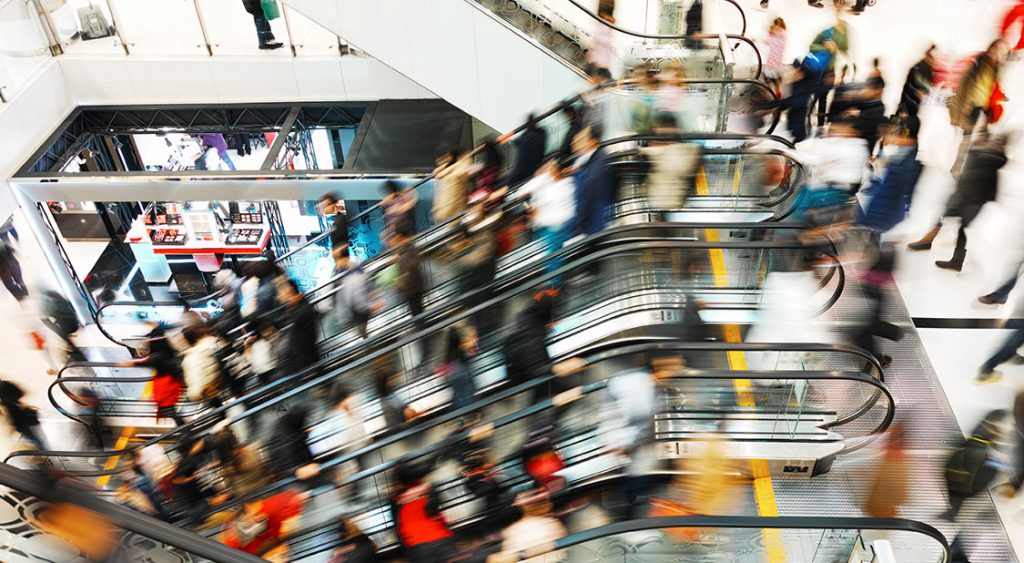 Customers who cannot navigate a shopping center with ease miss out on discovering the shops and amenities that would really fulfill their needs and make their experience the best it could be.
2) Poor Crowd Control
Thousands of shoppers visit malls every day. At peak times, it's almost impossible to avoid crowds and high traffic. But the real problem occurs when people collect in areas of the mall where all the popular stores are, or in the food court. This is another problem malls with poor indoor navigation face.
3) Reduced Customer Loyalty
Loyal customers are customers who express gratitude by repeating their visits or orders. However, customer satisfaction is challenging if they can't even find their way around the shopping mall. Every marketer knows it costs five times more to acquire a new customer than it does to retain a returning one. Helping customers easily locate their favorite stores helps keep them satisfied.
4) Compromised Safety
If shoppers can't get in and out of shopping malls quickly, they face the danger of panic behavior such as stampedes. Incidents such as shootings or fires leave shoppers running around looking for exits. If you don't create a simple mall layout and allow shoppers the opportunity to orient with it through an indoor location technology platform incidents such as these can become much worse. 
5) Diminished Zone-to-Zone Conversion
Shopping mall owners that use navigation platforms to offer turn-by-turn navigation to shoppers and are able to analyze popular routes are a step ahead of the rest.
Picture The Gap and H&M attracting the same types of shoppers. A location-based technology solution could help the mall owner decide to position the two stores close to each other, with one or two less popular stores in between. This strategy would improve the profitability of each store in the mall and make it easier for this targeted shopper group to find what they need in the mall.
Powerful Indoor Location Services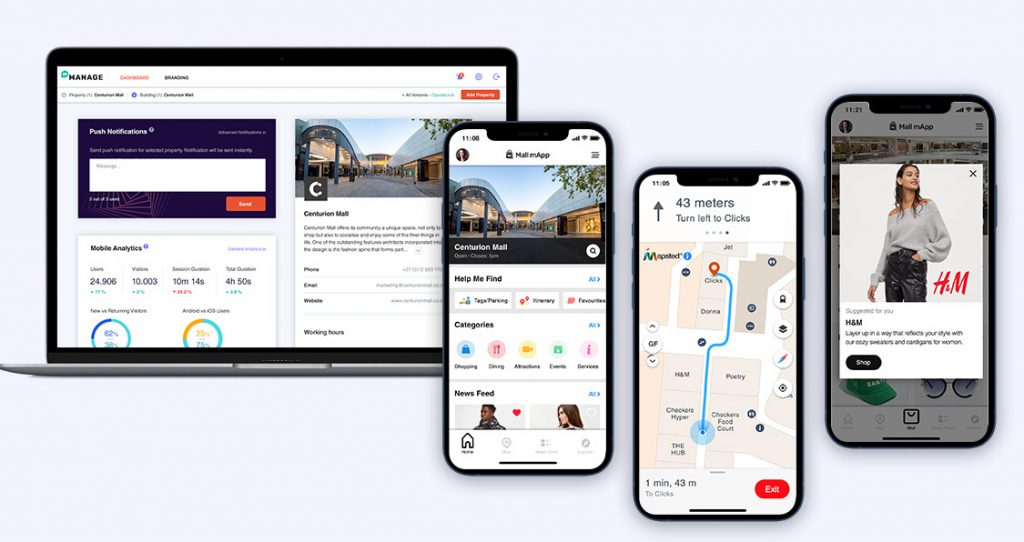 Mapsted's location-based technology solution for retail malls offers high-quality indoor navigation for shopping centers. The technology can be deployed within weeks and requires no beacons, external Wi-Fi or additional external hardware. Our advanced navigation platform, in addition to location marketing and analytics capabilities, will dramatically improve your mall's user experience and maximize efficiencies and profits.
If you are interested in learning more about what Mapsted can do for your shopping mall or large retail space you can find more information on our web site, and you will enjoy our blog on the Top 10 Emerging Retail Industry Trends To Watch Out for in 2023
Frequently Asked Questions
Q1. What is indoor mapping in simple words?
Ans.  Converting your floor plan from 2D to digital with clearly marked points of interest completes the indoor map. It represents clearly marked features and facilities within a venue to simplify wayfinding and allow users to easily orient themselves to their surroundings.
Q2. How much does an indoor navigation app cost to develop?
Ans. An indoor navigation map is a complex solution that addresses the needs of large venue owners. However, developing them from scratch can cost tens of thousands of dollars. On average, developers of indoor navigation apps spend $20000 or more to develop functional navigation features. This is why many find Mapsted's indoor navigation bang for the buck.
Q3. How are indoor navigation systems implemented?
Ans. It's done in four simple steps:
The indoors of the venue are thoroughly mapped
Users are encouraged to download a smartphone app
Wi-Fi fingerprinting methods or BLE are used to help users navigate
The signal data is processed on the server side using high-performance algorithms.
Q4. Why is indoor navigation important?
Ans. When users enter large malls, they are entering an unfamiliar environment and frequently find signs and layouts confusing. Getting lost affects not only sighted members but also those who are visually impaired. In such cases, an indoor map would feel like a personal tool designed to increase convenience and confidence.
Q5. Which is the best indoor positioning system for malls?
Ans. Try Mapsted's indoor navigation solution, which includes lifetime support and the ability to customize maps to meet your specific indoor positioning and navigation requirements. It will be intuitive in the hands of your mall visitors, ensuring complete convenience and satisfaction.