April 03, 2023
Categories:
Transportation Hubs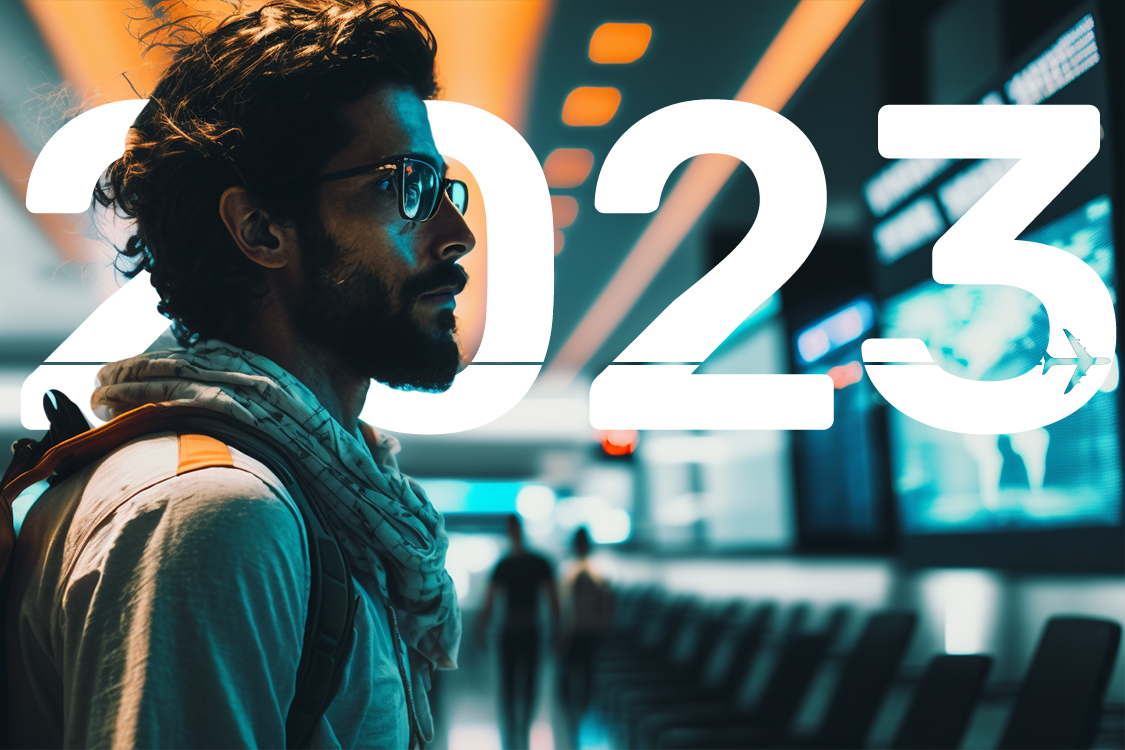 The latest airport technology trends will undoubtedly transform the future of air travel like never before. Innovations from AI and Metaverse to sustainable development will not only enhance the passenger experience but also drive business growth within airports.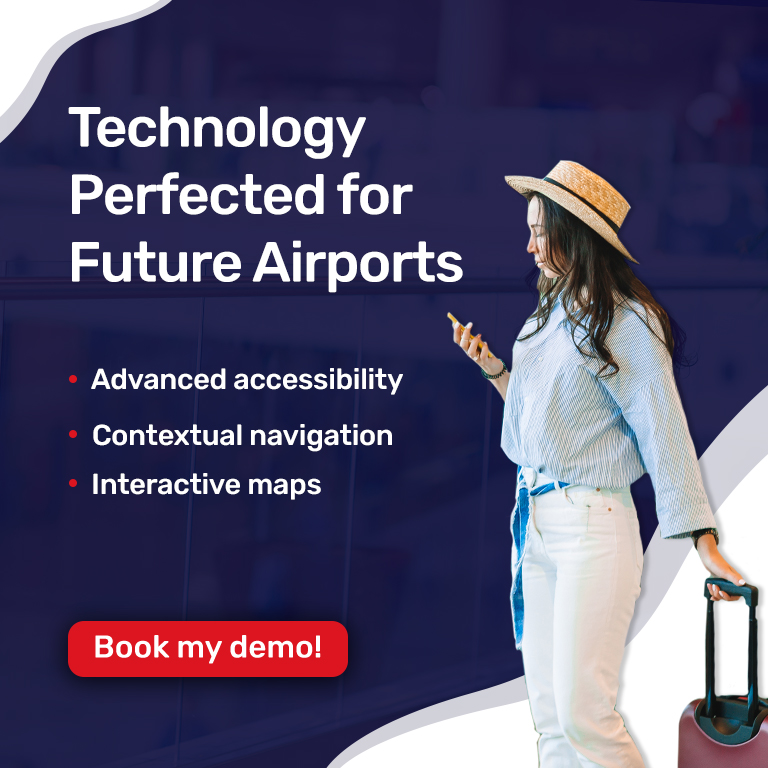 Here are seven exciting technological possibilities that await the pioneers in the aviation industry that choose to expand their innovation horizons.
1. Automation and Robotics 
A report by Mordor Intelligence has estimated that the airport robot market will experience a Compound Annual Growth Rate of 15% by the year 2025. Investing in automation and robots, which are encompassed under the umbrella term of "smart airports," will likely lead to further growth in this sector. Smart robots play a crucial role in eliminating the need for human-manned desks, as they can provide passengers with information and guidance – whenever, wherever. Additionally, they are beneficial in enhancing airport operations by streamlining security screening, baggage handling, and floor management. Automated robots are especially advantageous for individuals with disabilities.
For these air travelers, automated robots can assist in navigating through airports without requiring additional aid.
2. ChatGPT to Revolutionize Customer Experience and Enhance Industry Functions
Since its launch in late 2021, ChatGPT has been steadily gaining popularity, with many discovering new and innovative ways to use the language model. However, the true watershed moment came when Air India announced that it would be utilizing GPT4 on its website to improve the customer experience. CEO Campbell Wilson said at the CAPA India Aviation Summit 2023 that the use of this language model will not be "gimmicky," but rather it will be implemented to genuinely enhance the airline's functions.
Several industry heavyweights, such as American payment processing platform Stripe and Morgan Stanley, have already announced their intention to use GPT4. With so many companies investing in this technology, there is a clear hint that the language model will be the future of many industries including airports. Air travelers will soon have the ability to create personalized itineraries without the stress and hassle that typically accompanies this task. Airports have a current weakness in dealing with data that is not entirely up-to-date and that does not take into account geolocation. ChatGPT could change all of that and revolutionize the industry by solving one of the major issues that airports worldwide have been attempting to resolve. The development of AI chatbots is much more agile than the evolution of the internet over the past few decades, which is exciting news for the industry.
3. Unmanned and Sustainable Aviation
In 2021, the public became aware of Advanced Air Mobility (AAM), and McKinsey survey data indicated a significant level of interest. Record-level investments were made, numerous AAM companies went public, and there was an unprecedented demand for manned AAM aircraft. As we transition into 2023, the focus of AAM funding will mainly shift to unmanned AAM and sustainable aviation. To accelerate the manufacturing of futuristic AAM, a new supply chain will emerge, emphasizing quality assurance, certifications, and catering to low volumes. As Advanced Air Mobility nears commercial production, there will be a growing interest in optimizing infrastructure, training, and maintenance to ensure a seamless transition for AAM clients and the industry as a whole.
4. Autonomous Systems in Airport Operations
Airports serve as ideal grounds for testing advanced autonomous systems (AAS), which are the next level of innovation in self-driving vehicles. These AAS leverage cutting-edge technologies such as Light Detection and Ranging (LiDAR), computer vision, and AI-powered object detection to enable full driving automation, eliminating the need for active physical control or real-time monitoring. AAS can effectively address numerous airport use cases. Nevertheless, airport executives may encounter challenges in comprehending the legal and regulatory requirements of AAS and assessing their suitability for complex use cases in both airport-controlled and non-airport-controlled deployments. Investing in advanced autonomous systems as early adopters can give airport operators a competitive advantage, even though these systems are still in their early stages of development.
5. Advanced-Data Analytics and Location Intelligence
The airports of tomorrow will rely heavily on data and technology to inform decision-making processes. Despite the abundance of data available, existing methods of managing the vast amounts of information often fall short in identifying and resolving issues, resulting in unreliable estimates that fail to mitigate the costs of delays that ripple throughout the system. However, this is set to change in 2023 and beyond. Although delays are a common occurrence in airports, they can be easily mitigated with the appropriate approach. While data can provide valuable insights into passenger traffic, flight schedules, taxi times, airport capacity, operational behavior, and the impact of weather, it alone is insufficient for providing a comprehensive view that facilitates timely interventions. As such, predictive analytics are necessary for enhanced decision-making.
This particular challenge can be addressed effectively through the application of advanced technology. Mapsted's cutting-edge location technology for transportation hubs uses real-time analysis of people and assets to enhance situational awareness, gain insights into traffic patterns and optimize arrivals and departures. Mapsted's location analytics platform is designed to forecast future operational conditions based on innovative insights.
Mapsted has several unique selling points, including the ability to automate data collection and visualization using scalable technology. We also offer powerful pre-built analytics software designed specifically for airport managers and marketers. Additionally, Mapsted provides a comprehensive platform that caters to all types of analytics needs.
6. Virtual and Augmented Reality
The augmented and virtual reality market in aviation is expected to grow significantly, with a projected value of USD 1,372 million by 2025. AR and VR technologies have a range of applications in the aviation industry, including training, maintenance, and identifying potential dangers. These technologies provide an immersive and interactive approach that connects the aviation ecosystem to improve the efficiency of various tasks, leading to smoother operations and cost savings. The use of XR and Metaverse in aviation offers opportunities for enhanced customer experience, cost-effectiveness, and a safer environment for learning and maintenance. As a result, airlines are expected to rapidly adopt these solutions to revamp the experience on air and land.
Moreover, Virtual Reality (VR) and Augmented Reality (AR) are not merely trendy terms for amplifying the training effectiveness of personnel and staff, but they also hold immense potential in providing unparalleled in-flight entertainment. Lufthansa conducted a trial of Avegant's Glyph video glasses in the business lounge located at Frankfurt Airport, granting passengers a cinematic experience. These glasses were acknowledged with the Innovation Award Honoree at the CES technology tradeshow in 2017. In the future, more airports and airlines will work in tandem to engage passengers to increase seat upgrades by luring them with innovative technology.
7. IoT, 5G, and Cloud
One of the most significant challenges encountered in air travel pertains to the aging infrastructure and the ceaseless struggle to keep pace with the escalating passenger count. Every year, queues lengthen, flights get overbooked, and airport floorspace surpasses its capacity, thereby placing an excessive strain on airport infrastructure and exceeding sustainable standards for passengers and airport stakeholders. In the United States alone, the average terminal is four decades old, and by 2037, the global air passenger count is expected to reach 8.2 billion, highlighting the stark contrast between passenger growth and infrastructure readiness. To address this challenge, airports, and airlines have collaboratively invested in enhancing their terminals to cater to future demands. Nevertheless, this modernization drive will have a disruptive effect on passengers as they will have to endure the chaos caused by ongoing construction activities.
Going forward, emerging technologies such as the Internet of Things (IoT), 5G, cloud, and artificial intelligence (AI) will collectively facilitate sustainable airport operations, thus improving revenue opportunities, operational performance, and passenger experience.
In this context, Mapsted has already committed itself to airport modernization using hardware-free smart location technology. The company is revolutionizing airports with advanced indoor wayfinding and location marketing solutions that create business opportunities for airport-based enterprises and enable passengers to cater to their individual needs more efficiently.
That's a Wrap
In 2023, airports will see a surge in the use of automation and robotics, advanced air mobility, autonomous systems, data analytics, and location intelligence, among other technologies. Smart robots, advanced autonomous systems, and data analytics will enhance the passenger experience by streamlining security screening, baggage handling, and floor management. The industry will shift its funding focus from manned to unmanned AAM and sustainable aviation. Airports will rely heavily on data and technology to inform decision-making processes, and advanced technology will use real-time location intelligence to enhance situational awareness. Furthermore, ChatGPT will revolutionize the customer experience by creating personalized itineraries for air travelers without the stress and hassle. If you're keen to learn how a location-based solution can refine the passenger experience and operational capabilities at your airport, we have put together a presentation. You may also enjoy this short video. Be the pioneer in leveraging cutting-edge airport location technology by reaching out to Mapsted today. Simply get in touch and request a free demo to witness the revolutionizing capabilities firsthand.
Frequently Asked Questions
Q1. How are airports using virtual and augmented reality technology?
Ans. Virtual and augmented reality technology can be used in airport operations to provide training simulations for staff, enhance the passenger experience by offering immersive entertainment options, and even assist with wayfinding and navigation throughout the airport.
Q2. What are the benefits of using artificial intelligence in airports?
Ans. Artificial intelligence (AI) in airports can be used to analyze passenger data and optimize operations in real time. This can help to improve efficiency, reduce waiting times, and enhance the overall passenger experience.
Q3. What is airport automation technology?
Ans. Airport automation technology involves using automated systems and machines to streamline airport operations, such as check-in, baggage handling, and security screening. This technology helps to improve efficiency and reduce waiting times for passengers.
Q4. What is the role of the Internet of Things (IoT) in airports?
Ans. IoT can be used in airports to collect and analyze real-time data from various devices and systems, such as security cameras, sensors, and passenger devices. This can help to improve operational efficiency, reduce costs, and enhance the overall passenger experience.