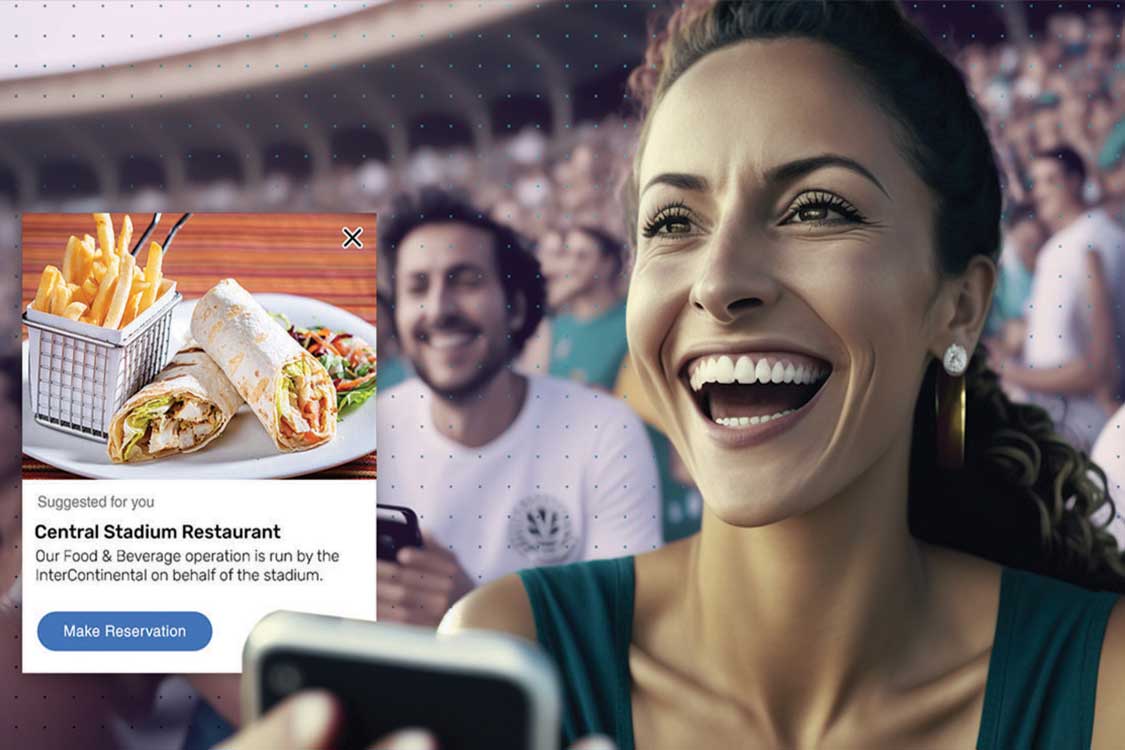 People attend events at stadiums for all kinds of reasons. They could have tickets to a favorite sports game, to see a concert or any type of special performance. So, it's vital that the thousands of fans attending these performances and games have the most memorable experiences possible. Providing them with a high-tech smart stadiums experience that leaves them feeling comfortable and taken care of will keep them coming back again and again.
This is where location-based technology really adds value to the fan experience in stadiums. With innovative, location-based solutions, stadiums can now give spectators a totally immersive experience while at their venues. Let's have a look at what that means.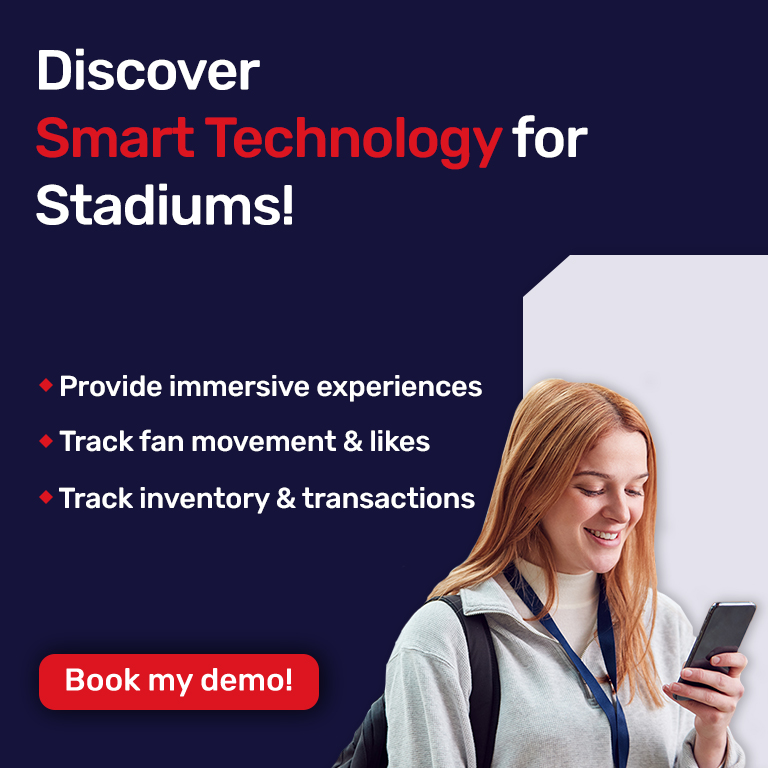 Live Events Get Even Better
Live events continue to be the preference for many fans. There's nothing like seeing your team go for the win or your favorite performer or band on stage. It's no wonder, then, stadiums are moving into the digitization era to enhance fans' experiences. As more location- and data-based solutions are integrated into traditional stadium operations, fans and stadiums alike are reaping the benefits.
This new technology is even changing the ways stadiums are being built. For example, the NFL's Buffalo Bills recently announced plans to build a new home stadium set to open in 2026. The plan is to build a data-intelligence-fueled, 360-degree service solution to bring fans a modern stadium that will dramatically enhance the game-day experience as well as any concert that will take place in the new space.
What's Smart Technology All About?
Smart tech is digitally transformative. One of the most useful tools is location-based technology, a way to capture people's movements in a building or enclosed space like a stadium. Traditionally, this type of technology uses a combination of beacons, Wi-Fi, and GPS, however, Mapsted's innovative technology is in a class by itself. Instead, Mapsted's highly accurate AI and machine learning technology pinpoints user locations on its maps. A directional beam auto-rotates to adjust orientation depending on where the user is, creating a contextual navigation experience.
Using any smartphone, Mapsted's technology relies on adaptive, data-fusion, and self-learning algorithms to deliver scalable positioning technology. Additionally, the system uses environmental magnetic or wireless disturbances to learn and determine location. Essentially, the system converts "noise" into useful information.
What Does All This Really Mean?
For fans, smart navigation means the improvement of live events, reducing the need for physical contact and it also ups the ante for stadium security. Soon, fans will be able to enjoy a totally no-contact stadium experience. Digital tickets will replace physical ones and facial recognition software will be able to verify the identity of fans in stadiums. Barcode scanners at entry points will allow fans to enter with a simple wave of their smartphones, making the entire stadium entrance process as digital as possible. It's also a way of controlling crowds since when a stadium connects to fans digitally, it can let fans know the wait times at each gate. Digitization can reduce overcrowding and can speed up stadium entry. When visitors are more evenly dispersed, the stadium has a lower risk of safety and security hotspots.
Indoor navigation can direct fans to key points of interest in the stadium, such as entrances, exits, seating, washrooms, and food stands. This prevents people from getting lost and making unnecessary contact with others by asking for directions. In a world after COVID, this technology ensures people enter the stadium at the best place, experience an efficient exit, and are able to quickly and easily find the right and closest stadium facilities.
Furthermore, for stadium managers, data about fans' movements, and those of the people around them, ensure contact tracing initiatives are successful. When stadiums use these solutions, they can better help to protect fans.
Big Bonuses for Smart Stadiums
Smart technology has changed the way fans purchase items in stadiums. By using this intelligent technology, stadiums provide a more convenient and secure way for fans to shop. Additionally, this technology minimizes long lines and makes it simpler for fans to buy their favorite items seamlessly and quickly. It also helps stadiums improve customer service by giving fans real-time information about available products and discounts. Smart technology ensures stadiums are giving customers great shopping experiences every time they visit. Some of the items fans can purchase using smart technology include:
Food and drinks
Merchandise such as T-shirts and other memorabilia
Tickets
Buying food and drinks and other products digitally means fans don't have to leave their seats to wait in line. Smart technology also allows stadiums to collect data on customer preferences and trends, helping them make better decisions about what kind of food and drinks they should offer and what kinds of items they should offer in gift shops.
Stadiums offer a variety of options for customers to receive their purchases, ranging from in-person pick-up to home delivery services. With smart technology, stadiums can even keep track of their inventory and manage transactions. It also helps to reduce waste by tracking inventory levels more accurately. All these benefits make it clear this technology is a great way to purchase items in a stadium.
With smart technology, stadiums can even keep track of their inventory and manage transactions. It also helps to reduce waste by tracking inventory levels more accurately.
The Bottom Line
Stadiums can power up their venues with Mapsted's digital, transformative technology. Mapsted is digitizing the indoor stadium landscape without external hardware to provide one to three-meter accuracy. Mapsted creates opportunities for stadiums to innovate, become widely accessible, and become digitally smart. With location-based technology, Mapsted has the entire spectator journey accounted for – from the parking lot to their seats. Spectators can easily find their row and seat numbers and have access to their surroundings through their smartphones.
Not only does Mapsted's digital informative technology offer indoor navigation, but it also provides real-time updates directly to spectators' phones, provides wait times, concession and vendor deals, player stats, and information on half-time events – all with the ability to connect friends and family with a shareable link. The technology can also visualize data and occupancy levels, and provide customer analytics. It can also optimize traffic flow and allocate more security and staff where the need arises.
To see how your stadium can benefit from Mapsted's intelligent technology, we invite you to reach out to us to book your no-cost demo. It's time to power up digitally!
If you enjoyed learning about how Mapsted can help high-tech stadiums flourish, you may enjoy this short video and another blog on elevating the fan experience.
Frequently Asked Questions
Q1. How can stadiums use smart technology to improve the fan experience?
Ans. From automated ticketing systems to interactive digital displays, stadiums are using smart technology to make sure fans have a great time at their events. With Mapsted's smart technology, stadiums can provide fans with personalized experiences and improve their overall satisfaction. From virtual reality experiences to real-time analytics, stadiums can use smart technology to create an unforgettable time for fans.
Q2. How can smart technology help stadiums increase their revenues?
Ans. With smart technology, stadiums can offer more personalized experiences for their customers and provide them with better services. This will not only make them more attractive to potential customers but also help them generate more revenue in the long run. Mapsted's smart technologies can be used to create an immersive experience for stadium-goers to improve customer satisfaction. Furthermore, data analytics can be used to gain insights into customer behaviour and preferences enabling stadiums to tailor their services accordingly.
Q3. What are the benefits of using smart technology in stadiums?
Ans. By integrating smart technology into their operations, stadiums can provide an enhanced fan experience, improved safety, and increased operational efficiency. Smart technology can also be used to improve customer service by providing real-time data on the event's progress and allowing fans to interact with their team or performer in a more meaningful way. With smart technology, stadiums can also generate valuable insights into their operations and better understand how to optimize their resources for maximum efficiency.
Q4. How can stadiums ensure their data is secure when using smart technology?
Ans. To ensure data remains secure, stadiums must take steps to protect it from potential cyber threats. This includes implementing strong security measures such as encryption and access control, as well as regularly monitoring systems for any suspicious activity. By taking these proactive steps, stadiums can ensure data remains safe and secure while still taking advantage of the latest smart technology.