July 05, 2023
Categories:
Big Box Retail & Malls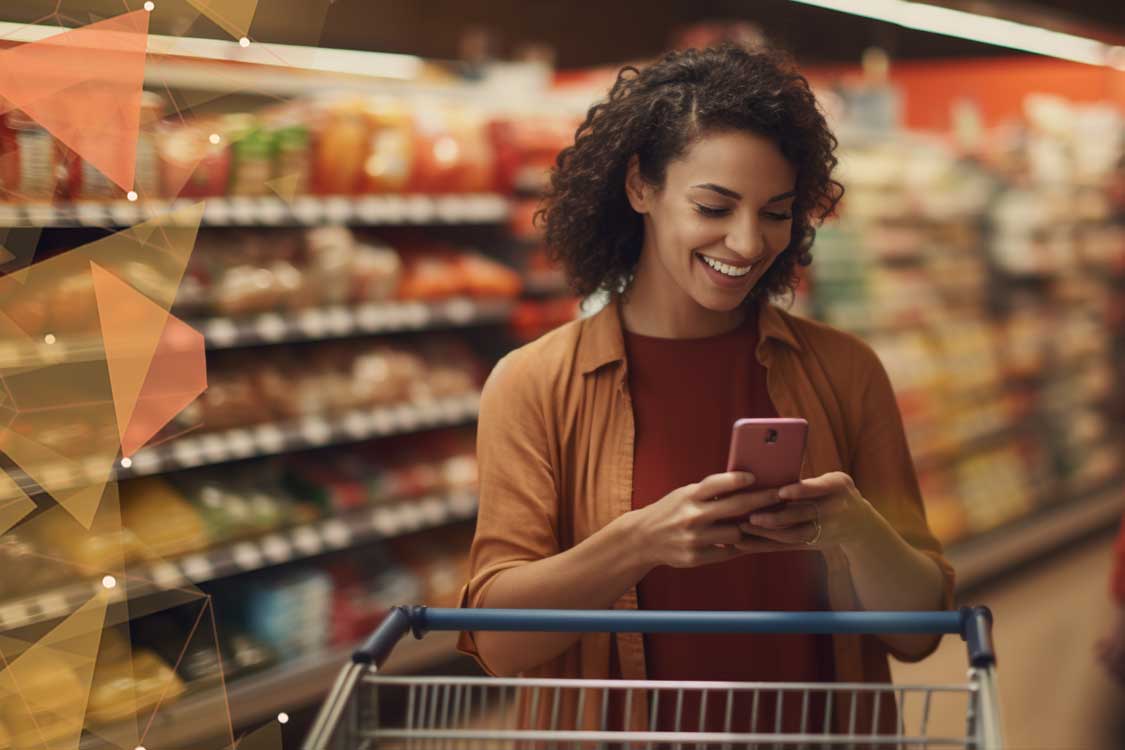 If you dedicated one day to watching each shopper who enters your retail space, what would you see? Would they look flustered and confused, or focused and confident? Chances are, your in-store navigation strategies will determine your answer.
With the rise of superstores, size can and does overwhelm shoppers. Sure, asking for assistance helps, but isn't shopping supposed to be intuitive? The truth is – as stores yield to huge retail centers, intuitive facility use has taken a back seat. If you're thinking of fixes, that's great – there are solutions. There are lots of tools available to help you create a friendly and intuitive journey for your customers.
Most certainly, shopping trips shouldn't cost people time and peace of mind to fulfill their needs. A friendly and intuitive journey is crucial to a positive customer experience (CX) and robust retail revenue. So saying 'yes' to in-store navigation is the best way to achieve this outcome.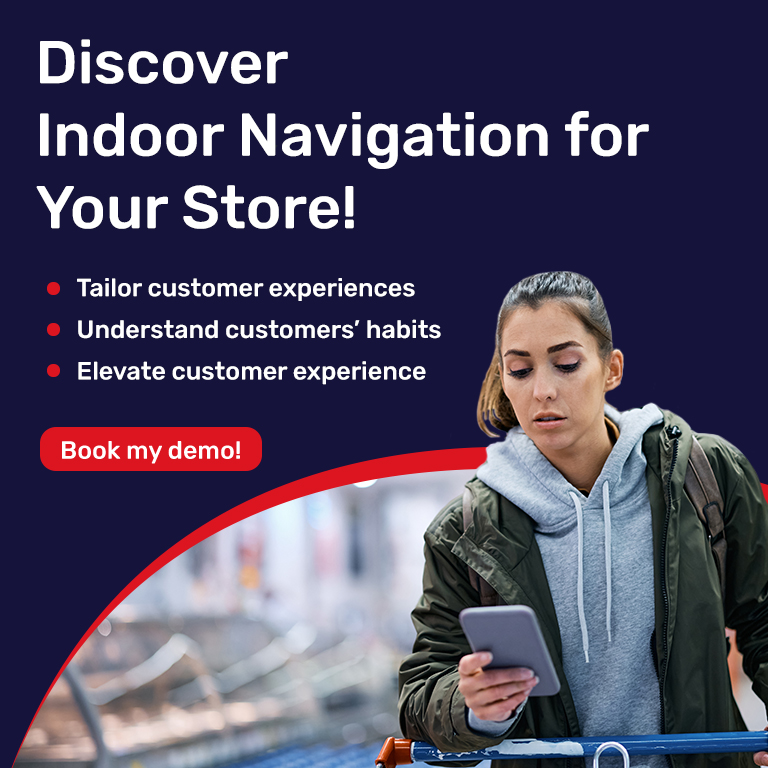 What is In-Store Mapping?
In-store mapping is a useful tool for increasing location awareness. No, it's not a physical map, but rather a digital map that visualizes people, assets, and operations. Customers and facility managers both benefit from store mapping because it ties together customer status, product experience, marketing events, and all the other important aspects of retail management. A successful map provides a large, easy-to-understand picture of your space.
How In-Store Navigation Works
In-store navigation apps direct customers to the products they want and show them how to get there. With most people habitually clutching smartphones, apps have become the de facto interface for experiencing and connecting with their surroundings.
A Google/Ipsos report on online smartphone users says 63% of smartphone users are more likely to purchase from companies that offer relevant product recommendations via mobile sites or apps.
Layering interactive content to touchpoints adds a digital touch to retail shopping. As a result, direct access to more data points on individuals is now possible. It's an essential component of learning how to improve in-store experiences, product recommendations, and even hyper-personalized campaigns.
A store navigation app is not only about melding offline and online insights to create a 360-degree shopping experience. It's also about ensuring customers make sound decisions throughout their self-help journey. The store navigation app's sensor fusion algorithms use micro-location to tailor experiences.
That said, the biggest draw of in-store mapping has been its ability to save time. People love when all they need is an app to plan a shopping trip from their own homes. Indoor-outdoor transitions are made smoother by solutions such as Mapsted's indoor navigation technology. Mapsted eliminates the need for GPS, BLE, or other IPS infrastructure to accurately locate people and assets.
You can complete the audience experience by sending special offers and discounts at the right time and place, so they'll be encouraged to visit your store rather than a competitor's.
How In-Store Navigation Benefits Customers
Basically, the most logical use case for in-store mapping and navigation is to virtually find and experience products. In terms of functionality, in-store navigation may appear to be a Google or Apple Maps extension, but it actually relies on algorithms rather than infrastructure. The interactive indoor map is without a doubt a game changer because it supports all of the intuitive actions that GPS map users are accustomed to.
Putting supermarket navigation apps in tourist areas provides a mental guide for visitors who are unfamiliar with their surroundings. It acquaints them with the reality of modern, stress-free shopping. The in-store navigation app and its technology aren't solely aimed at attracting new customers. Regular customers who are unfamiliar with the store's micro-locations and amenities can also benefit.
Benefits of In-Store Navigation for Retail
While navigation apps appear to exist solely to delight retail customers, this is not always the case. Retailers can optimize service levels, management, and store operations by leveraging location data and features. Here are a few ways in which retailers benefit from navigation apps:
Using Proximity Sensors to Tailor the Experience
Undoubtedly, the days of hard selling new products to customers are over. Smart technologies are now replacing human attendants to improve interactions at touchpoints. For example, consider proximity sensors used in micro-locations. The technology senses visitors in a specific area and sends fear-of-missing-out (FOMO) offers. Then, real-time indoor location signals power these hyper-targeted ads. Processing data closer to the source rather than at the backend allows your marketing team to keep up with shoppers in real-time.
Understanding Customer Biases
The most difficult challenge for a marketer is determining whether the store experience influences purchasing decisions. Now, Mapsted location solutions enable a deeper reach into customer mindsets based on how they interact with physical space. So customer movements translate into quantifiable metrics.
Global data creates a visual representation of the audience as individuals rather than segments for monitoring dwell time, heatmaps around points of interest, top-selling products, and reactions to display items.
The advantages of having more data points to analyze include:
Tailoring experiences to customer preferences
Guiding sales staff to nurture sales-ready customers
Enhancing in-store experience based on individual journeys
Spurring customers to spend more per visit
Increasing loyalty through added convenience
Optimizing Operational Efficiency
Customers are not the only priority when it comes to in-store navigation. Employee productivity is another key focus to improve in-store sales and foot traffic. For example, if you're in charge of a team of new hires for floor support, you can closely monitor their progress in real-time through insights. Consequently, meaningful data measurement maintains workforce standards which ultimately influences growth.
Features of In-Store Mapping
Some critical features of in-store mapping are:
Markers for locating points of interest (PoI)
Wayfinding options and digitals signs to all PoI on the interactive map
One-meter indoor accuracy with blue-dot navigation
Analytics assistance in capturing and analyzing interactions
Integrated product search on interactive maps
Best Technology to Implement In-Store Navigation
Store navigation is now expected to do everything from locating products, people, and assets, to sending advertisements to users based on their interests. But if you're wondering where to go shopping for in-store mapping solutions? Mapsted is the answer. As a patent-holder of technology that completely closed the gap between online and offline shopping experiences, Mapsted is always the best choice for retail businesses with budget caps. So here's your chance to try one of the most innovative indoor navigation solutions for free. Request a demonstration today!
Conclusion
Undoubtedly, shoppers appreciate the technology that helps them navigate a space with confidence. Where physical signs once stood, technology has stepped in to make navigation easier, and we're implying ones that work without increasing infrastructure costs. However, important in-store navigation apps are they should be affordable and justified. With that in mind, Mapsted's interactive blue-dot navigation system is the most human-like way of using technology for navigation. As a strong contender in this segment, it maximizes convenience and value to brands and customers.
To get the Mapsted advantage, give us a nudge today. We will help you choose the smartest indoor navigation tech ever.
Found this read helpful? You may also like to know about the Characteristics of an Ideal University With an IPS
Also we think you might be interested in maximizing effeciencies and easing campus life experinece with location-based technology.
Frequently Asked Questions
Q1. What is the customer journey in a retail store?
Ans. It is a planned journey that a customer takes to learn about your company's offerings, make purchases, and receive loyalty benefits.
Q2. What is retail mapping?
Ans. The inclusion of markers and wayfinding signs in retail outlet mapping simplifies information for users and reduces anxiety.
Q3. What is heat mapping in retail stores?
Ans. A high level of activity is represented with a deep intensity of color. It aids in visualizing where people congregate in numbers and how frequently to demonstrate traffic patterns and behavior.
Q4. What is a decompression zone in retail?
Ans. It is usually a transition point where traffic from two opposing environments is affected by the crossover. In the case of retail, it is the transition from outdoor to indoor space.