February 22, 2023
Categories:
Corporate Offices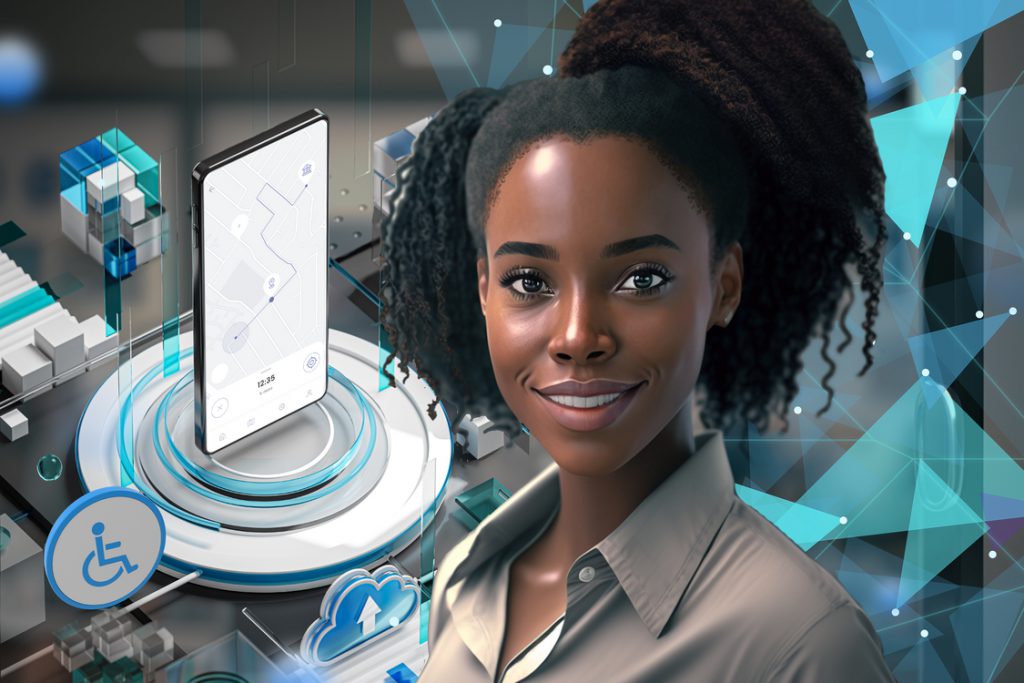 We live in a world of inclusivity, where people of all abilities are a part of the working realm, able to shine using their individual talents. But, it's not always easy for employees with accessibility needs. Employers want to do everything possible to meet employees' needs and accessibility technology today can certainly help to make workplace activities and experiences in the office enjoyable for everyone.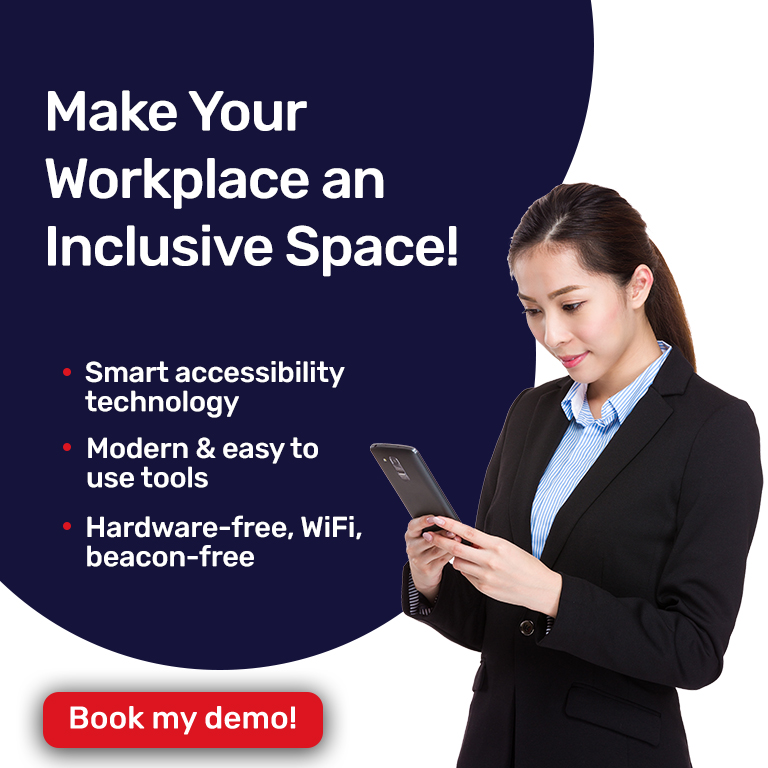 Understanding is Key
Employers must be cognizant of what their employees need including how they can move about the office, what tools they need to perform at their highest levels, and how they can better interact with colleagues. For a company's success, it must have accessibility and inclusion at the top of its mandate list. In other words, accessibility hinges on enabling any disabled person to be able to interact with products and spaces as closely as possible to how others interact with them.
Inclusivity is more than just about following a government directive such as being accommodating by installing wheelchair ramps or providing specialized equipment. It's about creating more universal spaces with unique designs accessible to all. Inclusivity means looking at all points of view when planning work and social events and everything in which all employees can participate.
Also, accessibility hinges on understanding and reacting to individuals' needs to guide inclusion. Awareness is a huge factor. Being aware of colleagues' requirements leads to adapting a workplace to a more effective and comfortable environment.
Workplace Examples
Here are some examples of disabilities employers may encounter in the workplace and examples of features that can help individuals living with them:
Vision. Visual impairment includes blindness, color blindness, or low vision. As well as accessibility features related to space, they benefit from solutions like magnified screens, screen readers, text-to-speech functions, high contrast displays, video call backgrounds, and background blur.
Mobility. Mobility impairment restricts a person's movement. This could include the inability to use limbs, walk or manipulate objects. These people may require a wheelchair or crutches to aid in mobility and may also need tools to help them operate a computer. This could include keyboard shortcuts, dictation features, eye control, or voice navigation.
Hearing. Employees who are deaf, have hearing loss, or are hard of hearing might rely on auto-generated video captions, real-time subtitles and transcription, visual alerts, and mono audio functions. They may also require an interpreter when meeting face-to-face.
Mental health and neurodiversity. There are times when disabilities aren't obvious. Neurodiversity and mental health apply to people living with dyslexia, autism, attention deficit hyperactivity disorder (ADHD), and other cognitive differences such as depression and post-traumatic stress disorder (PTSD). Features, locations, and actions bringing clarity to reading and limiting time distraction are imperative for these people.
Making Progress
Similarly, they say their coworkers are also mindful of their unique needs and interact accordingly. Furthermore, about 70% of respondents with disabilities feel their organizations provide adequate training regarding disability etiquette education.
Additionally, the study shows since the Covid-19 pandemic, the shift to home/hybrid work environments has been readily embraced by the workforce, especially by those with a disability. In fact, more than six in 10 employees prefer working from home. Many prospective employees first look at an organization's home/hybrid office policy when evaluating an opportunity (46%). This number was even higher in the disability community (58%). Many organizations have been open to the new working model..
Digital Optimization Creates New Opportunities
Smart workplace technology is shaping the way 21st-century businesses operate. When company owners and managers talk to employees with disabilities and establish groups to evaluate and assess accessibility standards, they will improve experiences and begin making inclusion a part of the company's fabric.
Digitally speaking, the starting point is beginning to assess tools already in use and whether they're suitable for employees with disabilities. Technology providers should support companies on their journeys with accessibility being at the forefront. At Mapsted, accessibility is not an afterthought. Mapsted can answer all your questions regarding the assistive technologies it offers.
Implementing a New System in the Workplace
Firstly, you will want to ensure all your employees, particularly those with accessibility needs, have the most advanced location technology in place. Mapsted's hardware-free indoor location technology delivers accessible route planning customizable to your specific needs, providing safe, reliable navigation.
With full accessibility routing support, our indoor positioning system works anywhere without interruption. There are no beacons and no need for WiFi or additional hardware. You will have the ability to:
Meet everyone's navigation needs.
Provide inclusive, barrier-free access to facilities.
Improve safety and security, especially in emergency situations.
Enhance employee experiences, increasing satisfaction and production.
Modern Workplace Technology
There are so many benefits to upgrading technology in the workplace conducive to making it more inclusive and accessible. Here is what you can expect from Mapsted's advanced technology:
Accessibility features: A flexible platform allows users to customize routes for their individual accessibility needs. Routes can help people avoid stairs, steps, and escalators and instead use ramps or elevators.
Color and display adjustments: Mapsted's color and display adjustments include options for both high and dark contrast ensuring on-screen information is easily accessible to everyone.
Audio instructions: Voice navigation allows users to hear contextual turn-by-turn directions helping them safely reach their desired destinations. This technology also helps users stay aware of their surroundings, providing them with additional information on points of interest along their routes.
Alerts: Next and nearby environmental features on the route communicate information about environmental features such as when users are close to escalators or when they are approaching them.
Speech-to-text search: This feature is a faster, more natural way to search for desired points of interest and destinations. Mapsted's speech-to-text search option is easy-to-use and delivers highly accurate voice recognition capabilities.
Orientation information: Detailed orientation information lets users know their current location in relation to their surroundings. For example, "You are approaching the elevators." Orientation information always includes reference to features in the physical environment and along the route such as pathways, landmarks, objects, decision points, and segments.
Next Steps
Whether your organization is at the grassroots level of creating accessibility in the workplace or it wishes to improve accessibility, Mapsted will provide the guidance and the tools to help you to succeed in this endeavor. Embracing inclusivity and accessibility will take your organization up the productivity ladder. We are here to provide the information and the technology necessary for creating a well-organized work environment optimized for inclusion and accessibility.
Mapsted has many technology solutions fitting for offices such as office hoteling. This concept allows you to reserve office space, meeting rooms as well as resources in advance, like you would book your ideal hotel room. Instead of being assigned a permanent work desk or following the first-come, first-serve rule when you arrive at the office, hoteling office space removes uncertainty and assures you get the space you desire.
Mapsted aims to make your office the most productive and inclusive it can be. We invite you to reach out to us today for a no-cost demo to show you how we can help!
Frequently Asked Questions
Q: How does accessibility technology help employees with disabilities?
A: With the help of technology, employees with disabilities can access information and resources that would otherwise be inaccessible to them. Accessibility technology also helps them move around easier, stay connected with colleagues and customers, and enables them to work more efficiently and productively.
Q: What are some examples of accessibility technologies used in the workplace?
A: Examples of accessibility technologies used in the workplace include location mapping, screen readers, speech-to-text software, Braille displays and keyboards, switch controls and other ergonomic tools.
Q: How do employers benefit from using accessibility technology in their workplaces?
A: This technology can help employers provide a better working environment, increase employee productivity and engagement, and reduce costs associated with hiring and training new employees. By investing in accessibility technology, employers can ensure their workplace is welcoming to everyone and all employees have an equal opportunity to succeed.
Q: How can employers ensure their workplace is accessible for all employees?
A: From providing physical access to ensuring digital accessibility through software and technology, there are many ways employers can make sure their workplaces are accessible for all. Additionally, employers should also create policies promoting an inclusive environment and provide training on how to recognize and address any discriminatory behaviour or practices.
Q: What types of organizations can benefit from accessibility technology?
A: Accessibility technology can be a great asset for many types of organizations, from small businesses to large corporations. It can help make websites, apps and other digital products more accessible to people with disabilities and other impairments.