July 25, 2023
Categories:
Technology Trends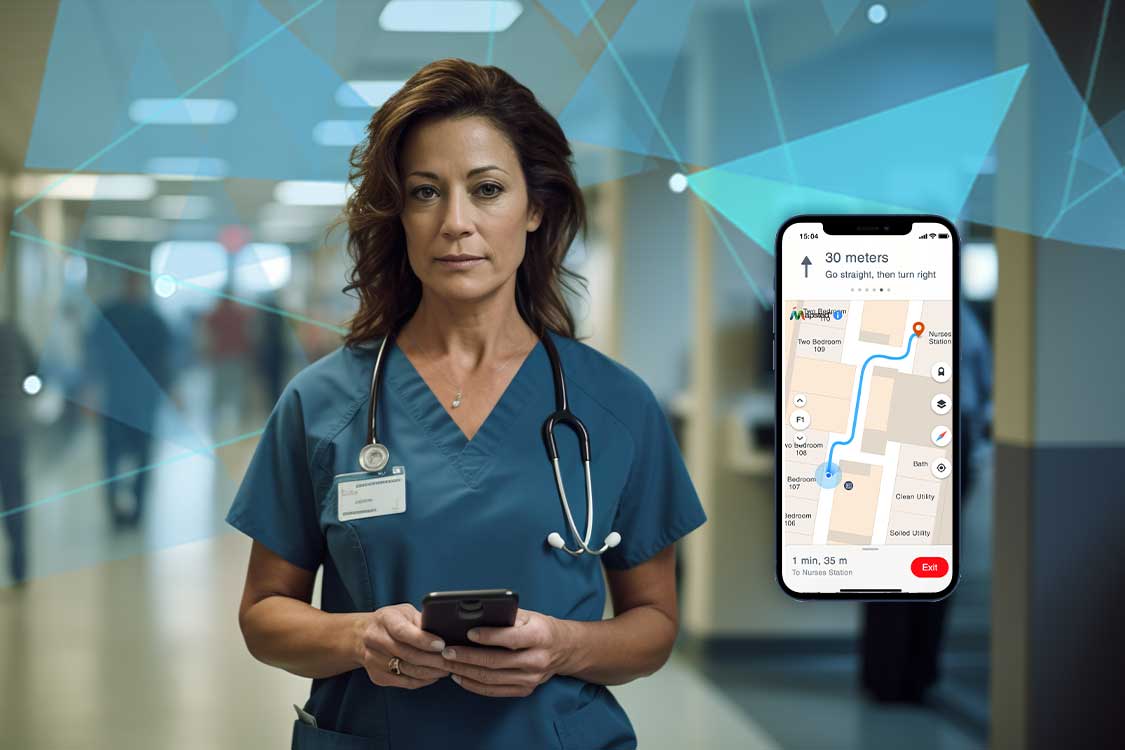 We know about the benefits indoor mapping has in universities, airports, museums, resorts, big-box retailers, and trade shows, but the future of indoor mapping stretches far beyond these six verticals. Indoor mapping is rapidly evolving. The need for this technology is increasing in more and more verticals every day. Today, we will explore how indoor mapping in hospitals will improve operational efficiency in the future.
The healthcare system has evolved rapidly throughout the past decade. There has been a large focus on meaningful interoperability and wider IoT (Internet of Things) adoption. But, as we come to the end of this decade, we wonder what successful indoor navigation for hospitals really looks like.
Getting Better Processes & Outcomes
IoT in healthcare is about learning better processes and outcomes for patients and doctors. Whether you're a patient, nurse, administrative assistant, or doctor, connectivity and mobile technology, such as indoor wayfinding for hospitals, help to increase the overall healthcare experience – ultimately benefiting the patient.
One of the major technological shifts hospitals are going through is the movement toward Real-Time Health Systems (RTHS). The goal of RTHS is to deliver a location-aware, patient-focused indoor navigation experience for hospitals.
According to Market Watch, the indoor positioning and indoor navigation market will reach $43.51 Billion, globally, by 2025.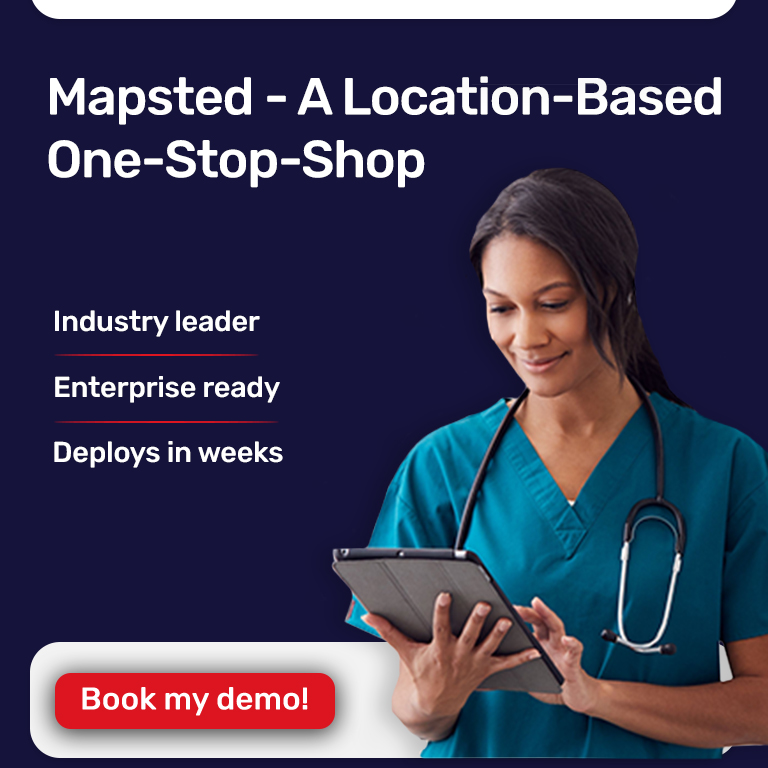 Since hospitals are already implementing smartphone technologies to ease the patient experience, indoor wayfinding for hospitals will only further improve the patient experience.
It provides a seamless indoor-outdoor wayfinding experience that helps visitors easily navigate inside the hospital and also allows for easy navigation across platforms. That means users can start their route on a kiosk or website, and navigate to it in real time using an app on their smartphone.
This product also features an intuitive back-end system that lets hospital staff and operations teams easily update information, add or remove locations, and customize maps.
Increase Positive Experiences
Hospitals can be stressful, disorienting places. Designing seamless indoor navigation for healthcare institutions is important when trying to increase the experience for patients, visitors and staff.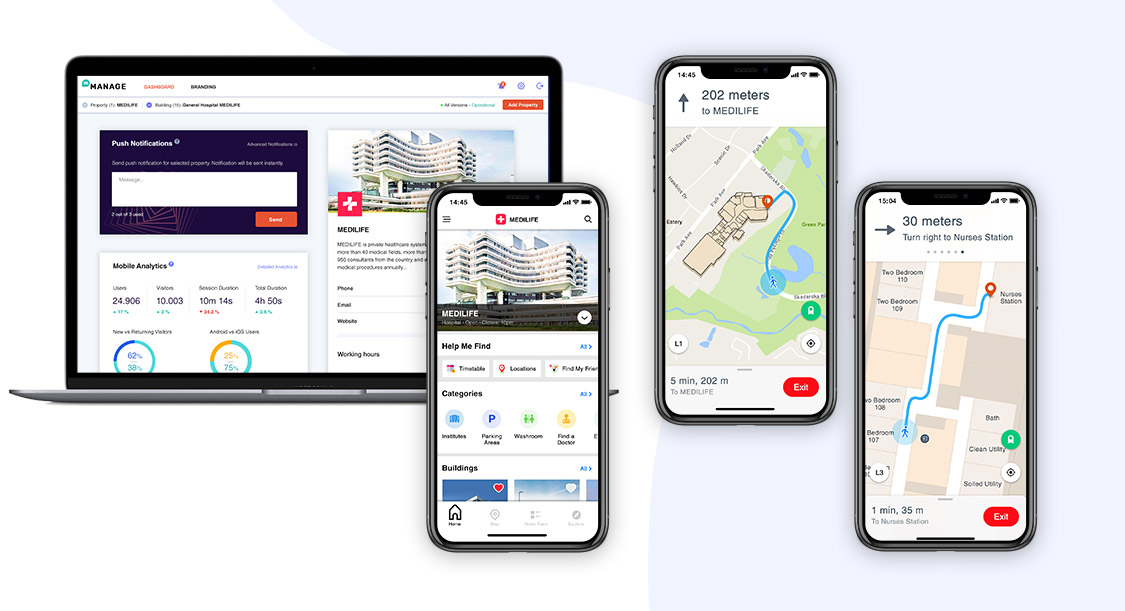 With Mapsted's indoor mapping in hospitals, patients, visitors, and staff will be able to:
Find their destinations faster, alleviating the stress of navigating a complex, unfamiliar environment
Streamline patient care, by scheduling consecutive appointments in a way that ensures they travel the shortest route possible, enhancing patient care, and reducing stress
Keep the hospital map updated with the latest changes ensuring users always have access to the latest information about new units, additions, or section changes, as the building evolves and the hospital expands
By using resources more efficiently, staff can spend less time responding to requests for directions from visitors. As a result, they can focus more of their time on patient care, ultimately providing a better experience.
It is important for technology to keep up with the demands of an ever-changing society. In particular, hospitals are turning toward technology which now at this point will help provide their patients with the best possible treatment and care. Using Mapsted's indoor mapping in hospitals will guarantee patients, visitors, and staff experience a seamless hospital experience.
If the information here was helpful to you, you might enjoy reading about technology and privacy in our blog, Location Data Privacy: Balancing Privacy and Convenience in 2023 or about indoor maps in our blog, Google Indoor Maps: Is There a Better Alternative?
Frequently Asked Questions
Q1. What is the use of indoor mapping?
Ans. After digitizing a floor plan, users can immediately access it as a map that displays the location of rooms as well as amenities like restrooms, a helpdesk, and a cafeteria. Mapsted's app can seamlessly convert an indoor map from a 2D paper plan to a digital format.
Q2. How can hospitals be mapped?
Ans. The process of mapping hospitals starts with the patient's point of view. Understanding a patient's journey can help set expectations and design use cases that are more purposeful and make better use of resources.
Q3. What makes indoor mapping essential?
Ans. Indoor mapping is essential because it removes all barriers that prevent patients from accessing healthcare facilities in time of need without getting lost in a large hospital. It creates a journey that guides them through easily accessible parts of a building.
Q4. What steps are involved in implementing indoor navigation?
Ans. Implementation of indoor navigation is easier today and is done in four steps:
Mapping the facility to the minutest detail
Advocating the use of a smartphone app to serve as an interface
Deployment of beacons or sensors that actively or passively communicate with user device
Securely passing data to the servers to resolve the spatial-temporal inconsistency
Q5. Can I use Google Maps instead of a dedicated indoor mapping tool?
Ans. Google Maps, like all other mapping solutions, has limitations because it relies on GPS signals. This makes them less accurate or efficient indoors, such as in a large hospital. Because GPS signals cannot penetrate walls and multi-floor buildings, they are rendered inaccurate compared to a more robust Mapsted indoor mapping system.