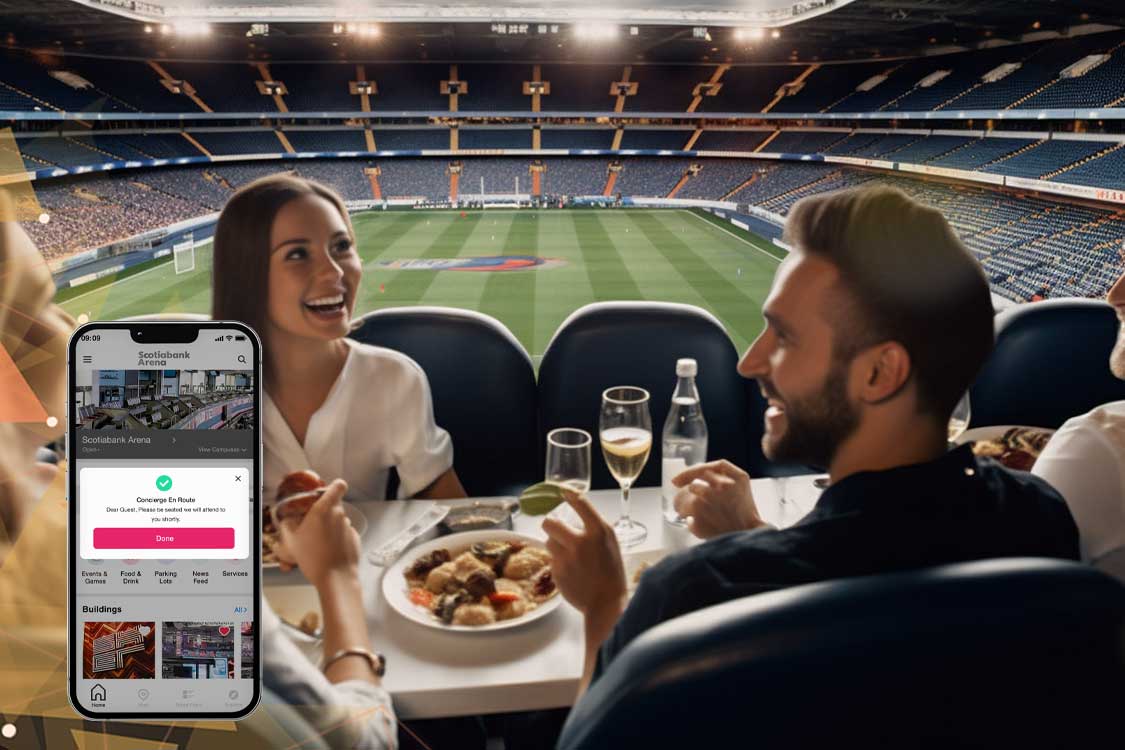 Many stadium administrators and managers are keeping in step with burgeoning technology and are continually looking for ways to elevate guests' experiences. Over the last two decades or so fans have been expecting more bang for their bucks when attending sporting events and other performances at stadiums – especially VIP guests, so stadiums have had to step up to the plate to keep up with demand and be primed for huge growth within the next few years.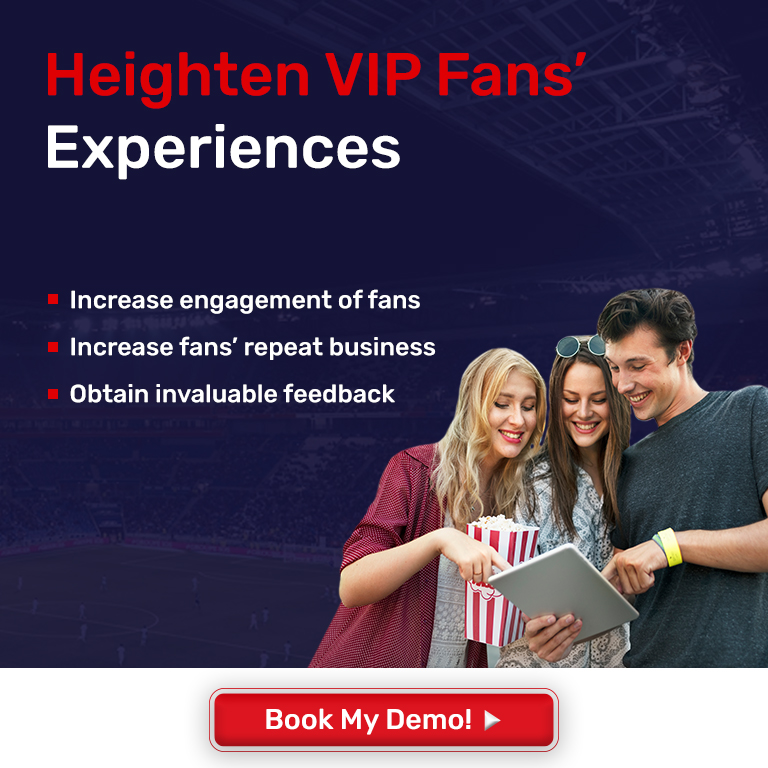 Sports Market Growth
In fact, Globenewswire.com says the global sports market grew from $486.6 billion in 2022 to $512.1 billion in 2023 and it is expected to grow to more than $623 billion by 2027.
That growth is staggering. Meanwhile, statista.com says the global entertainment and media market — which includes high-level concerts – reached $2.3 trillion in 2021 and is expected to reach nearly $3 trillion by the end of 2026. With these figures in mind, stadiums clearly need to understand their end user and what will keep them loyal and coming back for more.
The VIP Experience
For some fans, sitting in a "regular" stadium seat just doesn't cut it for some fans. Many people want corporate suites, luxury boxes or VIP/exclusive areas complete with private bar areas, ensuite washrooms and other luxury amenities. Needless to say, stadiums are happy to oblige and indeed, encourage these choices since it means an increase in the average spend per person. But for laying out top dollars, these fans expect their experiences to be superb.
The Pearl Lounge at Lusail Stadium, for example, was the most luxurious commercial lounge at the 2022 FIFA World Cup in Qatar. Situated right above the halfway line, the suite offered extras such as a six-course gastronomic showcase, in-lounge entertainment, cocktails and a dedicated concierge service.
Other stadiums focus on novelty to wow VIPs. The Crèmily Pool Suite at Chase Field in Arizona offers up to 35 VIPs a pool with a field-level view to enjoy the game while taking a dip.
The Pearl Lounge at Lusail Stadium, Qatar
—————————————————————————
The Location-Based Edge
Location-based technology, such as Mapsted for Stadiums, can assist stadiums in providing top-flight services to VIP fans. These customers want exclusive and personalized services to enhance their overall satisfaction of an event or performance. By providing these services, stadium management fosters loyalty and positive recommendations.
Here are, some ways location-based technology can elevate the VIP experience in stadiums:
Seat upgrades. Location-based technology can assist stadiums in identifying premium seats or upgrades in the venue to send to VIP fans in real-time. Receiving these messages on their mobile devices, fans can upgrade their seats if they choose.
VIP exclusive discounts and offers. With location-based technology, VIP fans can receive exclusive offers, promotions and discounts based on where they are in the stadium. You can send them messages about available gift shop merchandise to encourage purchases, where concessions stands are and how they can get premium services.
Concierge services. By using their mobile apps, VIP fans can request food and beverage deliveries, purchase merchandise or get help for special requests such as booking accommodations or arranging transportation.
Crèmily Pool Suite at Chase Field in Arizona _____________________________________________
Parking and transportation. Location-based technology makes it simple for VIP fans to navigate parking areas, find parking spots reserved for them or access nearest drop-off points. Real-time information is readily available for parking availability, updates on traffic and the easiest routes to get to the venue to ensure seamless departure and arrival experiences. Mapsted's system offers a feature allowing fans to pin their parking spots so their vehicles are easily locatable after the event.
Location-specific content and experiences. Personalized content makes all the difference to a VIP fan. They appreciate receiving content and experiences based on their locations in the stadium. For instance, they may be able to access augmented reality (AI) experiences or exclusive video content in specific interest points.
VIP access control. Using Mapsted's geofencing technology to control activities within a virtual boundary traced on your map. Send timely, relevant messages to your VIP customers when they're in a predefined location or geographic area. Give them information about how they can enter and exit the venue and areas relegated just for them.
Fan engagement and recognition. Location-based technology can help identify VIP fans and facilitate personalized interactions. Stadium staff equipped with location-aware devices can greet VIP fans by name, provide personalized messages or offers, and engage in meaningful conversations to enhance their overall experience.
Inclusivity. Stadiums and arenas worldwide are exploring new ways of making live events more inclusive by supporting fans with diverse needs. From barrier-free entry points to audio signals, tactile signage, tactile floor tiles, and even dedicated sensory nooks/suites, there is a greater push for incorporating additional inclusive amenities throughout venues, as well as within corporate boxes and VIP suites.
Feedback and fan surveys. Location-based technology allows VIP fans to give valuable feedback and to participate in surveys about the stadium experiences. This information can be collected via mobile apps or interactive touch points located throughout VIP areas. With this feedback, stadium management can constantly improve VIP amenities and services.
Summing Up
Stadiums and arenas must offer a seamless experience for their customers to remain competitive and to capitalize on the demand for live event attendance. With intelligent, hardware-free, scalable location-based technology like Mapsted's, stadiums can level up their fans' experiences immediately.
Our solutions are tried-and-true, secure, and easy to integrate, making our system the perfect investment for stadiums looking to level up their games. So, why not let Mapsted help you hit a home run with your VIP stadium experiences?
Furthermore, our dynamic platform is more than just an intelligent solution – it's a technological masterpiece that allows you to invest in a vision for the future. With endless possibilities at your fingertips, Mapsted's innovation is a smart choice keeping you fully engaged in the evolution of location-based technology. If you enjoyed learning about location-based notifications and how Mapsted can help high-tech stadiums flourish, you may enjoy this video on how to Elevate the Stadium Experience With Advanced Location-Based Technology, as well as this blog on How to Create the Ultimate Fan Experience in Stadiums.
Frequently Asked Questions
Q1. Why are fans' experiences at stadiums so important?
Ans. Stadium management wants fans to return to events and performances at their venues. Giving fans the best experiences possible is the way to do that. Stadiums provide platforms for fan engagement and interaction. From pre-game activities to halftime shows, fan contests, and interactive displays, stadiums offer opportunities for fans to actively participate and engage with the game and the team. Engaging experiences help fans feel more connected and invested in the event.
Q2. Why is location-based technology so important for VIP guest experiences at stadiums?
Ans. It's not only important, it's vital. Location-based technology enables personalized and tailored services that enhance their overall satisfaction and exclusivity. Mapsted's leading technology provides seamless navigation, VIP-specific notifications, enhanced security measures, proximity-based interactions and can provide stadiums with data-driven insights.
Q3. How does location-based technology provide valuable data and insights about elite VIP guest behavior and preferences?
Ans. Location-based technology provides valuable data and insights about elite VIP guest behavior and preferences through the collection and analysis of their location data within the stadium. This can be achieved by foot traffic analysis, dwell time analysis, preference mapping, heat map visualization, personalized recommendations, seasonal and event analysis and feedback and surveys.
Q4. How does location-based technology help create a sense of exclusivity and differentiation for elite VIP guests at stadiums?
Ans. Location-based technology helps create a sense of exclusivity and differentiation for elite VIP guests at stadiums by providing VIP-specific amenities, seamless access and navigation, proximity-based interactions, targeted notifications and offers, enhanced in-seat experiences, exclusive benefits and perks, and data-driven personalization. These features collectively contribute to an elevated VIP experience distinguishing VIP guests, reinforcing their exclusive status within the stadium.
Q5. What specific features or services can be personalized using location-based technology for elite VIP guests?
Ans. Location-based technology enables various features and services to be personalized for elite VIP guests at stadiums such as providing personalized greetings, automatic preferred seating, tailored food and beverage services, exclusive offers and promotions, VIP-only access points, enhanced security and access control, proximity-based services, in-seat experiences, preferred merchandise and retail experiences and post-event surveys and feedback. The key is to leverage location data to create tailored and exclusive experiences catering to individual preferences and needs of VIP guests.