August 30, 2023
Categories:
Technology Trends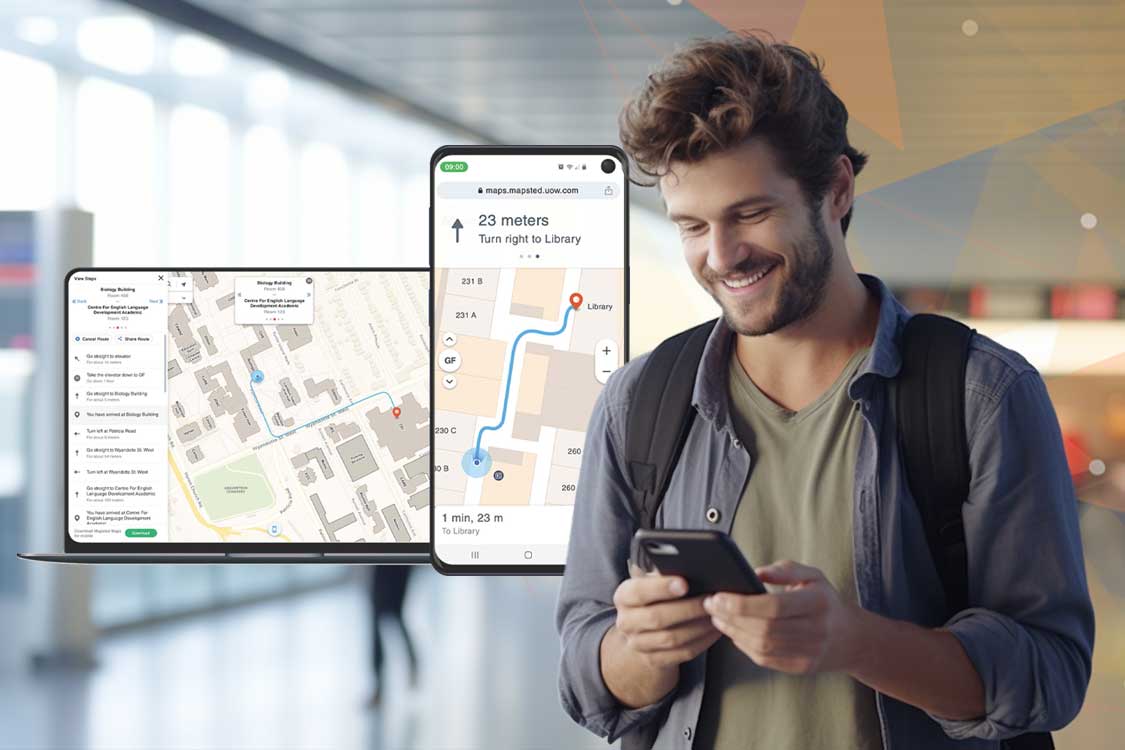 What are Mapsted Indoor Maps?
Mapsted indoor maps are maps of your indoor space. Indoor mapping is the process of converting the floor plans that you send to us into digital, interactive representations of indoor spaces. With Mapsted's indoor mapping platform, any company can enhance its display data in the context of an indoor map.
How Do These Indoor Maps Work?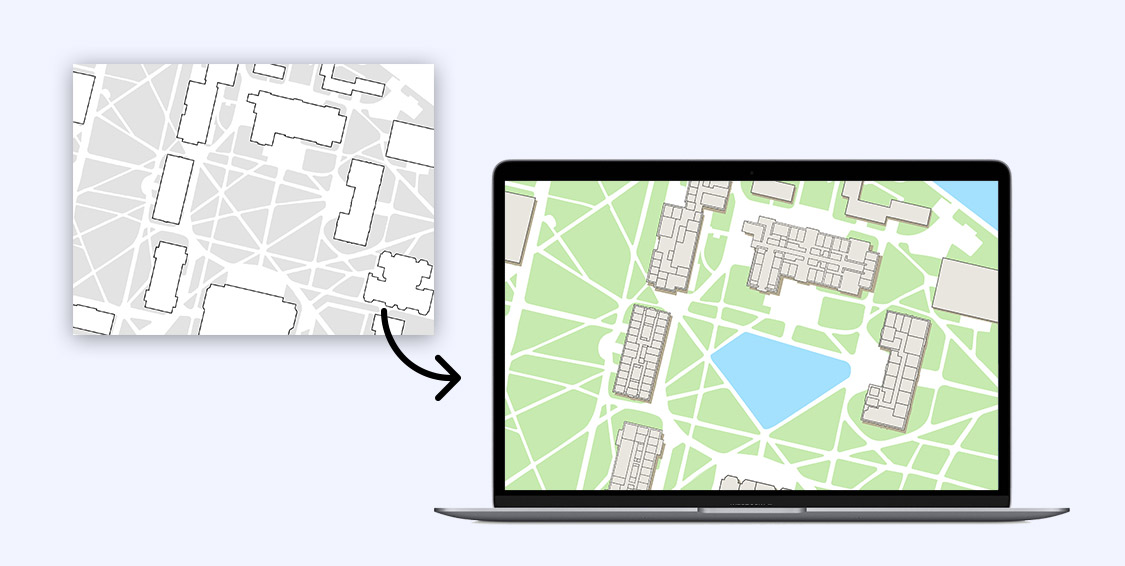 Once you send in your static map ( any file form is fine, as long as it is to scale), Mapsted will convert them into intelligent, 3-D digital maps by overlaying multiple data layers to create scalable, location-aware applications. Indoor maps are essential to the creation of a fully functional indoor navigation platform.
You can use these maps as a separate SDK however, users will literally just see the map. They will not have the blue-dot turn-by-turn navigation feature. Indoor maps provide the context for users to use indoor wayfinding, therefore it is highly relevant to pair Mapsted's indoor maps with our indoor wayfinding SDK. Even though they are fully functional independent SDKs when paired together they unlock a world of endless possibilities.
The maps you send us are integrated with various platforms and data sets via SDK which allows for a wide range of map-enabled uses. Our in-house team is expert when it comes to complex indoor maps. We know map digitalization is often more than converting files. Spatial information needs to be understood and customized. Mapsted helps you establish a strong foundation that gets you where your maps need to go.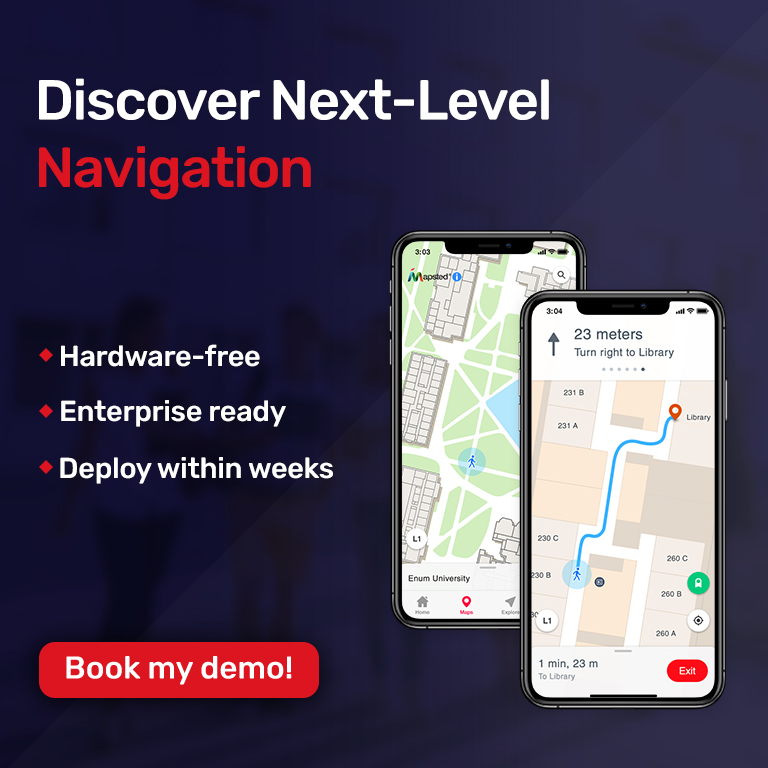 Mapsted's Indoor Mapping Technology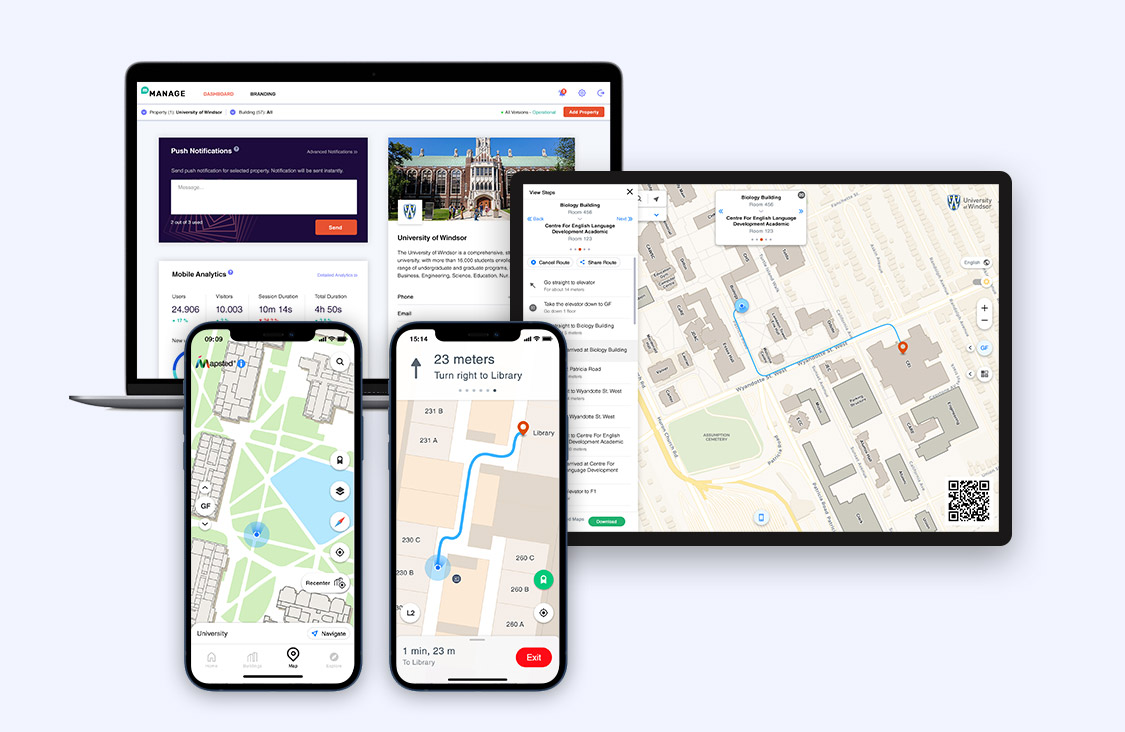 Mapsted indoor maps offer customers a searchable, interactive map to help them plan and visualizes their routes. The seamless indoor-outdoor wayfinding experience offered by this product helps visitors easily navigate inside a complex venue and also allows for easy navigation across platforms. That means customers can search out points of interest on a kiosk or website and navigate to them in real time using an app on their smartphone.
Mapsted maps has two available products: Maps basic and maps premium
Mapsted Maps – Web
Searchable interactive map and wayfinding
Mapsted Maps Web offers visitors and staff a searchable, interactive map that helps them plan and visualizes their routes.
Use the directory to discover and explore points of interest
Look for specific destinations by keyword or category using an intelligent search
Easily plan a route to navigate between points of interest on the property
2. Mapsted Maps – Mobile
Indoor Positioning and Turn-By-Turn Blue Dot Navigation
Mapsted maps mobile with indoor positioning allows for seamless outdoor-indoor navigation and localization without the use of beacons or other external hardware.
Use multi-destination and accessibility routing to customize your route planning
Avoid confusing directions with map auto-orientation
Enable location sharing to easily meet up with friends and family
Key Mapsted Indoor Map Features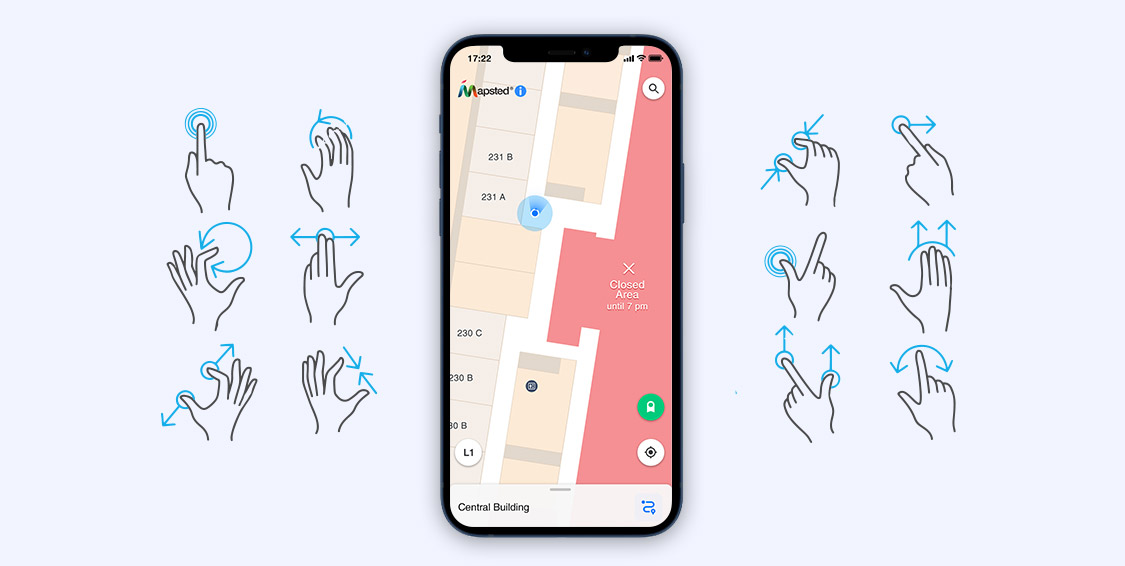 Interactive map: Map interactions are a fundamental component of Mapsted's cross-platform SDK for mobile, web, and kiosk. The map view supports multiple interactions, map gestures, map clicks, and QR code scanning. Map gestures allow for pan, zoom, tilt, and rotations, while map clicks allow for customizable actions (e.g., selection of entities).
Map click events indicate when the user has clicked on the map. A map click event consists of a click type, a click location, and a click entity. A single click on a location will select that entity whereas a double click will zoom into the map.
QR code scanning allows a user to quickly scan the provided QR code to access a mobile version of the map.
Offline maps: All downloaded map data is automatically stored in a local database and available for use offline. The SDK will automatically download map data, as needed, based on what is nearby. Map data downloads can also be managed programmatically, triggered by UI interactions.
In custom map view you can power your map using our position location technology while using your own map. Mapsted uses open street maps as the geofence for user locations, buildings, and other map elements. If your system uses a base map such as Google maps or Apple maps, please contact us, so we can make sure our user locations, buildings and other map elements are appropriately georeferenced for your base map.
Frequently Asked Questions
Q: How does an indoor digital map work?
A: Mapsted can create an indoor map of your facility that can be used for wayfinding or it can be equipped with navigation. The digital map will be a direct replica of your property but instead of it being on a physical map, visitors can open the map on their smartphones and use it to orient themselves on your property.
Q: What is the difference between wayfinding and navigation?
A: Wayfinding is how a person orients themselves in relation to their environment. For example, using a static map to show "you are here" and then the person knows a relative direction to get to their destination. Navigation provides directions in a dynamic way that shows the user turn-by-turn directions to their destination. Often accompanied by a blue dot signifying the real-time location of the person.
Q: Do I need to add navigation services to my indoor map?
A: That is entirely up to your business needs and goals. If you desire to enhance the customer experience in a large retail environment by assisting customers to get from an origin to a destination then yes, you should add navigation services to your map. If you simply need a map for visitors to quickly orient themselves but you aren't concerned with them feeling lost or confused about where to go, then you should be fine with a static indoor map.
Q: How do indoor positioning systems work?
A: Generally, most indoor positioning systems need some sort of external hardware such as Bluetooth beacons, UWB, Wi-Fi, or RFID to obtain location positions. The Mapsted system does not require external hardware to provide the same functionality.
Q: Do I need to hire a company to create an indoor map for me?
A: If you have a team of in-house developers Mapsted has SDK available for you to create your own indoor maps.